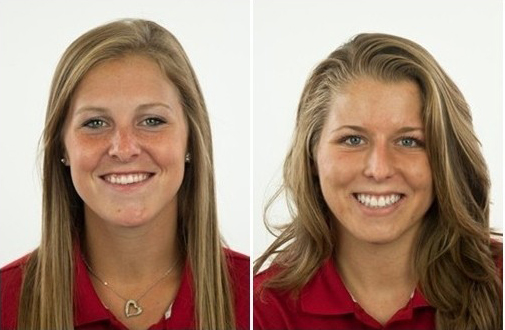 Brianna Miller and Caroline Suchorski, a pair of McGill rugby players, are among 12 student-athletes named Friday by Canadian Interuniversity Sport, in conjunction with Rugby Canada, to represent Canada in women's rugby sevens at the 2013 FISU Summer Universiade in Kazan, Russia (July 6-17).
Miller, a 21-year-old native of Pointe Claire, Que. Canada has enjoyed success in the sport at the FISU world university championship, a biennial competition which started in 2004. The Canadian women won the first two tourneys in 2004 (Beijing, China) and 2006 (Rome, Italy), before finishing second in 2008 (Cordoba, Spain), fourth in 2010 (Porto, Portugal) and sixth in 2012 (Brive, France).
She was named team MVP for the second straight season after capturing the league scoring title with 110 points in seven games. A speedy 5-foot-6 fly-half, Miller scored six tries and added a league-high 40 conversions. Since joining the Martlets in 2010, the physical and health education junior has tallied 270 points in 19 league games, with 23 tries, 73 conversions, one drop goal and a pair of penalty goals.
Suchorski, a 5-foot-8 centre from Kirkland, Que., finished fourth on the McGill Martlets in scoring last season. A 21-year-old sophomore majoring in dietetics, she tallied 30 points on six tries in seven games and has scored a dozen tries in 14 contests over her first two campaigns at McGill.
Women's rugby sevens will make its FISU Games debut in Kazan, with the inaugural tournament set for July 14 to 17.

Bielby, Caldwell hoping to make waves at Games
Steven Bielby and Katie Caldwell, two McGill swimmers, are among a 38-member roster named Thursday by Canadian Interuniversity Sport, in conjunction with Swimming Canada, to represent Canada in swimming at the 2013 FISU Summer Universiade in Kazan, Russia.
This will be the third appearance at the world university games for Bielby, a fifth-year engineering senior from Pointe Claire, Que., who previously competed for Canada at the FISU Games in both Serbia (2009) and China (2011). This past season, Bielby won a pair of gold medals at the CIS championships to merit all-Canadian honours for the fifth time. He won the 200-metre individual medley in two minutes flat, breaking both his own school and RSEQ conference record of 2:00.24. He also claimed the 400 IM (4:15.14) and became the most decorated swimmer in McGill history with 13 career CIS medals, which includes a school record eight golds, one silver and four bronzes.
Caldwell, an elementary education freshman from White Rock, B.C., had an impressive debut campaign at McGill in 2012-13, earning rookie-of-the-year and swimmer-of-the-year in the RSEQ conference, where she also merited all-star status after smashing a pair of Quebec university records and racking up six medals, three of them golden. The 18-year-old clocked 2:11.20 in the 200m IM and 4:37.01 in the 400 IM, both McGill records and CIS-best times this season. At the CIS championships, the middle-distance specialist merited all-Canadian second-team honours after winning silver in the 200 IM (2:13.25) and bronze in the 400 IM (4:44.83).