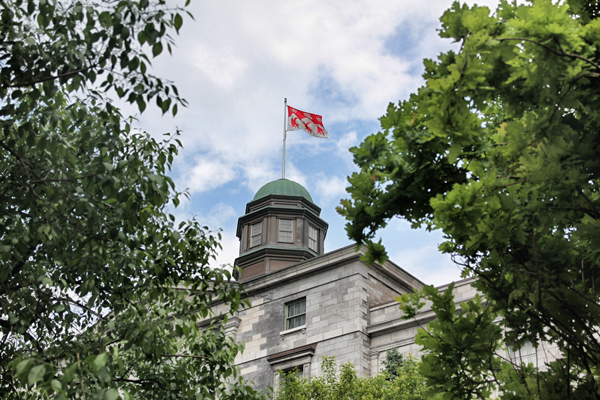 By McGill Reporter Staff
Following a meeting last week with Divest McGill, Principal Suzanne Fortier has published summaries of presentations that five McGill professors made to the Committee to Advise on Matters of Social Responsibility as it deliberated on Divest McGill's request that the University divest from holdings in fossil-fuel companies.
Prof. Fortier and Provost and Vice-Principal (Academic) Christopher Manfredi met with the members of the divestment group who were then staging a peaceful sit-in in the lobby of the Principal's office. The protest was in response to CAMSR's March 23 report to the Board of Governors, in which they advised against divestment.
During the meeting, the Principal committed to the following actions:
Releasing the presentations made by the McGill professors with whom CAMSR consulted during the preparation of their report.
Holding open forums in Fall 2016 to continue the community's dialogue on sustainability and the CAMSR report recommendations.
Five of the six professors subsequently consented to the publication of summaries of their comments to CAMSR:
Jaye Dana Ellis (Faculty of Law), Acting Director, McGill School of Environment
Catherine Potvin (Faculty of Science), Canada Research Chair in Climate Change Mitigation and Tropical Forests
Christopher Ragan (Faculty of Arts), Chair, Canada's EcoFiscal Commission
Robin Rogers (Faculty of Science), Canada Excellence Research Chair in Green Chemistry and Green Chemicals
Nigel Roulet (Faculty of Science), Former Director, McGill School of Environment
Prof. Fortier sent the summaries to Divest McGill on April 6. Those summaries are now available online.
The Provost will report to the community by the end of April with details about the Fall 2016 open forums.
In a letter sent to Divest McGill on April 6, the Principal wrote, "Climate change is a serious threat to humanity, and unless urgent action is taken we will see catastrophic effects on our planet and its peoples. The CAMSR report reiterates that climate change, linked significantly to the burning of fossil fuels, is having an 'injurious impact.'"
Where CAMSR and Divest McGill differ, however, is in the nature of the actions to be taken. The CAMSR report recommended, and the Board of Governors endorsed, the following actions:
To create "a comprehensive climate action plan" to measurably reduce McGill's own carbon footprint while expanding initiatives such as sustainability research and education
To develop concrete measures to ensure our investments comply with recognized environmental, social and governance (ESG) principles
"The McGill University community, including its Board and senior leadership, has a responsibility to use our talents, energy and expertise to work toward mitigating climate change," Prof. Fortier wrote. "Divest McGill and other members of the community who are leading change in this area have had a substantial impact on making climate-change mitigation a priority for McGill. We are committed to continuing this dialogue."