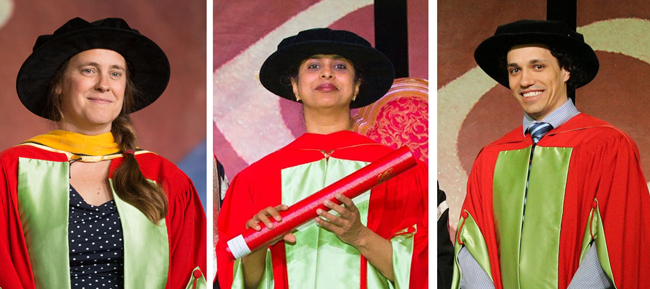 While the media and academic community often acknowledge the achievements of senior researchers, it is also vital to celebrate the achievements of up-and-coming researchers. It was with the intention to encourage McGill's most outstanding early-career researchers, as well as to provide them with a prestigious internal distinction, that Principal and Vice-Chancellor Suzanne Fortier and the Vice-Principal (Research and Innovation) Rosie Goldstein founded the Principal's Prize for Outstanding Emerging Researchers in 2013. This year, three members of McGill's faculty – Professors Allan Downey, Srividya Iyer and Christie Rowe – receive the prize during their respective Convocations in the Faculties of Arts and Science.
"In 2017, McGill is honouring yet another impressive cohort of researchers with the Principal's Prize for Outstanding Emerging Researchers," said Principal Suzanne Fortier. "It is with great pride that we award this year's prize to three professors who are trailblazers in their fields as well as role models for their students. The selection committee has made excellent choices in Professors Downey, Iyer and Rowe, and I look forward to celebrating the even greater successes that lie ahead in their careers," she continued.
Administered by Research and Innovation, the Prize for Outstanding Emerging Researchers honours individuals across all disciplines. McGill awards up to three Prizes for Outstanding Emerging Researchers each year in the form of a monetary prize. Professor Srividya Iyer received the prize at the Health Sciences Convocation on May 30. Professor Rowe received the prize at the Science Convocation on June 5, and Professor Downey received the prize at the Faculty of Arts Convocation on June 6.
Looking to ancient fault lines for clues to the future
Christie Rowe, Assistant Professor and the Robert Wares Scholar in the Department of Earth and Planetary Sciences since 2011, has travelled the world studying fossilized earthquakes, those that occur deep in the earth's crust. As a member of the international team investigating the fault that caused the massive earthquake and tsunami off the Pacific coast of Tōhoku in March of 2011, she employed her aptitude for field study, as well as her insight and acumen for connecting field observations to seismic and geophysical data.
"I'm very fortunate to work in the Earth and Planetary Sciences Department at McGill, where I have been encouraged to be creative and innovative in both research and teaching," said Rowe. "The support of the McGill community has enabled me to recruit bright and hard-working young scientists to my research group, which makes work productive and enjoyable."
Her work on seismic slip in the rock record has contributed significantly to an advanced understanding about the formation and significance of several previously undescribed rock types that form during earthquakes. In her study of these rocks, she has contributed new information about the deformation of faults, as well as the formation of ore deposits in fault zones.
Telling the story of Indigenous nationhood through sport
Though he received his PhD only three years ago, already, at this early stage of his career, Professor Allan Downey has distinguished himself as an important new voice on the historical experience of Indigenous nationhood within Canadian and international politics. Downey is an Assistant Professor in the Department of History and Classical Studies and the Chair of the Indigenous Studies Program.
Downey uses sport as a lens in his studies of the historical experience of Indigenous nationhood, sovereignty and identity. His forthcoming book, The Creator's Game: Indigenous Identity Formation in Canada's Colonial Age, published by the University of British Columbia Press, the leading academic publisher in Indigenous Studies in Canada, explores the role of the game of lacrosse in the shifting politics of Indigenous efforts to assert self-determination. Professor Downey is not only an expert about the history of the game in Aboriginal communities, but an accomplished lacrosse player, and cites it as an important "gateway" to his academic career.
In addition to his research activities, Professor Downey has played a vital role in launching McGill's Indigenous Studies Program. Notable among his achievements as the Chair of this program is his contribution to the University's strategic plan for responding to the Canadian Truth and Reconciliation Commission's Call to Action. He is also devoted to engaging students and local Indigenous communities with First Nations history through workshops and classes, film screenings and other events, as well as through consultation with cultural and educational institutions.
Making a positive impact on youth well-being in Canada and beyond
Even at this early stage in her career, Dr. Srividya Iyer's work has made a significant impact on the lives of young people with mental health problems, particularly focusing on serious conditions like psychosis. Arriving at McGill in 2011, Iyer is an Assistant Professor in the Department of Psychiatry, as well as a researcher at the Douglas Hospital Research Centre and a psychologist at the Prevention and Early Intervention Program for Psychosis at the Douglas Mental Health University Institute.
Among Professor Iyer's most recent significant achievements is her leadership role in ACCESS Open Minds. This ambitious initiative, funded by the Canadian Institutes of Health Research, aims to transform youth mental healthcare at urban, rural and remote centres across Canada by ensuring that those seeking help for mental health issues receive assistance within 72 hours.
"I am honoured to win the Principal's Prize for Outstanding Emerging Researchers," said Iyer. "It is heartening for a young scientist to have her work thus acknowledged. This prize encourages and compels me to continue striving to improve the lives of young Canadians with mental health problems. It also recognizes the role of colleagues, patients and families, who make my work possible and pleasurable every day."