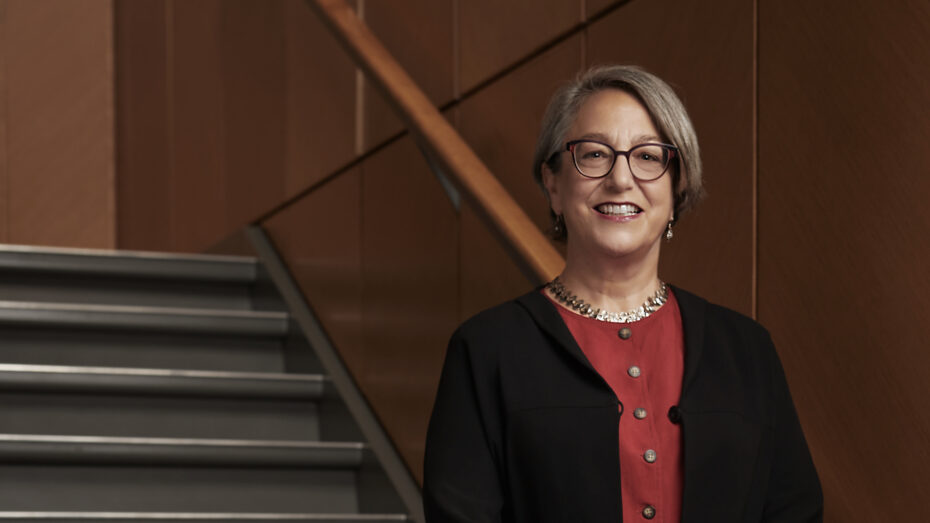 In August of 2020, McGill's Desautels Faculty of Management made major strides towards creating a culture of inclusivity by appointing Professor Lisa Cohen as its first-ever Director of Equity, Diversity and Inclusion.
"My mission is to understand and work to address any systemic racism and inequalities that exist within Desautels and society at large and to strengthen our culture so that the values of equity, diversity and inclusion become part of the fabric of our Faculty," said Cohen at the time of her appointment. "I am here first to listen and earn the trust of students, faculty and staff."
Not only is this something that's important to the Faculty, as evidenced by their efforts to create the role and build a foundation upon which growth could occur, but this is something that's highly important to Cohen personally.
"My work on EDI in the Faculty ties into my broader beliefs about why EDI is so important in the world," she explained. "I believe that EDI, managing EDI, respecting diversity, providing equity and making sure that everyone feels included – is an imperative, in organizations and in individual lives. In addition to there being moral arguments about supporting EDI as the right thing to do, you can think about possible ways that that supporting EDI can help you make a better organization."
Equity, diversity and inclusion is a strategic priority at the university level, so it was only natural for the Faculty to follow suit in appointing a representative to see it through and at the time. Former Desautels Dean Isabelle Bajeux-Besnainou called the move "an investment in [Desautels'] communities and creating a culture and environment that brings diverse perspectives to the forefront of our organization."
No easy task
Cohen entered this role with a lot to tackle. First on her to-do list, though, was to create structures that would allow her to accomplish her work.
"There was no formal structure," Cohen explained. "There were a lot of things happening that related to EDI, but nothing that could pull it all together."
Once her position was created, she worked with the communications team to pull together a webpage to keep Desautels' community members informed of EDI initiatives and progress. She and her team then founded the EDI First Responders program which is still running today, and which provides an outlet for students, faculty and staff to go to if they experience or are aware of harassment, discrimination or other equity issues based on membership within an under-represented group at Desautels.
Collecting data
"The biggest thing, our big focus, in that initial phase was in collecting data so that we would be solving the problems we actually have, rather than the problems we thought we had," said Cohen. "We gathered a lot of data across the populations we serve, our students, our alumni, our staff, and our faculty, to learn about our representation, about how our processes work for each of these groups, and about the experiences of various people within those groups."
The Faculty's EDI efforts have come a long way in the last year and a half, and that's come with its fair share of ups, downs and surprises.
"Some of them were very good surprises," Cohen said. "For instance, I discovered that many of our faculty members, staff and students, had a huge appetite to have more done around equity, diversity and inclusion."
"On the other side of it, I'm always surprised that things take as long as they take, which is funny because I teach organizational behaviour. That is one of the things that we teach people, change is hard and change takes time. But somehow, I believed that I could make things happen immediately. And I know people really wanted things to happen immediately, but it took longer. I think we're better for it, but it took longer."
A balancing act
Perhaps most challenging for Cohen in her quest to improve the culture and values at Desautels has been balancing the different stakeholders at the various levels of the Faculty. It's not only the students and faculty members who have skin in this game, but the administrative staff, alumni and other affiliates of the faculty as well.
"At one point, we tried to map our stakeholders and we realized it was an impossible effort, because we had four big groups, our students, our staff, or faculty, our alums," she explained. "But each one of those could be broken up into 10 more groups and, and so to track all of these complexities and providing all of the different groups with what they need and what they want is a real challenge. Often, everybody thinks their problem is 'the problem' that should be solved. And what I see in this role is that there are dozens of 'the problems.'"
One major issue they encountered with this was with the EDI working group established early on in Cohen's tenure as Director or EDI.
"It worked well for our first steps but then it became so broad and big that the group became unwieldy," Cohen said.  "We are working on a new structure going forward."
Common thread
In addition to finding balance with stakeholder interests, Cohen also balances a full schedule. Director of EDI on a part-time basis, if you will, Cohen is also still teaching organizational behaviour at the Faculty and continuing her research, some of which touches on EDI concerns and performing other administrative work.
"I love it when that research and teaching feeds back to the work I am doing around EDI," Cohen said. "I did a presentation at our big academic conference over the summer about a woman named Rosabeth Moss Kanter, who was a leader in doing research around the structural aspects of organizations and how that affects women's experience. That link made me feel really like my worlds were coming together.
"In addition, I am currently teaching negotiations and so much of that relates back to EDI. We approach negotiations as a way to manage conflict and a lot of the issues around EDI come down to kinds of conflicts. It's hard to do everything, but it's amazing when these worlds actually overlap and speak to each other."
Laying the groundwork for the years to come
In order to forge a clear path forward and help fortify the different structures put into place over the last year and a half, Cohen and her team are launching an EDI strategic plan, providing an overview of the current challenges and detailing strategic goals and initiatives for the coming years.
"We are in the process right now of doing consultations on our strategic process with various groups of stakeholders" Cohen said. "We need to shift the culture, infuse the culture and the values with EDI considerations, we need to assure that our structures and processes respect and advance EDI.
"And also, because we're within a business school, it is critical that that we build the base of knowledge that we use to understand things around EDI, and that we do that through research, but we also do that by providing thought leadership and publishing things on places like Delve and by incorporating it in the classroom."
In order to meet these goals, the strategic plan outlines specific initiatives that touch on each. Some examples include the creation of new guidelines for recruitment processes both at the student level and for staff and faculty, with more frequent opportunities to review these structures and processes for equity considerations, and training opportunities that will help to increase knowledge and awareness around EDI at the staff and faculty level.
Transparency is key
Perhaps most important to the strategy and its priorities, though, is the need and the desire for increased transparency.
"If we are going to achieve what we want to it's critical that we are transparent and accountable, which means we need to report what we're doing," Cohen stressed. "It also means that we need to reevaluate what we are doing periodically and make course adjustments as needed. We're not going to get everything right the first time. But if we pay attention, we can fix things and make them better."
While it's difficult to have measurable deliverables when it comes to EDI, ultimately Cohen hopes that this strategy will usher in major changes to the culture at Desautels.
"I hope that this ends up being evident through things like doing a better job at attracting and retaining people from underrepresented groups," Cohen said. "Where people feel much more comfortable and like they can really bring themselves forward in the classroom or the meeting or wherever it is, and where I can see marked changes in some of the processes and structures that exist in the organization," she added.