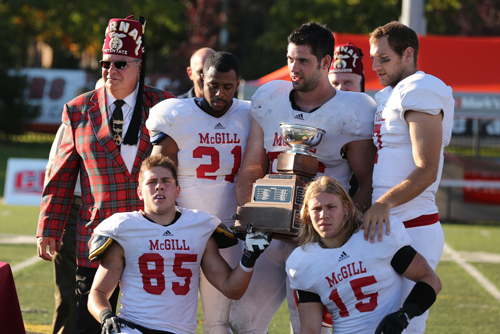 By Earl Zukerman
Rookie quarterback Pierre-Luc Dussault of Quebec City threw for 538 yards and three touchdowns in his debut as a starter as McGill rallied from a 20-point, second-half deficit to edge Concordia 53-52 in an overtime thriller and capture the 37th annual Montreal Shrine Bowl before 2,601 at Concordia Stadium, Saturday.
In a game that featured seven lead changes, the Redmen found themselves trailing 32-12 midway through the third quarter when Dussault struck pay-dirt with three different receivers – for touchdowns of 23, 24 and 50 yards – over the final 23 minutes. He also scampered in for a one-yard TD plunge himself to put McGill ahead 43-39 with 2:21 remaining in the fourth stanza. But the Stingers roared back to take a 46-43 lead with 76 seconds left on the clock.
McGill got the ball back with 58 seconds remaining and Dussault engineered an eight-play, 60-yard scoring drive, that culminated in a 35-yard field-goal by Samy Rassy that tied the score at 46-46 on the final play of regulation. It capped a 6-for-8 performance for Rassy, who also connected from distances of 24, 37, 12, 30 and 30, respectively. His six field-goals tied a 29-year-old McGill record set by Glenn Miller against Carleton on Oct. 6, 1984.
In the shootout-style overtime, McGill running back Luis Guimont-Mota rushed the ball four consecutive times for 35 yards, capped by a one-yard TD run that gave McGill a 53-46 advantage after Rassy's conversion. Guimont-Mota finished the game with 157 rushing yards on 30 carries and has now gone over the 100-yard barrier in four of his five games.
Concordia then took possession at the McGill 35 and responded with a 10-yard TD strike to slotback Kris Bastien. However, the Stingers bobbled the snap and the game ended on their failed conversion attempt.
"That was probably the most stressful and at the same time, the most frustrating game that I've ever been a part of but I'm happy we came out on top though," said a relieved Clint Uttley, in his third season as head coach of the Redmen. "We had close to 800 yards of offence but gave up almost 500 on defence. Not exactly how we drew it up but we stuck to the game plan and it paid off in the second half."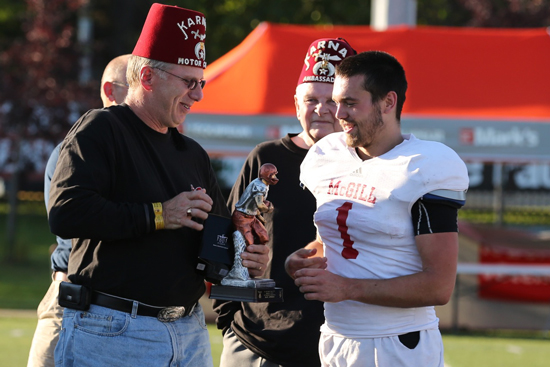 Dussault, a 20-year-old pre-med freshman, directed an offence that rolled up 38 first downs and a single-game school record 757 yards. The six-foot, 200-pound pivot rushed 12 times for 62 yards, completed 29 of 46 passes and was only picked off once. His 538 passing yards ranked as the second highest total in RSEQ conference history – 19 shy of the league record set by McGill's Matt Connell, who threw for 557 against Concordia on Oct. 20, 2007.
"It was my first start and I was pretty stressed until halftime," said Dussault, who admitted that he was unable to eat much more than a coule of eggs before the game. "But I calmed down after that and it went much better. What an exciting game!"
Dussault's favorite target was rookie Casey Cook, a 21-year-old native of Montreal's N.D.G. borough, who hauled in 12 receptions for 294 yards, a total that was also the second-best single game performance in RSEQ history. The league record of 305 yards was set by Concordia's Gerald Prud'homme versus Queen's on Sept. 20, 1980.
Dussault's other TD tosses went to Jean-Philippe Paquette, who amassed 183 all-purpose yards, Yannick Langelier-Vanasse and rookie Pascal Tshilambo.
For the Stingers, second-year quarterback François Dessureault was also starting his first game and guided his troops to 23 first downs and 466 yards of offence. He completed 21 of 32 passes for 309 yards and four TDs in a losing cause.
Bastien was his primary target with five catches for 82 yards and two TDs. Receiver Jamal Henry also had an effective day with three catches for 117 yards and a major.
Keegan Treloar went 3-for-3 in an impressive display of field-goal kicking for the Stingers. He connected from lengthy distances of 50, 44 and 48, respectively.
In the post-game Shrine Bowl ceremonies, the offensive player-of-the-game awards went to both quarterbacks.
Defensive honours were handed out to McGill rookie rush end Carl Laverdiere (3.5 tackles, 1 QB sack) and Concordia safety Mikael Charand, who registered a game-high 15 tackles, including 14 solos, to go with one interception, a forced fumble and a knockdown.
The Ted Elsby memorial trophies for the best down linemen, were presented to McGill freshman Kadeem Lewis (3.5 tackles, 1 QB sack) and Concordia offensive guard Quinn Smith.
The Redmen improved to 3-2, while the cellar-dwelling Stingers dropped to 0-5. Concordia still has an outside shot at qualifying for playoffs but would need to win their three remaining games against Laval, Bishop's and Sherbrooke, then hope for a three-way log-jam at 3-5 with Bishop's and Sherbrooke.
Elsewhere in the RSEQ, Laval (5-0) outlasted Bishop's 46-38 in Lennoxville on Saturday, while Sherbrooke (1-3) travels to Montreal on Sunday afternoon to play the Carabins (3-1). Next week, McGill will host Bishop's (3-2 ) on Oct. 4, while Montreal plays at Sherbooke (Oct;. 5) and Concordia travels to Laval (Oct. 6).
REDMEN RAP:  With 102 all-purpose yards, rookie return specialist Pelle Jorgen was one of four McGill players in the game to surpass the century mark, joining Cook (294), Paquette (183) and Guimont-Mota (181)… There was a pre-game report that the Chicago Bears sent a scout to the game to watch McGill offensive lineman Laurent Duvernay-Tardiff. If true, they would be the fourth NFL team to show interest in Duvernay-Tardif this season… According to long-time McGill equipment manager Pierre-Paul Roy, the 48-man Redmen dresslist consumed 140 gallons of water during the game, which was played under sunny, 24 C conditions. He said that he filled the team's 20-gallon drums seven times… The contest took three hours and 42 minutes to play as a plethora of players went down with fatigue and injuries… The previous 26 Montreal Shrine Bowl raised a combined $851,000 for the Montreal Shriners Hospital for Children… The 105 points scored in the contest was the highest scoring matchup ever between these cross-town rivals, surpassing the previous high of 88 on two occasions, both of them identical 58-30 scores in favour of the Stingers… McGill improved to 37-36 lifetime against the Stingers, including a 10-10 mark in Shrine Bowl confrontations… McGill's road win over the Stingers was their first since 2002, snapping an 11-year, eight-game losing streak at the Loyola campus. It also marked their first two-game sweep since the 2002.
For complete game stats, click here.