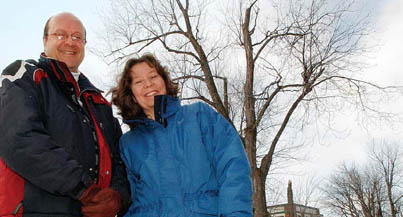 For people with depression, life can be like being locked in a darkened room, unable to find a light-switch. The opening of the Neurophenotyping Centre at the McGill-affiliated Douglas Hospital will help researchers turn on the light for these patients.
These potential switches are genes, some of which can be activated through environmental factors. Genes linked to increased vulnerability to such illnesses as depression, schizophrenia and Alzheimer's disease are prime targets for therapeutic research.
"The new centre will focus on how changes in the environment—including the air you breathe and the food you eat, as well as social interaction—influence how your genes are expressed," says anatomy and cell biology professor Claire-Dominique Walker, director of both the Neuroscience Research Division at the Douglas Hospital Research Centre and the Neurophenotyping Centre.
The 15,000-square-foot facility in the Montreal hospital will serve 60 researchers and more than 180 graduate students and post-doctoral fellows, providing specialized animal research facilities, as well as labs for behavioural analysis, tissue analysis and genetic processing. Slated to begin construction in 2007, the centre is funded by the Ministère du Développement économique, de l'Innovation et de l'Exportation du Québec and the Douglas Hospital Foundation.