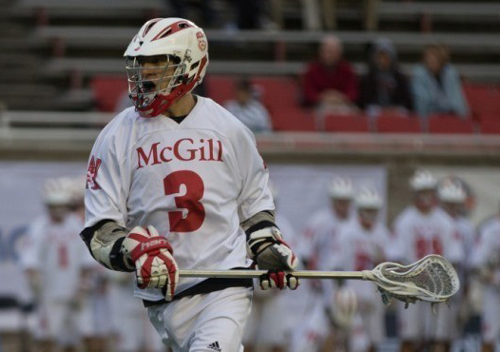 Team extends win streak to 17, ends regular season undefeated
By Earl Zukerman
Kevin Donovan scored four times and Connor Goodwin added a hat-trick, including the game-winner as McGill rallied for a 10-9 victory over visiting Bishop's in their final Canadian University Field Lacrosse Association game at Molson Stadium, Wednesday.
The win extended McGill's streak to 17 consecutive victories over league opponents dating back to last year and more importantly, concluded the regular season with a perfect 10-0 record, the first undefeated season in team history.
It was a closely-contested battle between two long-time arch-enemies where neither team ever led by more than two goals. McGill led 2-1 after the opening quarter but Bishop's tied the game at 4-4 before halftime. The Gaiters took a 6-4 lead early in the third quarter but the Redmen stormed back to knot the score at 6-6 heading into the final stanza.
Donovan of Bethany, Conn., tallied twice in 30 seconds to put his troops in front 9-7 in the fourth but the Gaiters refused to fold and narrowed the gap to 9-8 when Mason Austen connected for a power-play goal at the nine-minute mark. It was the third goal of the contest for Mason.
Goodwin, an electrical engineering junior from New Westminster, BC.,completed his hat-trick with the winning tally at 15:48 but less than two minutes later, Rhett Handley scored his second of the evening to make for a nervy finish.
Donovan, a first-year transfer from the NCAA's Lehigh University, ended up leading the Redmen scoring race with 37 points, including a whopping 28 goals in eight games. Goodwin was second with 32 points,18 of them goals, in 10 games.
Rounding out the scoring for McGill was Nolan Prinzen of Summit, N.J., Drew Laird of Chittenden, Vt., and Rufus Frost of Park City, Utah.
Other marksmen for the Gaiters were James Malloy with two, Brett Conway and Ryan Dewar.
Bishop's star and CUFLA East Division scoring leader Alex Henderson had five assists but was kept goal-less, stoned time and time again by McGill goaltender Riley McGilliswho made two critical saves late in the contest to thwart a BU comeback.
David Bigley took the loss in net for the Gaiters.
Before playoffs begin, the Redmen will play a pair of non-conference games against NCAA squads. They will travel to Plattsburgh State on Oct. 19 (4 p.m.) then return home to take on Lyndon State on Oct. 24 (9 p.m.), before attempting to defend their Baggataway Cup title when they host the CUFLA national championship, Nov. 1-3.