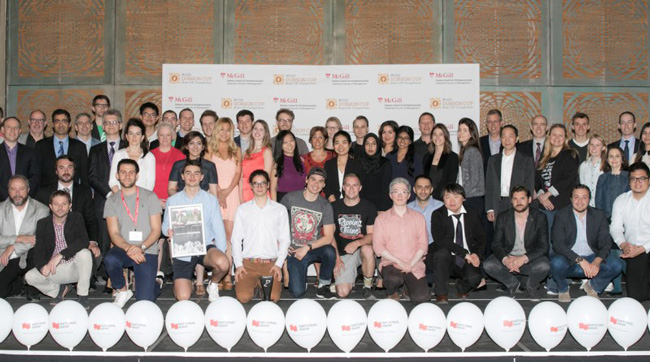 By Sanjana Desai.
After a year of planning, over 150 start-up submissions, 137 pitches, and $117,000 in prizes, the 2016 McGill Dobson Cup has come to a close with four enthusiastic startups claiming a first place victory in four different tracks: Social Enterprise, Health Sciences, Small & Medium Enterprise, and Innovation Driven Enterprise.
This year, a record of 17 winning teams across the four tracks took home cash prizes to support their ideas and take their startups to the next level. With the support of a growing network of McGill Dobson Alumni, the gracious ongoing support of National Bank, and a world-class group of judge-mentors, the 2016 edition of McGill's flagship startup competition has reached a new threshold of success.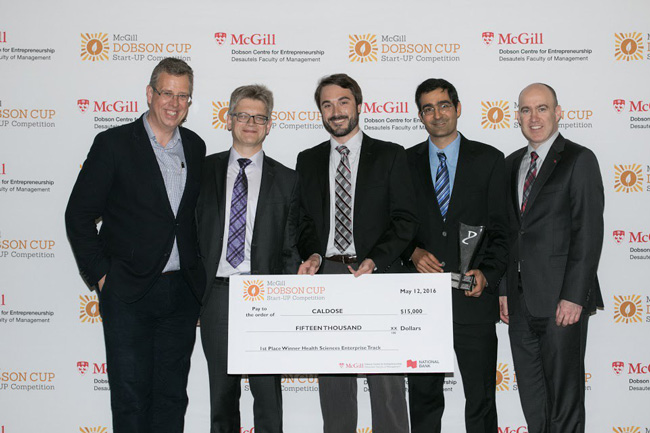 The 2016 Dobson Cup inaugurated the new Health Sciences Track for teams with startup ideas focused on the development of medical innovations. With growing participation of startups from interdisciplinary fields including medicine, science, and engineering, this new track was introduced to inspire entrepreneurs aiming to develop technologies for the improvement of human health and further the practical applications of biomedical research. In its first year, the Health Sciences Track proved to be a great success with 13 initial entries, eight finalist teams, and three prize winners.
In the Health Sciences Track, the top prize went to Caldose, a medical startup that designs, develops, and fabricates high quality calorimetry-based radiation measurement equipment for the absolute determination of the delivered dose in the medical application of radiation to the treatment of cancer. Much of the revolutionary research work behind this startup has been conducted out of the Medical Physics Unit at the Faculty of Medicine at McGill.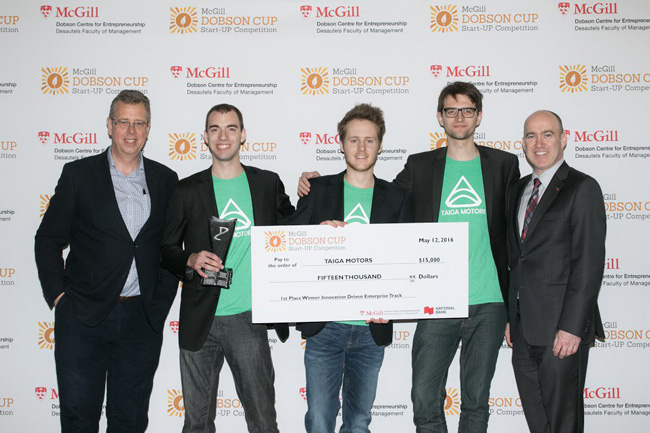 In the Innovation Driven Enterprise Track, this year's grand prize winner was Taiga Motors, a startup building the world's first electric snowmobile. The founders have already invested 14,000+ hours of research and development while pursuing engineering degrees at McGill. Praised by judges for their environmentally conscious product, attention to detail, and dedication to research and development, Taiga Motors took home the $15,000 prize in this track. With an impressive prototype for their revitalized snowmobile engine design, the Taiga Motors team is gearing up for production to get their revolutionary snowmobile in the hands of consumers in the coming year.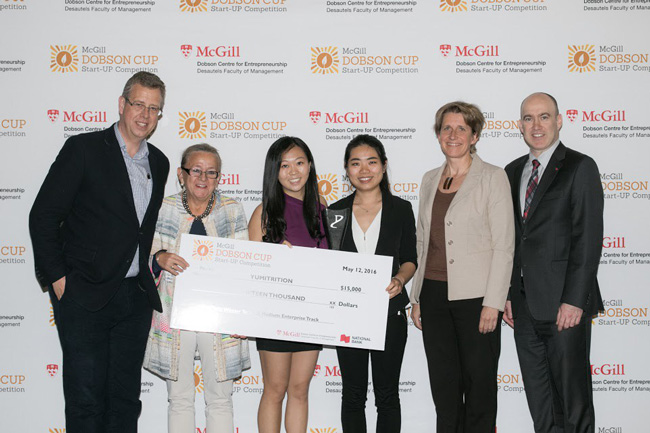 The winner of the Small Medium Enterprise Track was YUMiTRITION, a food-related startup that aims to provide people with delicious solutions for blood sugar control. With members from both of their families who suffer from diabetes, the founders were inspired to use their studies in dietetics and nutrition in order to provide a tailored solution for all who face the challenges of blood sugar control. YUMiTRITION's founders were delighted by the opportunity to participate in the competition, acknowledging that in the intimidating environment that entrepreneurship can be, going through the McGill Dobson Cup made the whole experience much more approachable and enjoyable.
Beyond succeeding in the small and medium enterprise track, YUMiTRITION also won the Food and Agribusiness Convergent Innovation Prize, a unique prize of $5,000 for food-business related startups in the McGill Dobson Cup awarded jointly by the Faculty of Agricultural and Environmental Sciences (FAES) and the McGill Centre for the Convergence of Health and Economics (MCCHE).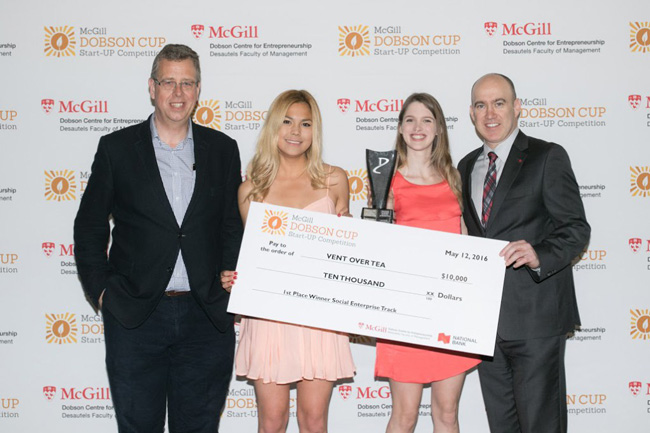 Finally, in the Social Enterprise Track, the startup Vent Over Tea made it to the top for their simple yet highly effective platform by which individuals seeking a friendly, face-to-face listening service will be paired with trained volunteers to vent over tea, as their name suggests. Their goal as a company is to increase awareness and reduce any stigmas regarding mental health in the university student community, while also providing support to those who may not need immediate attention from professional practitioners, rather simply need a listening ear from an individual who is uninvolved in their life. Vent Over Tea's traction and rapid growth proves the necessity of peer support systems on university campuses. Moving forward, the startup aims to foster open communication regarding mental health.
See the complete list of this year's winners.