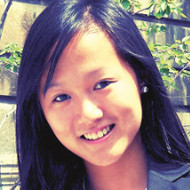 debbie wang
::::::::::::::::::::::::::::::::::::::::::::::::::::::::::::::::::::::::::::::::::::::::::::::::::::
AGE: 19
HOMETOWN: CALGARY, ALBERTA
MAJOR: NEUROSCIENCE
INTERNED AT: SUNCOR
IF I COULD LIVE IN ANY ERA, IT WOULD BE: "THE 1970s TO 1980s BECAUSE THAT WAS THE ADVENT OF THE DIGITAL AGE."
Debbie Wang is happy to call herself a science nerd. But after completing a performance analyst internship with oil company Suncor in Calgary, the neuroscience student is considering swapping her lab coat for a blazer. She spent the summer working with budgets, forecasts and "back office tasks for the trading group" and — even though she's already taking a minor in economics — was surprised to find herself considering a future in the world of finance. Then again, she believes that's what summer is for: exploring new things.
That curiosity has already given her some serious research experience.
While in high school, Wang volunteered in a lab at the Hotchkiss Brain Institute at the University of Calgary, and competed in several national research competitions on spinal cord health. In 2011, after completing her first year of undergrad studies at McGill, she received a grant from the Fonds de recherche en santé. du Québec — Santé to work in professor Nicolas Cermakian's lab at McGill's Douglas Mental Health University Institute, where she did a pilot study looking at a possible connection between circadian rhythms and suicide risk.
As for next summer? Who knows.
"I'm hoping to have just as unique an experience as the past two summers," says Wang, who is spending her third year of undergrad studies in Scotland as part of McGill's longstanding student exchange program with the University of Glasgow. "Working at Suncor was an excellent way to learn about Canada's burgeoning energy industry.Part of finding out what path I want to pursue is exploring various fields. Using the summertime as an opportunity to be involved in different internships is vital to discovering what I want to do for the rest of my life."