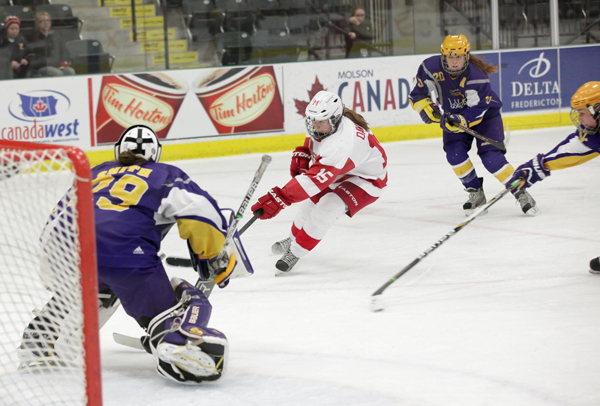 By Earl Zukerman and Kelsey Pye
FREDERICTON, NB – Gabrielle Davidson of Pte. Claire, Que., tallied twice and Leslie Oles of Beaconsfield, Que., added a goal and two assists as fifth-seeded McGill toppled the No.2 Wilfrid Laurier Golden Hawks 4-1 to open the Scotiabank CIS women's hockey championship tournament with a 4-1 victory at the Grant Harvey Centre, Thursday afternoon.
As a result of the win, the Martlets earn a day off and can advance to Sunday's gold medal game with a victory over Moncton on Saturday at 1 p.m. (Eastern). McGill skunked Moncton 9-0 in their only meeting this season, at McConnell Arena over the Christmas holidays.
Sophomore goaltender Taylor Hough, a surprise starter over fifth-year veteran Andrea Weckman, kicked aside 23 of 24 shots for her first career post-season victory. It was also the first start in almost a month for Hough – an international development studies major from Toronto – since a 2-1 loss to the Montreal Carabins on Feb. 15. Hough, who only started in six of the teams 20 regular season contests, did see some action in the last McGill contest, however. She replaced Weckman in the deciding game of the RSEQ championship series when the Martlets fell behind 4-1 in a shocking 6-3 home-ice setback. She was only beaten once on nine shots by the Carabins, who added an empty-net goal.
Head coach Peter Smith said he made the decision to start Hough after the team's practice on Wednesday.
"We just felt it was time to make a change. She's been really good all year. We've been really blessed to have three good goaltenders," he explained. "I thought we looked a bit nervous early but played real hard for the full 60 minutes."
"It was a gritty, grind it out kind of game against a very good team. We could've managed the puck a little better at times but it was one of our better games, especially in terms of being hard on our sticks in front of our net and also being hard on our sticks in front of their net. Our power-play look real good tonight, we moved the puck well and created a lot of opportunities."
The Golden Hawks, who lost 5-3 to McGill during the Martlet Holiday tournament in December, were in constant penalty trouble and paid the price. The Martlets went a deadly 3-for-6 on the power play, while their PK unit erased all three shorthanded situations.
WLU took a holding penalty only two minutes and 10 seonds after the opening faceoff and the McGill women didn't waste any time as Kelsie Moffatt opened the scoring with a power-play marker just 25 seconds later. It was a timely effort by the junior from Pickering, Ont., who scored only once in 20 regular season games.
Devon Skeats, Laurier's player of the game, said the officiating frustrated her but the team tried to move past it.
"Sometimes you just have to go with it, and deal with what's been dealt to us," she stated.
Davidson made it 2-0 on the power play only six seconds into the second frame and McGill maintained that cushion into the final stanza.
"Davidson was flying out there," said Smith, in his 14th season as McGill's bench boss. "She has sweet hands, pro hands. I was watching some highlights on Sportscentre the other night and saw Patrick Kane (of the Chicago Blackhawks) score a sweet goal in tight and she scored one like that today."
Hough thwarted a number of Laurier chances in the third period and McGill took a stranglehold three-goal lead when Davidson struck again at 13:57. The 'Hawks rebounded just 34 seconds later, however, when Tammy Freiburger spoiled Hough's shutout bid.
"[McGill is] not the type of team that, as the game wears on, you want to take too many gambles against because that one group of kids can just kill you on odd-man rushes," said Laurier head coach Rick Osborne, who pointed to that goal as a momentum changer. "A one-goal game and a two-goal game really limits the things you can do."
Oles, who collected a pair of helpers earlier, iced the victory, striking paydirt on another power-play, with just 51 seconds remaining, before Laurier had a chance to pull goaltender Amanda Smith for an extra attacker. Smith, who was beaten four times on 21 shots, took the loss.
"There's still a lot of stuff on the table," declared Osborne, who said that his team is already moving on and focusing on their must-win rendezvous with Moncton Friday afternoon in their final preliminary round game. "There are still medals to be won."