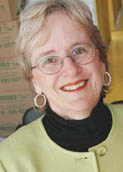 Researchers who rely on statistical data to draw connections, challenge assumptions and discover unexpected social links in the lives of Canadians have a new tool. The Quebec Inter-university Centre for Social Statistics (QICSS) Laboratory is an authorized repository for the reams of information gathered by major Statistics Canada surveys to help governments understand the changing nature of Canadian society and shape social policy. QICSS is funded by the Fonds québécois pour la recherche sur la société et la culture.
Sociologist Céline Le Bourdais, the Canada Research Chair in Social Statistics and Family Change, is the academic director of the lab. She says that previously, when people wanted to research the carefully guarded data gathered by Statistics Canada, they had to travel to Ottawa. This was so inconvenient that few people were using the rich information gathered in these expensive—and expansive—surveys on health, labour and families.
To protect the privacy of the thousands of individuals profiled in the surveys, the QICSS Laboratory is one of the most secure spaces on McGill's campus, with a system of swipe cards and deadbolts to ensure that information doesn't fall into the wrong hands. McGill's data lab belongs to the Quebec Research Data Centre, which is jointly funded by Statistics Canada, the Social Sciences and Humanities Research Council, and the CIHR. The lab also received funding from the CFI.