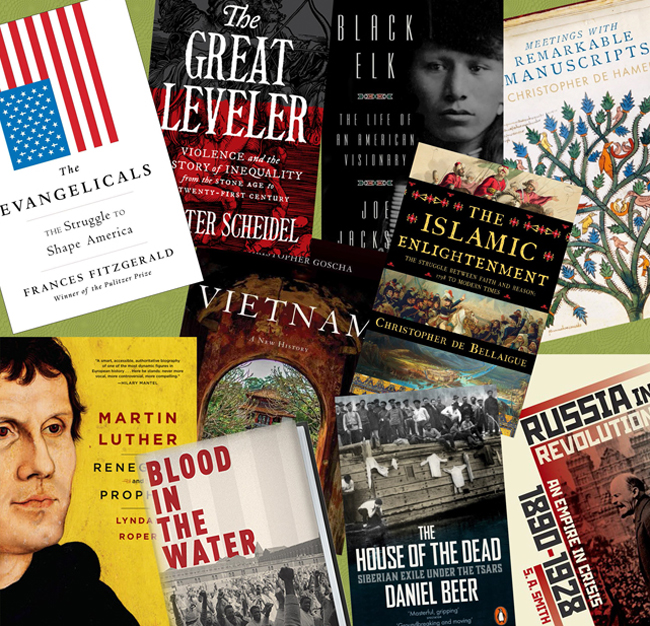 Historians from around the world in the running for richest non-fiction prize for a single work in English
By Cynthia Lee, Media Relations Office
The Cundill History Prize has released a longlist of books – on topics ranging from Vietnam to the Islamic world and from Russia to North America – that are in contention for the international prize that rewards the best history writing in English.
The richest non-fiction prize in the world for a single work in English, the Cundill Prize is worth US$75,000 to the winner. The two runners up each receive a Recognition of Excellence Award worth US$10,000.
The eminent jury of five, under the chair of Margaret MacMillan, has chosen ten historians from five countries to be in the running for the prize in its 10th anniversary year.
"Our longlist reflects the exciting and varied state of history today. The books on it cover subjects from Vietnam to Native American history and range in time from prehistory to the present," said MacMillan. "Their outstanding men and women authors come from around the world. It certainly wasn't easy for our jury to whittle down over 300 entries into 10 but I am happy that we have come up with such a strong and interesting selection."
The Cundill History Prize longlist includes:
Margaret MacMillan is joined by the British-American historian and author Amanda Foreman, the award-winning Oxford Professor Roy Foster, the decorated Canadian journalist and author Jeffrey Simpson, and the Oxford Professor of Modern China Rana Mitter to judge the prize.
Seven publishers from three territories are represented on the longlist, including two imprints of Penguin Random House UK and one of Penguin Random House US. Publisher of the 2016 Cundill Prize winner (The Work of the Dead by Thomas W. Lacquer), Princeton University Press, return with Walter Scheidel's The Great Leveler. With six titles, the U.S. is most strongly represented on the list. Four titles originate from the UK, one from Canada.
The three finalists will be announced by Margaret MacMillan at a press conference at Canada House in London on October 25/26. All three authors will attend the Cundill History Prize Gala in Montreal on Nov. 16, where the winner will be announced.