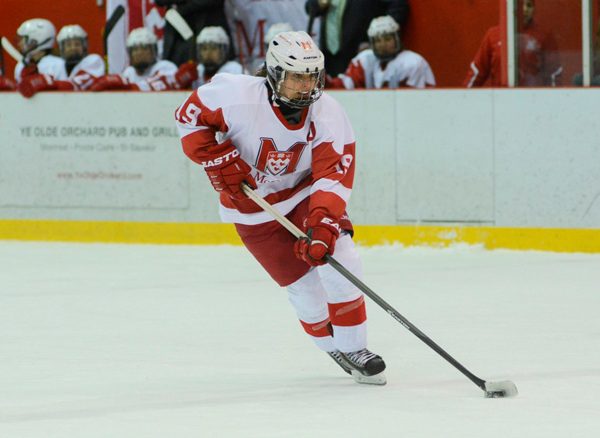 By Earl Zukerman & Michel Belanger
Katia Clement-Heydra, a forward on the McGill Martlets hockey team, is among eight finalists announced by Canadian Interuniversity Sport and the national law firm of Borden Ladner Gervais for the 22nd annual BLG Awards, which were established in 1993 to recognize the top female and male athletes from universities affiliated with CIS.
It marks the sixth consecutive year that McGill has produced a national candidate. The Montreal-based institution leads all CIS universities with 19 nominees in 22 years – 11 of them women – who have earned a Quebec conference (RSEQ) nomination for the BLG Awards. Among the previous McGill nominees was Melodie Daoust, a finalist last year and an Olympic gold medalist hockey player for Canada at the 2014 Sochi Winter Games; Mathieu Darche, a former Montreal Canadiens left-winger who was a BLG finalist in 2000; and Randy Chevrier (2001), a long-snapper and defensive lineman with the Calgary Stampeders, who also played in the NFL with Dallas and Cincinnati. Four McGill students have captured the award, namely Olympic gold medalist Kim St. Pierre in 2003, distance runner Dr. Linda Thyer in 1995 and the hockey duo of Ann-Sophie Bettez and Marc-Andre Dorion, both of whom won in 2012.
"It's such an honour, especially to represent McGill and all the athletes of Quebec," said Clément-Heydra, a fourth-year centre from St. Bruno de Montarville, Que., who was voted player of the year in CIS women's hockey. "There is so much skill all across Canada and this recognition is more than I could ask for."
She tallied 40 points (13-27-40) in only 20 league games, good for first in the RSEQ conference and second in the nation. The industrial relations senior added 15 points in eight post-season contests as she helped the Martlets capture their fourth CIS banner in seven years after failing to qualify for Nationals the previous year.
"When we lost (in the 2013 Quebec playoffs), it was a heartbreaker, probably the worst feeling that I've felt in my life and it just gave me extra motivation to work as hard as I could during the off-season," she said. "McGill offers such an incredible program to help us develop and work on our fitness that it made it so easy and I just wanted to do more each and every day. It really helped (overcome) that feeling and (served as) redemption."
The three other women joining Clément-Heydra as a nominee for the Jim Thompson Trophy, presented to the female BLG Award recipient, is track and field standout Khamica Bingham from York University; volleyball player Lisa Barclay from the University of British Columbia; as well as basketball player Justine Colley from Saint Mary's University, who was also nominated a year ago.
The 22nd Annual BLG Awards will take place on Monday, April 28, at EPCOR CENTRE'S, Jack Singer Concert Hall in Calgary.
The official BLG Awards website can be seen here.