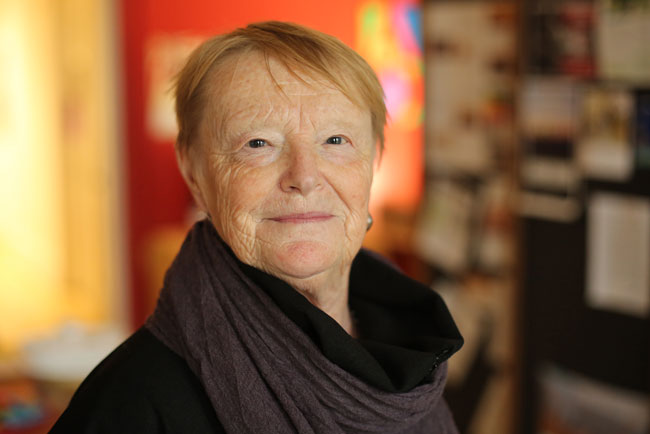 By Kathryn Jezer-Morton
Earlier this year, Professor Claudia Mitchell was assembling material for a grant application when she realized, while going over her paperwork, that she had been conducting research funded by the Social Sciences and Humanities Research Council (SSHRC) for 25 consecutive years.
"I hadn't realized it had been so long," said Prof. Mitchell, who is a James McGill Professor in the Department of Integrated Studies in the Faculty of Education.
Prof. Mitchell, whose work in girlhood studies and participatory research has included major research sites in Ethiopia, South Africa and all over Canada, is a founder of the Faculty of Education's Participatory Cultures Lab. This year, the SSHRC is recognizing the impact of her quarter-century of SSHRC-funded research and other achievements by awarding her the SSHRC Gold Medal, the agency's highest honour.
The Gold Medal recognizes sustained leadership, dedication and originality of thought by a SSHRC-funded researcher. Claudia Mitchell is the third researcher from McGill University to win a SSHRC Gold Medal. Philosopher Charles Taylor won the inaugural Gold Medal in 2003, and medical anthropologist Margaret Lock won the prestigious prize in 2007.
"For over 25 years, Prof. Mitchell has explored innovative techniques for engaging and empowering young people and teachers around the world," said Prof. Suzanne Fortier, Principal and Vice-Chancellor. "We congratulate her on this well-deserved award, and thank the SSHRC for its recognition of the power of academic excellence to create real-world impact."
The award comes with a $100,000 prize, to be used for research activities of the honouree's choice. Prof. Mitchell will be using the funds to launch a new project with several of her doctoral students.
"We will be holding girl-led media-making workshops, with indigenous and non-indigenous girls and young women from across Canada, to consider how their voices as 'sisters of confederation' can inform issues around reconciliation, and land, and the environment. We are inviting 39 girls and young women from every province and territory to McGill for three days in August 2017," said Prof. Mitchell.
During the workshops, participants will produce media including cellphilms (short films made with smartphone cameras) and take part in panels on youth leadership, exclusion, violence, and confederation – which, when understood as a coming-together of parts, is "an indigenous concept," said Prof. Mitchell.
Participants will return to their home communities with the tools to put together an exhibition of the media produced during the summit. Sisters of Confederation is conceptually related to another, larger participatory research project that Prof. Mitchell is currently working on in Canada and South Africa, called Networks for Change and Well-Being. The Networks for Change project is funded by a six-year SSHRC/IDRC Partnership Grant, and is now into its third year.
The group engages Indigenous girls and young women in South Africa and in Canada in "from the ground up" policy-making activities addressing sexual violence. This international and interdisciplinary partnership brings together government and community-based organizations focusing on girls and young-women and 14 post-secondary institutions in Canada and South Africa.
"Having Prof. Mitchell receive this award is particularly important for our research-intensive Faculty of Education, which hosts a strong sense of social responsibility," said Prof. Dilson Rassier, Dean of the Faculty of Education.
"The Faculty encourages researchers to link research and practice, academia and society, and Prof. Mitchell exemplifies such a commitment," said Dean Rassier. "She has distinguished herself through her research work in University and school-based responses to gender, HIV and AIDS in Southern African (Rwanda, Ethiopia, South Africa, and Kenya) and with aboriginal youth in Canada. Throughout her career, she has inspired her peers, colleagues and students through sustained and internationally recognized leadership in social sciences, and is therefore very deserving of the Gold Medal."
Prof. Mitchell recalled getting an initial notification that the SSHRC wished to speak with her in advance of the Gold Medal award. "I assumed there was something the matter," she said. "You know, as a researcher you're always thinking about what needs to be done, and there are always things that you're trying to juggle. So it was just another day of, 'Oh, what are we trying to juggle today? When they told me it was in fact the Gold Medal they were calling about, I was just blown away."
Prof. Mitchell remarked that the honour was particularly meaningful for her as a researcher in Education. "We are often seen as being more professionally oriented and not necessarily doing research. So this isn't just for me – it's a recognition of the work of the Faculty of Education, out there making a difference." She also gives credit to her doctoral students for the recognition of her work.
"It is a community. If I didn't have students out there doing absolutely marvellous work, winning awards themselves, this would not be possible."
"On behalf of McGill, I congratulate Prof. Mitchell for this great recognition of her research excellence," said Vice-Principal (Research and Innovation) Rosie Goldstein. "Through her innovative visual and participatory research methods, Prof. Mitchell has developed essential new approaches to empowering young women and designing policy that incorporates their perspectives."