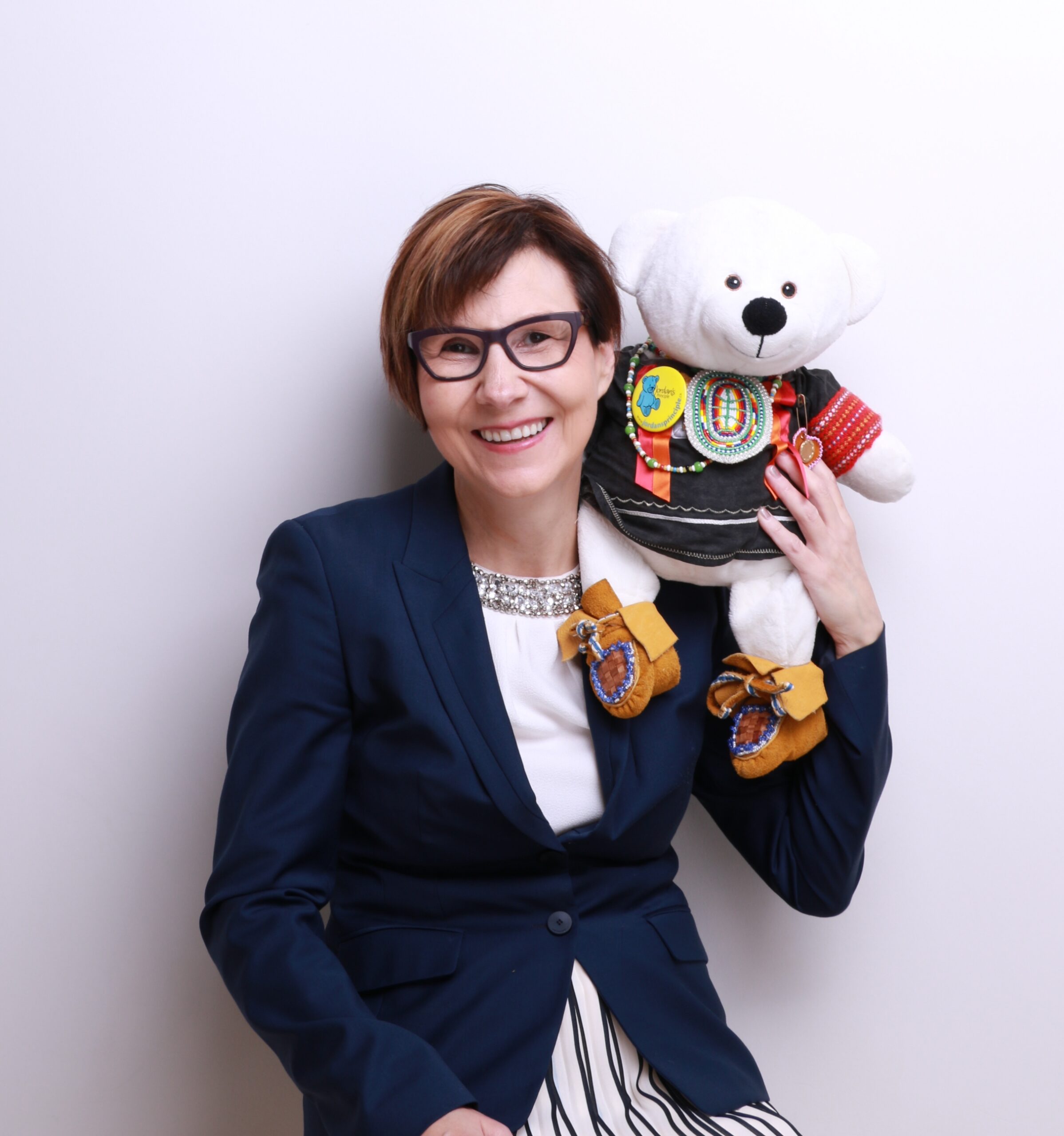 One of Canada's most important social work scholars and an indefatigable advocate for Indigenous children's rights and welfare, Cindy Blackstock has been awarded the Social Sciences and Humanities Research Council's (SSHRC) Gold Medal, the federal agency's highest honour. The Gold Medal is awarded to an individual whose sustained leadership, dedication, and originality of thought have inspired students and colleagues alike.
A member of the Gitksan First Nation, Blackstock is a Professor in McGill's School of Social Work and the Executive Director of the First Nations Child and Family Caring Society. She was recently named Chancellor of the Northern Ontario School of Medicine (NOSM) University.
Blackstock has devoted decades of work to changing the state of First Nations Child Welfare in Canada, saying that children remind her of how to defeat anger and injustice in society through love. Her academic research focuses on inequities in First Nations' public and voluntary sector services and the over-representation of First Nations children in the welfare system. She has worked tirelessly to develop policy interventions to address these issues.
"Cindy Blackstock has devoted her life to helping children journey toward their dreams," says Martha Crago, Vice-Principal, Research and Innovation. "Her significant contributions to academic thought have validated the ontologies and experiences of First Nations across the country. Her commitment to advancing First Nations children's rights in Canada will have a positive impact for generations to come. McGill is tremendously proud of her contributions to the University, to Canada, and to the world."
A compelling voice for truth and reconciliation
Since 2016, in partnership with the Assembly of First Nations, Blackstock has led the landmark human rights case, Jordan's Principle, that has resulted in hundreds of millions of dollars in new child welfare prevention services, as well as the delivery of nearly $800,000 in health, education and social services and support for First Nations children.
Blackstock stresses that provincial and territorial laws fail to address the chronic over-representation of First Nations children in Canada's child welfare system, and without the aid of Elders and First Nations child and family service experts in drafting legislation and solutions, First Nations will not achieve self-determination.
The litigation has resulted in over 20 legal orders issued by the Canadian Human Rights Tribunal, Federal Court and Federal Court of Appeal and resulted in a ground-breaking decision of the Canadian Human Rights Tribunal which found that Canada was racially discriminating against 165,000 First Nations children.
As an activist and advocate for implementing the recommendations of the Truth and Reconciliation Commission (TRC), Blackstock has stressed the need for action against the systemic inequities faced by Indigenous children in Canada. When the Truth and Reconciliation Commission's (TRC) Calls to Action were slow to be implemented in Canada, she developed an applied social work course in which students learn about and apply these Actions. Upon discovery that the Canadian Federal Government had no public education markers on residential schools, she convened Marie Wilson, the TRC Commissioner, historian John Milloy, KAIROS, and the Beechwood Cemetery to erect historical plaques and create school curricula.
The Changemaker
A trusted voice in Canada, in 2022, Blackstock was awarded a Changemaker Prize in McGill University's annual Principal's Prize for Public Engagement through Media competition. The prize is awarded exceptionally to individuals whose dedication to sharing their knowledge with the media and the public has had a major impact on society.
She said of the recognition, "What a privilege it's been to work in the company of the collective of the ancestors and in light of the spirits of the children in the unmarked graves, who left us a legacy to do the work to ensure this is a generation of First Nations children who don't have to recover from their childhoods. That is not the work of one person; it is indeed the work of a country."
Colleagues have described how when confronted with a problem, Blackstock convenes people to create a path forward. "Professor Blackstock is an extraordinary example of a publicly engaged social work scholar who has brought together research evidence and steadfast public advocacy to successfully challenge discriminatory access to social services for First Nations children and families," said Nico Trocmé, Director of the School of Social Work and the Philip Fisher Chair in Social Work. "This Gold Medal demonstrates SSHRC's commitment to ensuring that impact is assessed by more than citation counts," he added. "The McGill School of Social Work is fortunate to have such an inspiring professor and deeply committed colleague."
For her ability to leverage the law to promote social movements, Blackstock was awarded Amnesty International's Ambassador of Conscience Award, the Law Society of Upper Canada's Human Rights Award, and an honouring by Jordan River Anderson's community of Norway House Cree Nation.
Recently, she has served on the Pan American Health Commission on Health Equity and Inequity and worked as an executive producer on the documentary "For Love", which examines the adverse impacts colonization has had on the Indigenous peoples of Canada and documents Indigenous peoples' stories of injustices inflicted by the Canadian child welfare system.
Internationally recognized advocate
In addition to her work in Canada, Dr. Blackstock has worked with Indigenous peoples and their allies around the globe. In 2009, she co-convened a working group that resulted in the United Nations Committee on the Rights of the Child adopting a General Comment on Indigenous Children. She has collaborated with Indigenous peoples on child rights initiatives at the UN's Permanent Forum on Indigenous Peoples, and with groups in Australia, New Zealand, the United States and South Africa.
In 2005, she worked with child welfare organizations in the US and Canada to generate Touchstones of Hope, a framework for reconciliation in child welfare that has been used to reform services for Indigenous children in First Nations communities and Native American Tribes in several provinces and states. In 2008, she developed the Breath of Life Theory based on ancestral knowledge and western physics to uplift First Nations ontology in the academy.
Ted Hewitt, President of the Social Sciences and Humanities Research Council of Canada, said of this year's prize winners that, "…each made tremendous contributions to their fields in the social sciences and humanities, and we celebrate their accomplishments and ongoing work today. Their work illustrates how social sciences and humanities research is key to understanding people and society, both past and present, so that we can shape a better future."
Award recipients will be celebrated during a special ceremony this evening in Ottawa.
Click here to register for the livestream event.
Read the Government of Canada's press release.