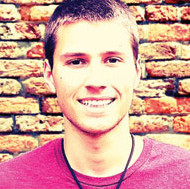 christopher nickels
::::::::::::::::::::::::::::::::::::::::::::::::::::::::::::::::::::::::::::::::::::::::::::::::::::
AGE: 21
HOMETOWN: KITCHENER,
ONTARIO
MAJOR: CHEMISTRY
INTERNED AT: RESEARCH IN MOTION
FAVOURITE SCIENTIFIC CONCEPT: "WHAT GOES UP MUST COME DOWN. IT'S NICE AND SIMPLE, AND EASY TO REMEMBER!"
If Christopher Nickels could be any superhero, he'd want to be Superman. "He really has to know his elemental analysis if he's to avoid Kryptonite," he quips. But, given the second-year chemistry student's province-straddling schedule last summer, the whole flying thing wouldn't hurt either.
Nickels spent his so-called vacation shuttling between Cambridge, Ontario, where he interned at Research In Motion (now BlackBerry) during the week, and McGill, where he devoted his weekends to continuing research he's been doing in professor Tomislav Friščić's green chemistry lab.
As a Materials Lab Associate at RIM, Nickels conducted experiments to better understand the conditions that lead to electrochemical migration on circuitry. The migration is a problem not just for BlackBerries, but for any device that uses a printed circuit board (and that's pretty much everything, from phones to cameras to MP3 players). If a gizmo is manufactured under less-than-pristine conditions, traces of electrolytic solution can form on the circuit board. Later, when that phone/camera/whatever is used, the electric field produced will cause the migration of ions from that solution, causing dendrites to slowly build up in the gaps between the board's conductors.
"We were working on developing standards so we could predict when this is going to happen," says Nickels, "so that we'd be able to set cleanliness standards during manufacturing and to take preventative steps."
Then, on his weekends, Nickels traded electrochemistry for organic chemistry in Friščić's lab, exploring Diels-Alder reactions to create conjugated cyclohexene systems. The process is an important part of a
myriad of production processes, from pharmaceuticals to plastics, and Nickels co-authored a paper with Friščić for CrystEngComm on the subject.
The Ontario native admits that solvent alternatives and circuit boards are "about as far removed from each other as possible," but loved the range of experience. "Before working at RIM, I was aware of electrochemical research and its application, but had had no previous firsthand experience with it. It helped me gain a greater appreciation for the scope covered in the many different fields of chemistry."