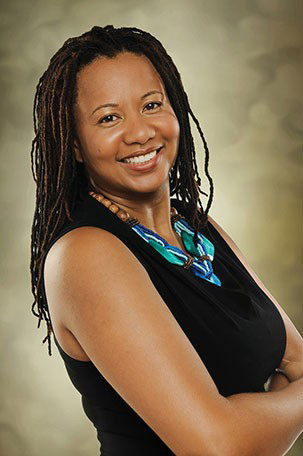 "Canadians tend not to know our history very well," says Charmaine Nelson, Professor of Art History. Recently appointed the 2017-2018 William Lyon Mackenzie King Chair for Canadian Studies at Harvard University, Nelson will be taking a year off teaching at McGill to deepen her research on Canadian fugitive slave advertisements, while teaching courses in Canadian Art and on the Visual Culture of Translatlantic Slavery.
Having taught a class about the Visual Culture of Slavery for more than a decade at McGill, she has seen hundreds of students come through her classes with no idea that Canada has a history of slavery.
"I'm yet to have a Canadian student enter the class knowing that slavery transpired in Canada. What they all know without question, and have been taught since grade school, is that Canadians were abolitionists who freed and saved the African-American slaves who were fleeing to Canada between 1833 and 1861: the underground railroad. The 200-250 years prior when France and Britain were slaving in the territories in Canada? They know nothing about it and are extremely shocked to learn that we were also a slave-trading state."
All across the Americas – wherever slavery existed – there were people resisting their enslavement, Nelson says. In some cases, they would burn down plantations, but in others their actions were as simple as running away. To track down these runaways, slave owners would publish detailed advertisements, which tended to show just how intelligent these people were, and also detailed the scars and other marks of corporal punishment inflicted by slave owners.
"Sadly, the colonial archive created by slave owners to re-enslave people has turned out to be the most detailed information we have about enslaved people. Because if you were an enslaved person, everything about your life was designed so that you could not leave traces of your life or have access to self-representation."
By mining these archives, Nelson's goal is to rehumanize these people and show how obviously sophisticated, intelligent and intellectual they were.
"Even in the stories of how they escaped, sometimes slave owners [would] inadvertently disclose how intelligent [the escapees were], and how much forethought and planning went into escaping," Nelson says. "[The ads, in a way,] worked against the slave owners, and in the end they were taken up by abolitionists as a means of showing how barbaric slave owners were."
What makes Nelson's research unique is that she is the first to look at the Canadian fugitive slave archive as a study in and of itself. While in the United States, the Caribbean, and in parts of South America, scholars have been producing secondary research in fugitive slave advertisements since the 1970s, in Canada, we haven't even begun to tap into the types of information contained in the ads. Nelson will focus primarily on Nova Scotia and Quebec, and juxtapose this research with that of the Caribbean.
Nelson notes that it's vital to overturn the erasure of slavery that has taken place in Canada. By pretending that Canada never had a history of slavery, we erase the existence of thousands of Canadians who were brought to this land against their will.
"What we do in Canada is we pretend that people like my parents, who came from Jamaica in the 1960s, like the Haitians in Montreal… who came in the mid 20th century… we pretend that they are the Black Canadians, and then we get asked all the time where we are from. But the African-Canadians are totally erased and forgotten."
By showing that this was a forced migration, Canadians are forced to acknowledge this history and take more time to think about what Black Canadian actually means, she says.
Nelson also hopes to bring more focus to Black Canadian History, and Black Canadian Studies, which is largely unsupported as a discipline in Canadian universities through knowledgeable faculty and consistent curriculum.
"From the outside looking in, the average Canadian on the street wouldn't think there's a race problem in Canadian universities because they're taught rhetoric about inclusivity very well. But as you crack the surface, they're not doing good in employing people of colour in either faculty or administrative positions. So that's a knock-on effect; it's about what happens and what can be taught.
"I'm really lucky and I understand it's a privileged moment because I'm the second art historian on the list [to receive this position at Harvard], and it also looks like I'm the second Black professor (the other being George Elliot Clark who worked on Black Nova Scotia). I'm the second person too to have this position to work on Black Canada since the professorship was constituted 50 years ago. It's a big opportunity to say art history belongs in this conversation on visual arts and culture and that let's not forget about Black Canada."
Nelson will return to her position in the Faculty of Arts for the 2018-2019 academic year. Her forthcoming book entitled, Towards an African-Canadian Art History: Art, Memory, and Resistance will be published later in 2017.