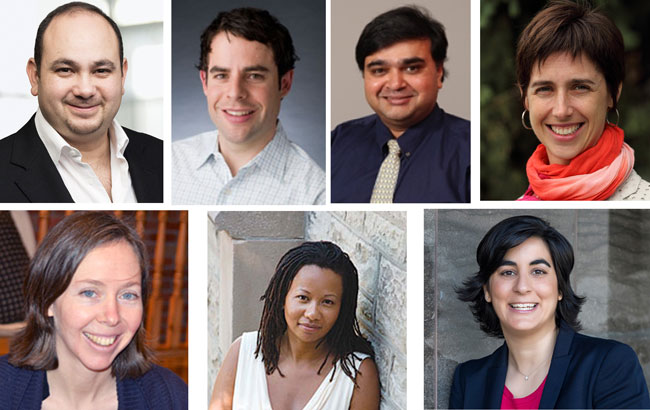 By Kathryn Jezer-Morton
Today, the Royal Society of Canada (RSC) announced 80 new members to the College of New Scholars, Artists and Scientists, seven of which are McGill scholars. Honorees hail from a broad range of faculties: Arts, Science, Engineering, Management, and Medicine. McGill's cohort includes:
Ehab Abouheif, Department of Biology; Irene Gregory-Eaves, Department of Biology; Charmaine Nelson, Department of Art History and Communications Studies; Joelle Pineau, School of Computer Science; Saibal Ray, Desautels Faculty of Management; Brent Richards, Departments of Medicine, Human Genetics, Epidemiology and Biostatics; and Nathalie Tufenkji, Department of Chemical Engineering.
The RSC's College of New Scholars, Artists and Scientists aims to gather the best of the emerging generation of leaders in scholarship, science and art in Canada. Together, College members apply interdisciplinary approaches to addressing issues of particular concern to new scholars. The Presentation of this cohort will take place on Friday, Nov. 18, at the Four Points by Sheraton in Kingston, Ontario.
"McGill is grateful to the Royal Society of Canada for its commitment to supporting and celebrating emerging researchers," said Dr. Rosie Goldstein, Vice-Principal, Research and Innovation. "McGill's seven new members are doing essential work across numerous disciplines – from protecting freshwater ecosystems to the development of smart wheelchairs to creating a deeper understanding of African-Canadian history in art."
Ehab Abouheif is a Canada Research Chair in Evolutionary Developmental Biology. Prof. Abouheif works in the field of Ecological Evolutionary Developmental Biology, which builds on the groundbreaking discovery that there is a highly conserved genetic "tool kit," made up of a relatively small number of regulatory genes, that controls the development of all animals. Prof. Abouheif has previously been awarded the Steacie Award, Canada's highest honour for a young Canadian scientist.
Irene Gregory-Eaves is a Canada Research Chair in Freshwater Ecology and Global Change. Her current work focuses on quantifying past changes in fish populations, and how freshwater ecosystems are affected by those changes; advancing knowledge on eutrophication and shallow lake ecology; and studying northern lakes as sentinels of environmental change. Dr. Gregory-Eaves is a member of the executive committee for the Groupe de Recherche Interuniversitaire en Limnologie, and a member of the Quebec Centre for Biodiversity Science.
Charmaine Nelson's research in Canadian, American, European and Caribbean art and visual culture focuses on postcolonial and black feminist scholarship, Transatlantic Slavery Studies, and the black diaspora. Prof. Nelson's current research program, funded by a Social Sciences and Humanities Research Council of Canada Insight Grant, explores fugitive slave advertisement in Canada and Jamaica as visual culture that can disclose details about the process of creolization in temperate (slave minority) and tropical (slave majority) sites of empire. Her seventh book, Towards an African-Canadian Art History: Art, Memory and Resistance will be released by Captus Press this year.
Joelle Pineau is the Co-director of the Reasoning and Learning Lab in the School of Computer Science. Prof. Pineau's research centres on developing new models and algorithms that allow computers to learn to make good decisions in complex real-world domains, even in circumstances where there is incomplete or incorrect information. She also works on applying these algorithms to complex problems in robotics and health care. Earlier this year, Prof. Pineau was named a Fellow of the Canadian Institute for Advanced Research and was awarded a 2016 McGill Principal's Prize for Outstanding Emerging Researchers.
Saibal Ray is a professor in the Operations Management Area of the Desautels Faculty of Management and Director of the Global Manufacturing and Supply Chain Management Program. Prof. Ray's research on supply chain management in the agri-food and natural resource sectors largely addresses the interface of operations and marketing. Prof. Ray is currently Vice-Dean of Research and Faculty at the Desautels Faculty of Management, as well as the Academic Director of the McGill Center for the Convergence of Health and Economics.
Brent Richards researches the genetic determinants of common, aging-related endocrine diseases, and the ways in which these findings can be applied to improving clinical care. Dr. Richards has been a Clinical Investigator with the Canadian Institutes for Health Research and is currently a Clinician Scientist for the Fonds de recherche du Québec. He was recently awarded the Jody Ginsberg Young Investigator Award by the Canadian Society of Endocrinology and Metabolism.
Nathalie Tufenkji conducts research in the areas of green nanotechnology, biosensing and bioadhesion, antimicrobial materials in nature, and water quality protection. Her work combines tools from surface and colloid science with techniques in molecular, cellular, and microbiology to address problems that have implications for environmental protection and public health. Her work on isolating antimicrobial properties of maple syrup and cranberries has been covered globally by the media. Earlier this year, Prof. Tufenkji was awarded a McGill Principal's Prize for Outstanding Emerging Researchers.
Read the Royal Society of Canada's release