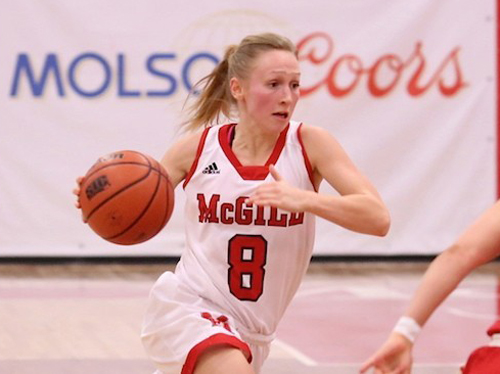 By Ryne Bondy & Earl Zukerman
Co-captain Francoise Charest scored a game-high 15 points as the No.8-ranked McGill women's basketball team led from start to finish, defeating Laval 46-35 in a Quebec conference Final Four semifinal at Centre PEPS, Friday.
McGill, the top seed in this new tourney format played entirely in the provincial capital, can claim back-to-back RSEQ titles if they defeat UQAM in the championship game on Saturday at 7 p.m. The third-seeded Citadins advanced with a 59-48 decision over second-seeded Concordia. The final will be webcast live online at RSEQ.tv
Charest, a senior point guard playing in front of her hometown friends and family, went 6-for-14 for the floor including a 3-for-4 performance from downtown.
"This being her last year, she took control of the game," said Martlet bench boss Ryan Thorne, who was announced the previous day at the conference's coach of the year. "She was our leader out there and got us into good sets. She took shots early she believed was hers and was confident in everything she did."
Under Charest's leadership the Martlets got off to a strong start taking a 15-5 lead after the opening quarter to silence a partisan Laval crowd hoping for an upset. "We talked prior to the game about playing in their gymnasium and making sure we didn't give them a lot of hope," added Thorne. "The girls came out pretty aggressive and we attacked them. When you've played a team four times you know them pretty well so the girls did a great job capitalizing on knowing what they were going to do and anticipating their next move."
This effort on the defensive end gave McGill a 30-18 lead going into halftime. The Martlets kept their foot on the gas after the break taking a 40-22 advantage into the final frame. Laval gave it their best effort to ignite a comeback but could never cut the deficit to below 10 in the fourth.
Mariam Sylla, a 6-foot-1 forward from Guinea and player of the year in the RSEQ conference, had seven points, 13 rebounds and four steals. Gabriela Hebert and Helene Bibeau had six apiece on a night where McGill's secondary scoring was balanced throughout their deep lineup.
McGill shot only 33.3 per cent from the field (18/54) but managed to make over half their three pointers drilling 7 of 13 attempts. In a game that did not feature many whistles, attempts from the line were hard to come by. McGill went 3-for-5 from the stripe while Laval was 8-for-11.
Genevieve Derome led the way for Laval with 11 points, four rebounds and four steals. Marie-Pascale Nadeau was also impressive in her last game in the Rouge et Or colours with eight points, four rebounds and four steals.
The men's side of the RSEQ Final Four begins on Saturday. Second-seeded Bishop's confronts No.3-Concordia in a 1 p.m. start, followed by the top-seeded Redmen, who take on No.4 Laval in a 3 p.m. semifinal. The winners will meet in the league championship game on Sunday at 3 p.m.