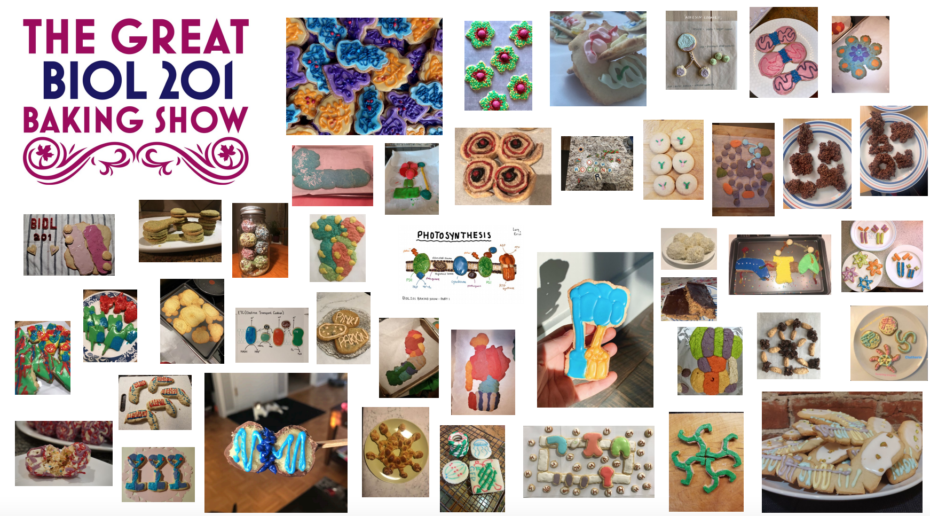 The atmosphere in the Biology 201 classroom is far from what one might expect on a grey Friday morning after a long week of online lectures and cramming for midterms. A mosaic image of the main campus greets students as they enter the Zoom room while bossa nova plays quietly in the background, helping everyone settle in and focus on being present in class for the next hour. Students exchange hellos in the chat with the familiarity of a tight-knit community, and there is palpable excitement in their conversation. Today isn't an ordinary lecture.
A few minutes later, another screen pops up in the Zoom video gallery; It is Bruno Feldeisen, the chef known to many for his role as a judge on CBC Television's The Great Canadian Baking Show. Feldeisen has dropped in to congratulate students on their amazing cookie creations, which represent different proteins they have learned about in class. The chat box explodes with excited messages from the 260 students on the call – some from long-time fans, and some from those who did not believe the renowned chef would make time to participate in their undergraduate biology course. It's an experience they won't soon forget.
 Bitten by the baking bug
Chef Bruno's memorable visit is part of a larger baking project that Professor Gary Brouhard and his team of six undergraduate course mentors developed as a way for Cell Biology and Metabolism (BIOL201) students to have fun with remote learning.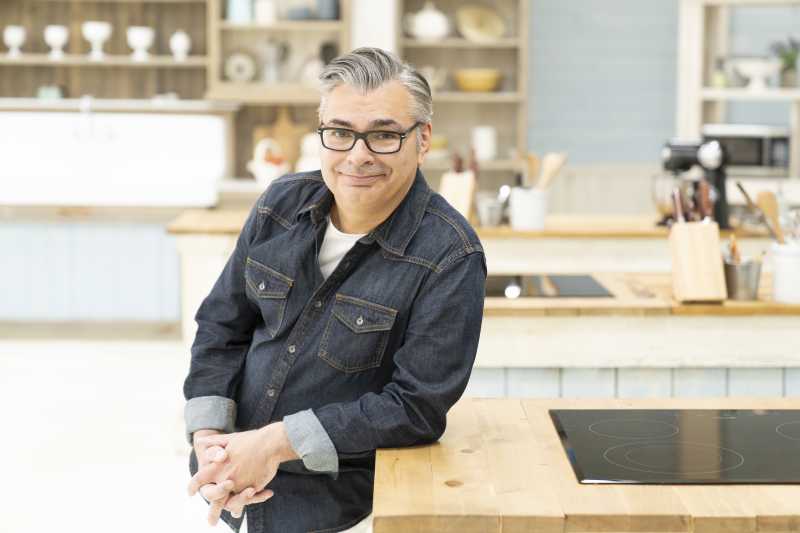 When asked about her reaction when the project was first announced in class, BIOL201 student Carolane Boisvert says, "At first I was really surprised, because everyone says that University is really serious and that you need to be focused and just do homework and lectures, […] but I thought it was a good idea just to get your mind off university work and do something that everyone can enjoy."
And Boisvert is not alone. For many students in BIOL201, the project has been their first experience of a teaching activity that has gone well beyond the standard undergraduate diet of lectures, tutorials and labs. So what inspired Professor Brouhard to bring together biology and baking? The idea came while watching The Great Canadian Baking Show with his family as a way to connect with relatives living in other cities.
"We were having so much fun watching the show, and it reminded me of a seventh/eighth grade project where I had to bake a cell cake," says Brouhard, "And I thought, 'Hey, what if we did something like this in BIOL201?'"
Student mentors crucial to project's success
BIOL201 is a lecture-based course introducing students to how cells work. The course covers a broad range of topics that lend themselves well to creative learning activities. However, like many undergraduate science courses, BIOL201 is large, with an enrolment of around 500 students each term. Coordinating any kind of class-wide project in a course of this size is no easy feat. The six undergraduate TEAM mentors involved in BIOL201 this semester have been instrumental in realizing Brouhard's initial baking idea and making the project a success.
The Tomlinson Engagement Award for Mentoring (TEAM) program is an initiative of the Tomlinson Project in University-Level Science Education (TPULSE) that enables undergraduate students to mentor in courses they have previously taken. Typically, TEAM mentors help professors by responding to student questions about course material; Brouhard's request to hire mentors for a class baking project was the first of its kind for the TEAM program.
TEAM mentor Erica Cianfarano welcomed the opportunity to take on unexpected culinary duties as part of her work supporting BIOL201 students.
"I kind of just expected that I would be replying to emails and answering questions on the discussion board, but when Brouhard contacted me, I thought, 'Wow, I'd love to be able to participate in this, […] it would be a nice way to come together, especially in the middle of a pandemic that can seem so isolating'," she says.
The BIOL201 TEAM mentors have been involved in every aspect of the project, from co-developing the baking challenges with Brouhard, to carrying out test baking, creating examples to inspire students in the course, and managing student submissions and the project's social media pages.
"This is the best way to get engaged," says TEAM mentor Cameryn Cappellazzo of her experience so far. "Even I found I was doing so much research to make my cookies. I love it."
Challenging project brings students together
Following the format of the TV show that inspired it, The Great BIOL201 Baking Show comprises three challenges, each focused on a different baking technique and cell biology topic. The first challenge in February tasked students with creating cookies in the shape of any protein of their choosing, while the upcoming challenge in March will see students using pastry to represent microtubules. The final challenge in April is yet to be announced.
"When I started, I was thinking to myself, 'I hope at least one person bakes a cookie'," Brouhard says. In the end, 40 students submitted images of their creations, including students from the previous year's cohort who were also invited to participate. (See students' protein cookie creations here).
Even for students who have not actively taken up the baking challenge, the project has had a profound influence on their level of engagement with the class, particularly during live lectures.
"It's the only […] experience we've had with other classmates [that has] directly connected us. People have even started to recognize names and build friendships, […] it has definitely brought us closer to other people in the class," says BIOL201 student Naomi Naidich, reflecting on how the project has helped to build community in the course and reduced the sense of isolation many have experienced in the context of remote delivery.
Tasty treats and serious learning
In addition to fostering class community and engagement, the baking challenges have provided valuable learning opportunities for students by compelling them to look at the course material from a different angle.
"It's important to take a moment to log off from school and benefit from approaching class material in a super different way," says TEAM mentor Alex Wang, reflecting on how the project has changed the learning process in BIOL201. "It forces you to think about the [course content] in another way instead of just looking at it and remembering. It's a more interactive way of understanding what you're learning."
Carolane Boisvert adds: "Looking for a subject to do was like a little study session for me; I was looking at all the proteins from class and what they did, and if I found them cool I wrote them down. It helped to revisit the material from class."
For others, the project has reconnected them with a pastime they enjoy.
"I don't bake a lot anymore because of school, but I made time for [this project] and it made me happy; it's been a long time since I've baked something cool," says BIOL201 student Naomi Naidich of her experience with the protein cookie challenge.
For TEAM mentor Gemma Moffat, the experience reminded her to make time for hobbies: "As a student, it's really easy to forget that you have other interests outside of school," she explains. "It hasn't taken away from coursework but has added to it and gets students excited for class."
Moving forward, students hope to see more creative projects like The Great BIOL201 Baking Show integrated into other courses.
For Boisvert, the baking challenges have made the remote learning experience more engaging and easier to bear: "Having the opportunity to make students participate in things other than coursework – because not everyone can attend classes in real time – makes us feel a little more listened to and a little more involved in the learning process of the class," she says.
Naidich agrees, adding: "Especially something like baking where it doesn't matter if it's good in the end; it doesn't matter because it's the process that's fun, and if it's linked to the course material, then it can be really stimulating."
The only downside to an online baking project?
"We can't taste any of the submissions," laments Brouhard after seeing the amazing cookie creations from students.
Gaining insights and sharing knowledge about remote teaching
Brouhard's baking project is just one of many examples of the thoughtful efforts made by instructors in the Faculty of Science to create meaningful and rewarding remote learning experiences for students. Across the Faculty, these efforts have been supported and facilitated by the Office for Science Education, which connects instructors with each other and with teaching and learning experts to exchange ideas and develop teaching strategies.
For instructors considering a creative engagement project in their remote or in-person courses, Brouhard and his TEAM mentors share the following insights from their experience this semester:
Get TEAM students involved. "It's really helped me rethink what the TEAM program could do and ways TEAM mentors can contribute to the class," says Brouhard, "The impact of [the baking project] has a lot of added value for students in the class that far exceeds what I have been able to offer through TEAM mentoring in the past."
Leverage students' creativity and extracurricular interests. "McGill students are multitalented. I think it's a little bit about tapping into the other talents that students have and it's inspiring for everybody to see that not only are we having fun studying cells together [in BIOL201], some of us are musicians, some of us are bakers, some of us are artists," says Brouhard.
Simple activities can have tremendous impact. "In terms of BIOL201 and other classes with creative assignments, I think it's an incredibly important chance to be able to integrate material in other ways," says Erica Cianfarano. "It's the highlight of my week when I get to sit down in front of the TV and just make a cartoon of what's happening in a cell for my MIMM class, for example; it's so much fun, and gives me a break from the incessant note taking."