By McGill Reporter Staff
McGill's varsity athletes celebrated the University's 190th birthday and the 50th anniversary of Canadian Interuniversity Sport (CIS) in style in 2011-12. The Hockey Redmen won the first national title in the team's 136-year history, and was one of eight McGill varsity squads to capture a conference championship this year.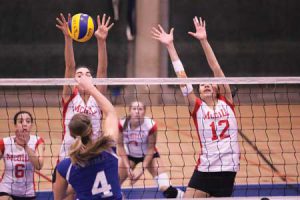 In all, a school record 16 teams competed in national championships, including the hockey and volleyball Martlets, who both brought home bronze, and the basketball Martlets, who won their first Quebec league title since 1996. The Redmen rugby team took home a provincial championship for the sixth consecutive year and the synchronized swimming team won their eighth straight national title. Overall, 77 McGill athletes were named league all-stars and nine were honoured as CIS all-Canadians.
McGill varsity athletes also fared well in individual sports. The University sent its largest contingent of swimmers ever (20) to the CIS national championships, where they won three bronze medals. McGill athletes also took home some bronze at the at the CIS track and field national championships, with third-place finishes in the women's 1,000 metres (Charlene Puel) and 4×800 relay.
The University handed out some awards of its own at the 35th annual McGill Intercollegiate Sports Awards Gala on April 4. To learn more about the athletes and teams honoured at the event and other Varsity Sports news, visit www.mcgill.ca/athletics/newsroom/spotlight/item/?item_id=215930.