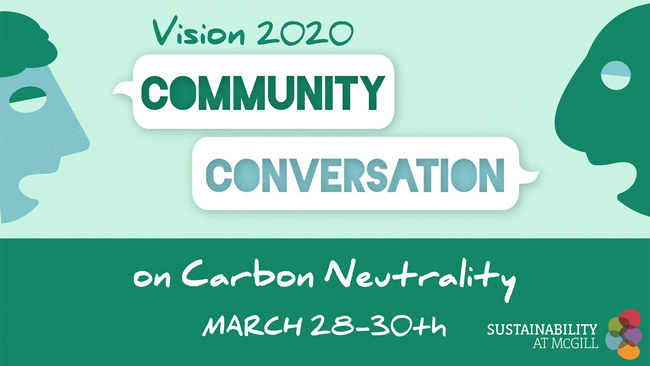 By McGill Reporter Staff
It's pretty clear that environmental awareness and responsibility are major concerns for the McGill community. McGillians are keenly aware that climate change is a serious problem, and that there is a pressing need to reduce carbon dioxide emissions from burning fossil fuels like oil, coal and gas.
That's why the McGill Office of Sustainability (MOOS) has been stewarding a community consultation process leading up to the creation of the University-wide 2017-2020 Climate and Sustainability Action Plan (Vision 2020).
To ensure that all students, staff and faculty members at McGill have an opportunity to contribute to this important discussion, there will be three Community Conversations on Carbon Neutrality, on March 28 (at Macdonald campus), 29 and 30.
"This year, we have convened groups of students, staff and faculty into Vision 2020 Action Teams to discuss what we should include in the 2017-2020 Climate & Sustainability Action Plan," says François Miller, the Sustainability Director of McGill's Office of Sustainability (MOOS). "The Action Plan will build off of our existing Vision 2020 Sustainability Strategy and put forth a number of priority actions to address climate and sustainability challenges at McGill. The Community Conversations on Carbon Neutrality are our opportunity to report back to the broader McGill community on our progress and ask them what they think of a possible carbon neutrality target. It is their energy, feedback, and ideas that will shape the future of climate action at McGill."
Participants can express their views by attending a Community Conversation at the following times and locations:
March 28, 1:30 – 3 p.m. at Macdonald Campus; Macdonald-Stewart Building, Faculty Lounge (MS2-022);
March 29, noon – 1:30 p.m. downtown; University Centre (also known as the Shatner Building), Room 202. Bring your lunch! ;
March 30, 4 – 5:30 p.m. downtown; University Centre (also known as the Shatner Building), Room 2022.
Carbon neutrality means zero net carbon dioxide emissions. The idea is to reduce your carbon foot print by reducing polluting emissions. But getting rid of all carbon emissions is tough. That's where carbon offsets come in. If you add polluting emissions to the atmosphere you can subtract them by buying what are called carbon offsets. Offsets are credits for emission reductions achieved by projects such as wind farms, solar installations, or energy efficiency retrofits. They can be purchased and added to your emissions to reduce your net climate impact. Sequestering carbon through the planting and preservation of forests can also be counted against greenhouse gas emissions.
Carbon neutrality is catching on in surprising places. Some celebrities have declared themselves carbon neutral, along with the Rolling Stones, Coldplay, and the Dave Matthews Band. Major sporting events, airlines, movie studios, major international conferences, businesses such as Dell, Nike, Google, as well as entire countries such as Costa Rica, Iceland and New Zealand are aiming at carbon neutrality. Most recently Laval University in Quebec City became the first Quebec and Canadian university to become carbon neutral.
Before the Action Plan is officially adopted, members of McGill's new Advisory Council on Sustainability, comprised of 17 internal and external members from various backgrounds, will review and validate the plan.
In addition, MOOS will convene a Task Force of Academic Experts that will provide input on the overall efficacy of the plan, especially regarding its climate-related target.
Interested members of the McGill community can express their views by contributing ideas online.
McGill Principal and Vice-Chancellor Suzanne Fortier is on the record as saying "Sustainability is a priority for McGill. The Sustainability Strategy reflects the progress that has already been made and addresses the challenges ahead. We have set ambitious goals and I am confident that our drive, our talent and our engagement – within the University and beyond – will allow us to succeed."
According to the Vision 2020: A Sustainability Strategy for McGill University report in some areas McGill is leading in sustainability, for example with:
But the Vision 2020 report also outlines several areas in which McGill can improve its sustainability performance, including energy efficiency and green buildings, which stem partly from the University's complex mandate. With 37,000 students hailing from 150 countries, administering approximately $500-million in research funding, and operating roughly 200 buildings, 82 of which were built before 1940, sustainability can be a challenge. McGill also has a working farm, a UNESCO Biosphere Reserve, and a main campus that is located at the centre of a multicultural, multilingual metropolis with a mean temperature in July that is 35 degrees Celsius higher than the mean temperature in January.
Learn more about the Community Conversations about Carbon Neutrality