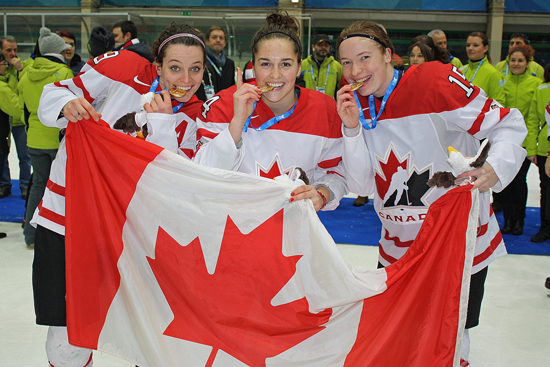 McGill's Gabrielle Davidson leads all tournament scorers
Jenna Smith from the University of Calgary scored two goals and added an assist as Canada claimed its third straight Universiade women's hockey title thanks to a 5-0 gold-medal win over Russia, Friday night.
"I'm excited, I'm elated!" said head coach Howie Draper from the University of Alberta. "I'm not sure this was our best game. When you're playing in the final, your nerves start to get the better of you. I felt the first period was little rough but we picked it after we got the first goal and played a little more relaxed. We wanted to play physical from an offensive standpoint. We wanted to drive the net lanes and take the puck to the net. We wanted to create traffic and they didn't like that too much, so it created some physical play on their part. Our girls executed the game plan and I'm very happy for them.
"I don't want to say that one [player] stood out. They all had great games and maybe when a few weren't having their best game, others stepped up and that's what great teams do. It was a great team, great to coach them and nice to finish off with a gold."
While the Canucks outshot their Russian rivals 52-12, including a 17-3 advantage in the opening period and 21-3 in the second, they were only up 1-0 at the first intermission on a goal by Jessica Pinkerton from the University of Guelph, who scored what stood as the game-winner at 11:39.
Canada had numerous opportunities to break the ice before Pinkerton's marker but couldn't convert on three power plays in the first nine minutes of the contest.
Smith, a native of Swift Current, Sask., finally doubled the lead midway through the second frame and assisted six minutes later on McGill's Katia Clement-Heydra fifth of the tournament, which made it 3-0 after two.
In the third, Laurier's Laura Brooker and Smith, with her second of the night, rounded out the scoring in the last five minutes.
Gabrielle Davidson, a McGill forward from Pte. Claire, Que., picked up a helper on the final goal to finish with a tourney-leading 22 points, with 13 goals in just seven contests. Teammate Clément-Heydra was second with a 5-13-18 mark, while rearguard Brittney Fouracres, a third McGill player on the Canadian roster, posted a 1-11-12 dossier.
"It feels incredible. Together, we got on a journey and our main goal was to bring the gold medal home and make our family and country proud, I think we did that together as a team," Davidson said. "As for leading the tournament in scoring, I give credit to my team. Every time I was on the ice there was five other people contributing. It's a team effort. I'm just fortunate to be here and to win the gold medal."
Team captain Kim Deschênes also collected an assist in the final. The University of Montreal forward from St. Quentin, Que., was the only returning member from the 2011 gold medal-winning squad.
"We won in 2011, we won in 2013. It was amazing and I hope the team in the next FISU Games does the same thing," said Deschênes, who finished the competition with three goals and 15 points. "The first day we were together we were shy and didn't want to talk and now we have a new family, I have new friends – it was amazing, an amazing experience."
Western goaltender Kelly Campbell made 12 saves to register her fourth shutout in as many outings in Trentino. The London, Ont., native kicked aside all 31 shots faced over the tourney.
At the other end of the ice, Anna Prugova was spectacular, turning aside 47 pucks. She had made 51 saves in the first meeting between the two teams on Dec. 12.
With the victory, the CIS all-stars not only completed an impressive run at the 2013 tournament, they remained perfect in 21 games since the inaugural FISU tourney in 2009. In Trentino, they outscored their opponents by a 77-2 margin overall, including another 5-0 win against the Russians in the round-robin and a 15-0 domination of Japan in Wednesday's semifinals.
Team Canada had claimed Universiade gold for the first time four years ago with a 3-1 triumph over host China in Harbin, before repeating in 2011 thanks to a 4-1 defeat of Finland in Erzurum, Turkey.