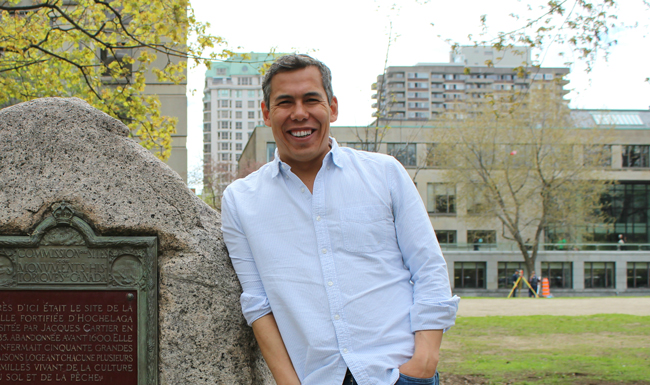 By Ki-eun Peck and Parker Finley
On a Tuesday afternoon in March, members of the McGill community gathered in the century-old Hosmer House to learn about Indigenous histories. The Kairos Blanket Exercise – given to over 200 students in the Faculty of Education alone this year – is part of the broader work being done by Allan Vicaire, Indigenous Education Advisor, to integrate Indigenous perspectives and histories into curriculums at McGill.
A member of the Mi'gmaq community of Listuguj, Vicaire seeks to build bridges between Indigenous and non-Indigenous students, staff and faculty. Working for nearly six years out of the Social Equity and Diversity Education Office (SEDE), Vicaire increases awareness at McGill through campus-wide events, such as Indigenous Awareness Week, and facilitating Indigenous educational workshops for classrooms.
Vicaire's work touches many sectors of the University, in part through successful collaborations with different units and community members. Recent collaborators include the Department of Integrated Studies in Education (DISE) and Assistant Professor Mindy Carter, as well as Ratna Ghosh, Sheryl Smith-Gilman and Doreen Starke-Meyerring.
As a part of her FRQSC-funded research project aiming to help pre-service teacher education students learn about Indigenous peoples experiences in Canada through drama, Carter reached out to Vicaire. Together, they have facilitated the KAIROS Blanket Exercise Workshop for Carter's classes and students. The interactive workshop helps participants understand the lives and experiences of Indigenous people from pre-colonization up until present day.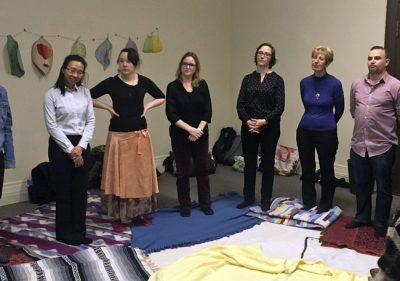 In describing the metaphors used in the exercise, Vicaire discusses how "each student starts with a blanket, which represents a piece of land, and at the beginning there's so many. But at the end there's barely any left, and they're all folded." Vicaire believes these kinds of discussions between students are the best way to learn and reflect about Indigenous history.
A key component of the exercise is the sharing circle after the blanket simulation, where participants reflect on the experience. "I really enjoy the sharing circle," says Vicaire. "It's an opportunity not only to hear students' reflections, but also for me to connect with them and share my own story."
Carter believes the workshops are successful because of Vicaire's approach and experience in the role of Indigenous Education Advisor. "Allan is a great person to work with … he knows how to effectively lead the workshop with the students and generate conversation afterwards," she says. "He also has the wealth of knowledge to answer the students' questions and give further information if they need it afterwards."
Ideally, by working with educators to integrate Indigenous perspectives, McGill's Education students are more likely to incorporate these perspectives post-graduation to other classrooms and beyond.
One such former student is Clare Olson, who, after graduating from Elementary Education in the spring of 2016, is now teaching on the Nisqually reservation in Washington State. "[The workshop] was a powerful, simple exercise that brought humanity and relativism to an issue that is often treated as ancient history," says Olson. "Framing the current situation within a historical narrative allowed us as students to get our hands dirty and envision the impact it has today. I certainly try and incorporate that understanding every day in my own teaching practice, where I work with Indigenous students."
Olson's testimony shows the impact of Vicaire's work with the SEDE is not limited to McGill's lecture halls. As the Indigenous Education Advisor, Vicaire contributes to society at large by empowering students and other community members to take Indigenous perspectives with them as they become educators, practitioners and informed members of society.