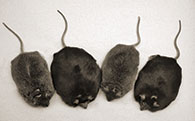 Our genes are busy little multitaskers. Take PTB1b. At normal levels, PTB1b's enzyme helps regulate cell growth and cell division. Too much PTB1b, however, causes cells to grow out of control. Now Dr. Michel Tremblay, Director of the McGill Cancer Centre, has found that 40 per cent of breast cancer cases in women present overexpression of PTB1b.
A mere seven years ago, Tremblay linked this same gene to obesity and diabetes—and at least one pharmaceutical company is already doing human trials for PTB1b-suppressing drugs. This quick progress may mean that a breakthrough breast cancer drug is just on the horizon. "Adapting these compounds is all that is needed to attack breast cancer," Tremblay explains.
Of course, just as one gene can be linked to more than one disease, a disease like breast cancer involves a number of genes working in concert. Fortunately, researchers such as Dr. William Foulkes are continuously furthering our understanding of these deadly tangles of DNA segments. Foulkes, Director of McGill's Program in Cancer Genetics and Chief of Cancer Genetics at the Jewish General Hospital Cancer Prevention Centre, recently characterized two mutations on the PALB2 gene that seem to relate to a particular breast cancer "signature." Foulkes and his colleague Dr. Marc Tischkowitz collaborated with researchers at Harvard's Dana-Farber Cancer Institute, the Institute of Cancer Research in Britain and the Netherlands Cancer Institute. Foulkes describes their discovery as another "factual brick" in our still-under-construction understanding of breast cancer.
"Approximately 10 genes, including PALB2, have now been associated with a twofold or greater risk for breast cancer," says Foulkes. "We're not yet clear on the exact importance of PALB2, but carriers of mutations in these genes do have a higher than average risk for breast cancer—and therefore require special surveillance, including magnetic resonance imaging, and may opt for preventive surgery."
---
Dr. Tremblay is the Jeanne and Jean-Louis Lévesque Chair in Cancer Research; his research is funded by the Cancer Research Society, the Canadian Institutes of Health Research, the Weekend to End Breast Cancer and Rethink Breast Cancer. Dr. Foulkes's research is funded by the Canadian Breast Cancer Research Alliance.