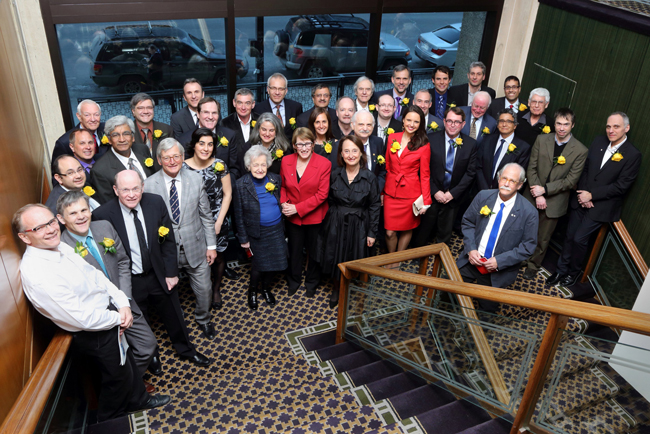 World-renowned neuropsychologist Dr. Brenda Milner was among the 75 laureates, the winners of major provincial, national and international prizes, honoured on March 12, at Bravo, McGill's premier celebration of research excellence. In 2014, Dr. Milner was awarded the prestigious Kavli Prize and the Dan David Prize for her outstanding contributions to neuroscience.
Among those also celebrated were Dr. Nahum Sonenberg for the Wolf Prize in medicine, which he won for his pioneering work in the discovery of the key protein regulators that control protein synthesis; Professors Aashish Clerk and Madukar Pai were applauded for receiving memberships to the Royal College of New Scholars, Artists and Scientists for achievements in physics and epidemiology; and Myriam Denov was applauded for being awarded the Trudeau Fellowship for her work developing programs for youth and families attempting to resettle after surviving war
A complete listing of Bravo honourees is available here.
The tenth annual event attracted upwards of 300 guests, including researchers and their families and friends, faculty members, students, as well as members of McGill's academic leadership. Guests enjoyed music provided by students of the Schulich School of Music and browsed poster presentations of the award winning research.
In her opening remarks, host Dr. Rosie Goldstein, Vice-Principal Research and International Relations, reflected on the importance of recognizing McGill's research excellence and the community-effort that goes into major national and international prizes and awards nominations: "Together, Bravo's laureates make a convincing argument for dedicating both the time and the resources to promoting major national and international prizes and awards, as well as for the tremendous amount of work done in the background – a labour of love that often goes unnoticed."
Principal Suzanne Fortier, speaking at the presentation of the award honours, highlighted the special qualities that set an award-winning researcher apart from the pack – "courage, resilience and determination."
Headway research magazine, also celebrating its tenth anniversary, was launched at the event. Headway magazine will be available soon in various locations around campus and online.