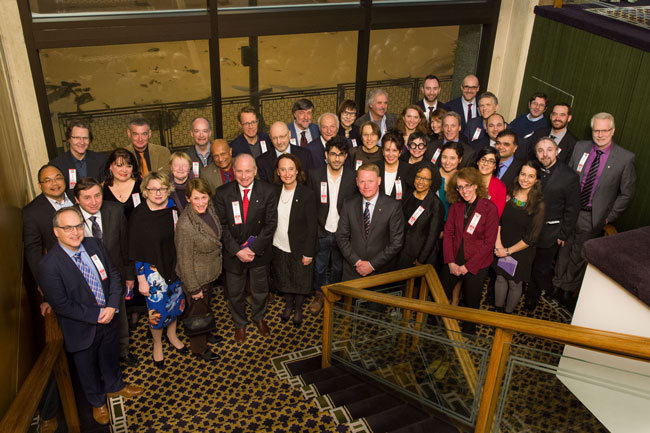 The winter storm that walloped Montreal on the evening of March 14 didn't dampen the sunny mood at McGill's annual Bravo gala. Upwards of 200 people braved the weather to celebrate the incredible work, unparalleled dedication and impressive accomplishments of McGill's leading researchers. The gala, hosted by Rosie Goldstein, Vice Principal of Research and Innovation, honours those at the University who have won major provincial, national and international research prizes and awards during the previous year.
Over 80 researchers were honoured, including Vicky Kaspi, winner of the 2016 Gerhard Herzberg Canada Gold Medal for Science and Engineering, as well as the Order of Canada, and Claudia Mitchell, winner of the Social Sciences and Humanities Research Council (SSHRC) Gold Medal. Kaspi and Mitchell also delivered keynote addresses at the gala.
In her remarks, Prof. Mitchell reflected on the thinkers who have had an impact on her research career, and on the sometimes-indefinable value of exploring unanswered questions: "There are two philosophers and researchers who have had an impact on me because of the questions they have raised. One is Ursula Franklin…she posed this question: "what will you know when you know it?" This is a question that is never solved in one research grant, [nor] answered in one body of literature and perhaps it's never answered in a lifetime of research."
Prof. Kaspi spoke to the importance of nominating researchers for prizes and awards, saying that, "Recognition and prizes to researchers may be a standard academic currency, but they also represent one way the public can identify reliable scientists. [Since winning this prize] I've received requests for commentary on science issues, been invited to government discussion panels…I have a voice that I didn't have as much in the past."
For the first time at Bravo, McGill awarded two prizes for the dissemination and popularization of research through media. Louis Arseneault, Vice-Principal, Communications and External Relations, awarded the inaugural Principal's Prizes in Public Outreach Through Media to Jennifer Bracewell, PhD, Faculty of Arts, and to Prof. Alain Brunet, Faculty of Medicine. The prize recognizes the efforts made by professors, post-doctoral fellows, research associates and graduate students who have engaged with the media over the course of the previous year. VP Goldstein noted that, "it's much more than research excellence that earns accolades – it's public engagement as well."
Though there were many ovations throughout the evening for the honourees, perhaps the greatest cheer was reserved for Principal and Vice-Chancellor, Suzanne Fortier, who did her utmost to arrive in time to give closing remarks, having been delayed in transit due to the weather. "Tonight, we pause and say thank you to the researchers and educators whose commitment to their work are carrying McGill's position as a leading Canadian research university into the future", she said.
Bravo brought back a popular attraction this year during the pre-ceremony cocktail hour: Researcher Speed Dating, during which guests were invited to chat informally with five researchers, all Bravo honorees.
Photos from the event, a video celebrating research prizes and awards and a complete listing of Bravo honourees is available here.