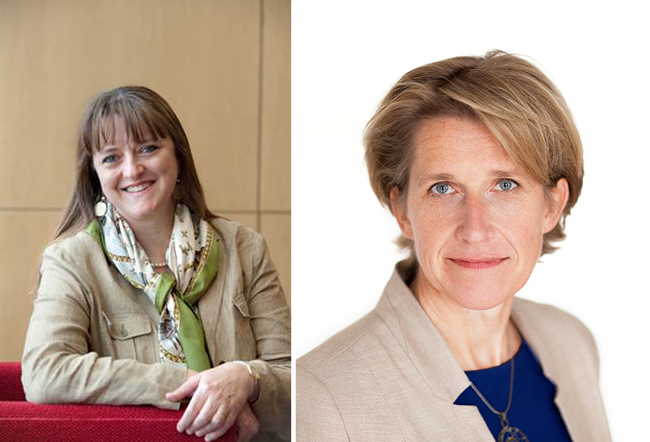 By McGill Reporter Staff
The Board of Governors approved the appointment of two new Deans at its Tuesday meeting, continuing a process of renewal in the senior administration. Both are women and both have international academic backgrounds.
Isabelle Bajeux-Besnainou, a Professor in Finance at George Washington University, will be new Dean of the Desautels Faculty of Management, replacing former Dean Peter Todd, who left the University a year ago. She will begin her term in January 2016.
Anja Geitmann, a cell biologist by training and a Professor in the Department of Biological Sciences at the Université de Montréal, will take up duties at the beginning of September as Dean of Agricultural and Environmental Sciences and Associate Vice-Principal (Macdonald Campus). She replaces outgoing Dean and AVP Chandra Madramootoo, who has served at Mac for the past 10 years.
Both new Deans are renowned researchers who have published extensively in major scholarly journals. And both have made interdisciplinarity a key part of their teaching and program development in their respective fields.
Provost Anthony C. Masi, in messages to the McGill community, expressed delight in the new appointees, who were named following the recommendations of search committees who conducted international searches for top candidates.
Bajeux-Besnainou has been serving as Associate Dean of Undergraduate Programs at the George Washington University School of Business since April 2012, and chaired the Finance Department during the 2011-12 academic year.
As Associate Dean, Prof. Bajeux-Besnainou launched several new programs and initiatives at GWU, including a new Bachelor of Science degree program with a major in Finance, Masi said in a message to the community. This degree, implemented in Fall 2013, requires a second major outside of the Business School. "She also redesigned the Bachelor of Business Administration curriculum to highlight the liberal arts and require a minor outside of the Business School, effective for all incoming students beginning Fall 2014," Masi said.
Bajeux-Besnainou also redesigned the First Year Development Program for incoming freshmen with additional emphases on integrity, ethics, civility and social entrepreneurship.
An alumnus of the École normale supérieure of Paris, Prof. Bajeux-Besnainou earned her doctoral degree in 1989 from the Université Paris-IX in Mathematics Applied to Finance. She taught Finance at the École supérieure des sciences économiques et commerciales, in Paris, from 1989 to 1993, at Université de Montréal in the fall of 1993, and has been at George Washington University since 1994.
At UdeM and the Institut de recherche en biologie végétale, Geitmann has brought together mechanical engineers and cell biologists to examine the biomechanical principles that govern plant development and reproduction. These interdisciplinary collaborations have led to the use of both experimental and theoretical mechanical approaches to understanding plant cell biology, Masi's message said. "Prof. Geitmann is a renowned scholar with an international and interdisciplinary research career that took her from Germany to Italy, the United States and Sweden before she settled in Quebec."
Geitmann obtained her PhD in 1997 from the University of Siena (Italy), following studies at the University of Konstanz (Germany), Oregon State University, and Stockholm University. After completing her degree, she held postdoctoral fellowships at Université Laval and at Wageningen University in the Netherlands.
She is President of the Microscopical Society of Canada and Vice-President of the Canadian Society of Plant Biologists. She has published numerous articles in leading scientific journals and serves on the editorial boards of multiple journals, including Plant Physiology.