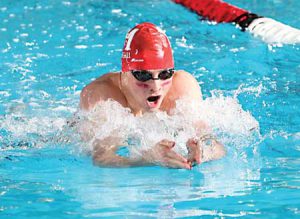 By Earl Zuckerman
McGill swimmer Steven Bielby of Pointe Claire, earned all-Canadian status and captured a pair of gold medals at the Canadian Interuniversity Sport (CIS) championships in Calgary last week. He won the 200-metre individual medley, establishing Quebec conference and McGill records with a time of two minutes, 0.24 seconds.
The 21-year-old electrical engineering student had previously won the 400m IM on the first day of the meet, posting a time of 4:13.50 that counted for 818 points in the Federation International de Natation scoring table, which proved to be the second-highest FINA point score over the weekend. Bielby, a 5-foot-8 middle-distance specialist, was beaten only by the 833 FINA points amassed by Ryan Cochrane, the Canadian Olympic bronze medalist with the Victoria Vikes.
Bielby, along with all the other individual gold medalists at the CIS meet, automatically earned an invitation to represent Canada in August at the 2011 FISU Summer Games in Shenzhen, China.
In three trips to the CIS championships, Bielby has won a school record six gold medals, to go along with one silver and a pair of bronze medals. The nine podium finishes are one shy of the school record held by Alexandre Pichette (two gold, three silver, five bronze).
"Steven came to this meet to win the two individual medley events and he did so in convincing fashion," said Peter Carpenter, in his second season as head coach of the McGill swim team.  "While the second day of this meet was a difficult one for our team – not winning a medal – it made today that much sweeter as Bielby demolished the field in his race. To be able to bounce back under the (high altitude) conditions here at 3,500 feet elevation, took an incredible effort."