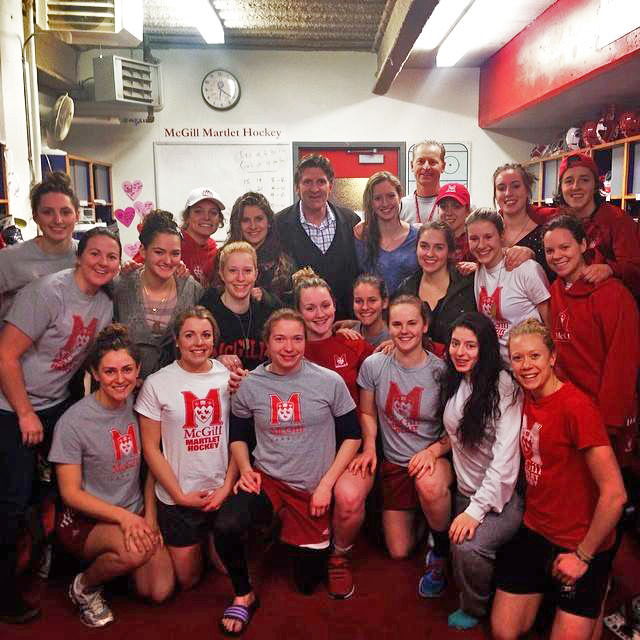 By Earl Zukerman
Two days after guiding Canada to an Olympic gold medal at the Sochi Winter Games, Detroit Red Wings head coach Mike Babcock made a surprise visit to his alma mater.
Aside from dropping off his annual donation cheque to McGill University, the 50-year-old native of Saskatoon took a taxi up to McConnell Arena, to address both the men's and women's hockey teams during their practices Tuesday evening. Both teams are heading into their respective second round of playoffs in their quest for a national championship. The Redmen open an OUA East best-of-three semifinal in Trois-Rivieres on Wednesday, while the Martlets begin an RSEQ best-of-three final series at home to the Montreal Carabins on Sunday.
Babcock, a two-time all-star defenceman with the Redmen from 1983 to 1987, indicated that he would be wearing a red McGill neck tie behind the Detroit bench when the Red Wings play the Montreal Canadiens at the Bell Centre on Wednesday, The 1986 physical education graduate owns an 8-3 lifetime record behind the bench at the pro level with one of his trusty old school cravates, including a 2-0 mark in Olympic gold medal games.
In a question-and-answer session with the Redmen, he was asked by one of the players how he compared winning the Stanley Cup to an Olympic gold medal.
"When you have both you don't have to compare," quipped Babcock, who has one Cup and two Olympic titles under his belt. "When you win the Stanley Cup, your name is on it for the rest of your life… but an Olympic gold medal is absolutly spectatular. So you want to win both and win them multiple times. I want to win that Cup again. The one you don't have, I suppose, is the one you want the most."
Before heading off to dinner with a number of his former McGill teammates, he left with one final piece of advice
"The way I look at university hockey is that you think you're here for a long time and before you know it, your four or five years are over. I believe that you should live your life with your foot on the gas. You have to maximize every single day of your life because you don't know what's going to happen tomorrow. This might be the best group you ever get to play with, so why wouldn't you maximize your opportunity. It's about seizing the moment, right here, right now. It's about being the best you can possibly be."
For the Redmen's playoff schedule, go here. For the Martlets' playoff schedule, go here.