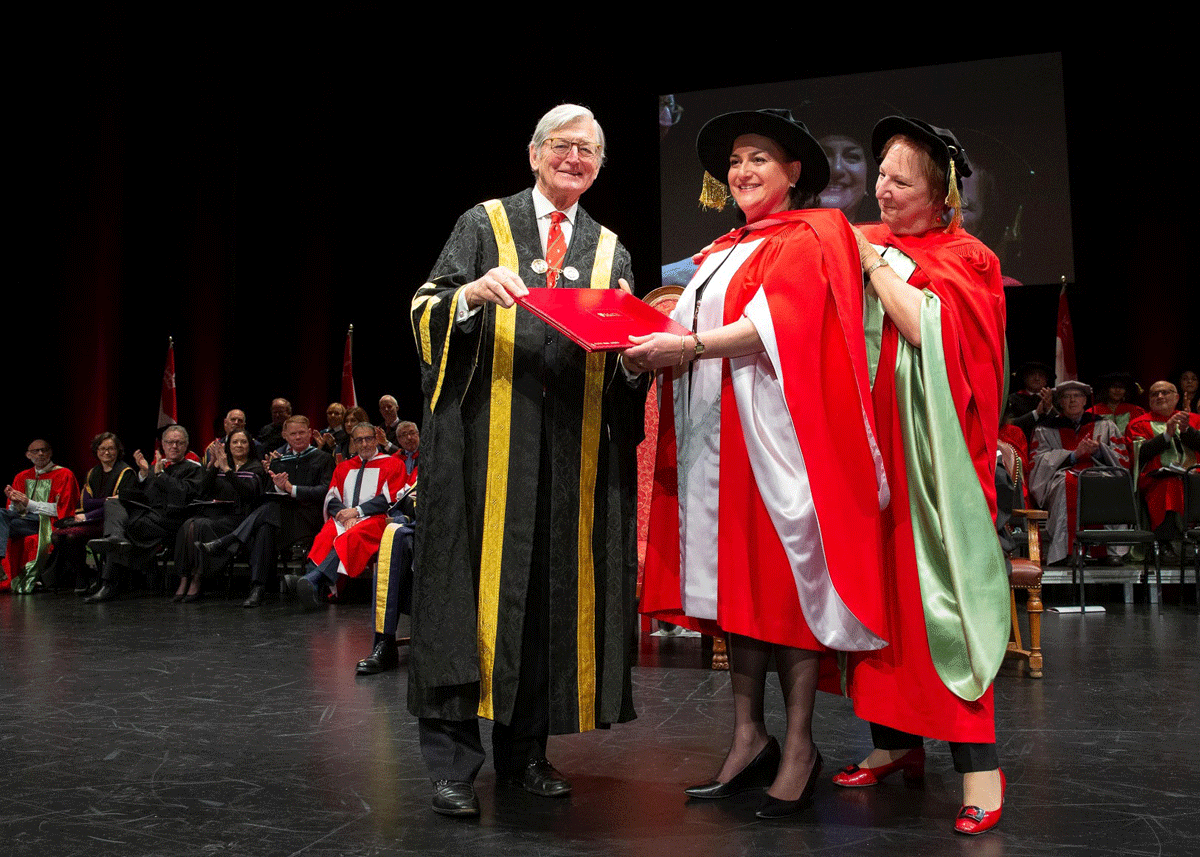 At yesterday's Fall Convocation ceremonies, Naomi Azrieli, a passionate champion of support for brain research, and hockey great-turned-public servant Ken Dryden were honoured with honorary doctorates. Both Azrieli and Dryden took the opportunity to issue a challenge to graduating students: more than ever, the world needs you to step forward and shape its future.
In the morning session, Azrieli, CEO and Chair of the Azrieli Foundation and Chair of Brain Canada, received a degree of Doctor of Laws, honoris causa. She used the platform to implore the audience to fight back against an increasingly bleak world.
"What I would suggest is that the time we are in – right here, right now – this moment that you are all about to go out into the world, is possibly the most consequential time in history," Azrieli told graduating students.
Azrieli went through a checklist of ongoing global crises – including the ever-expanding world population, rapid climate change, growing economic inequalities, mass migrations and increasing xenophobia. "The world backdrop to your graduation is fear," she said.
But, bleak as the world may seem at this juncture, Azrieli said she does not think that all is lost. "My hope stems mainly from the belief that the solution to the world's problems are unlikely to be found through 'The System' or through governments alone, but rather by the actions of smart, creative, compassionate individuals who believe they can make a difference and aren't afraid to fail," she said. "And, therefore, one source of hope for me is you.
"I know that the solutions to the profound problems in the world will be found not only the careers you chose in what you do to make a living, but also in what you do to make a life," said Azrieli.
Watch Naomi Azrieli's Convocation address, and hear the four ways she believes the Class of 2018 can turn fear into action that will benefit the world by clicking on the thumbnail below. The article continues below the video.
In the afternoon session, Ken Dryden, author, lawyer, politician and, of course, six-time Stanley Cup champion with the Montreal Canadiens, received a Doctor of Letters, honoris causa.
Dryden opened his remarks by reminiscing about his own graduation ceremony from McGill. "It was here in Place des Arts. It was in June 1973. About two or three weeks before that, we were parading through Montreal with our second Stanley Cup. It was a nice month," he said, drawing cheers and applause from the audience.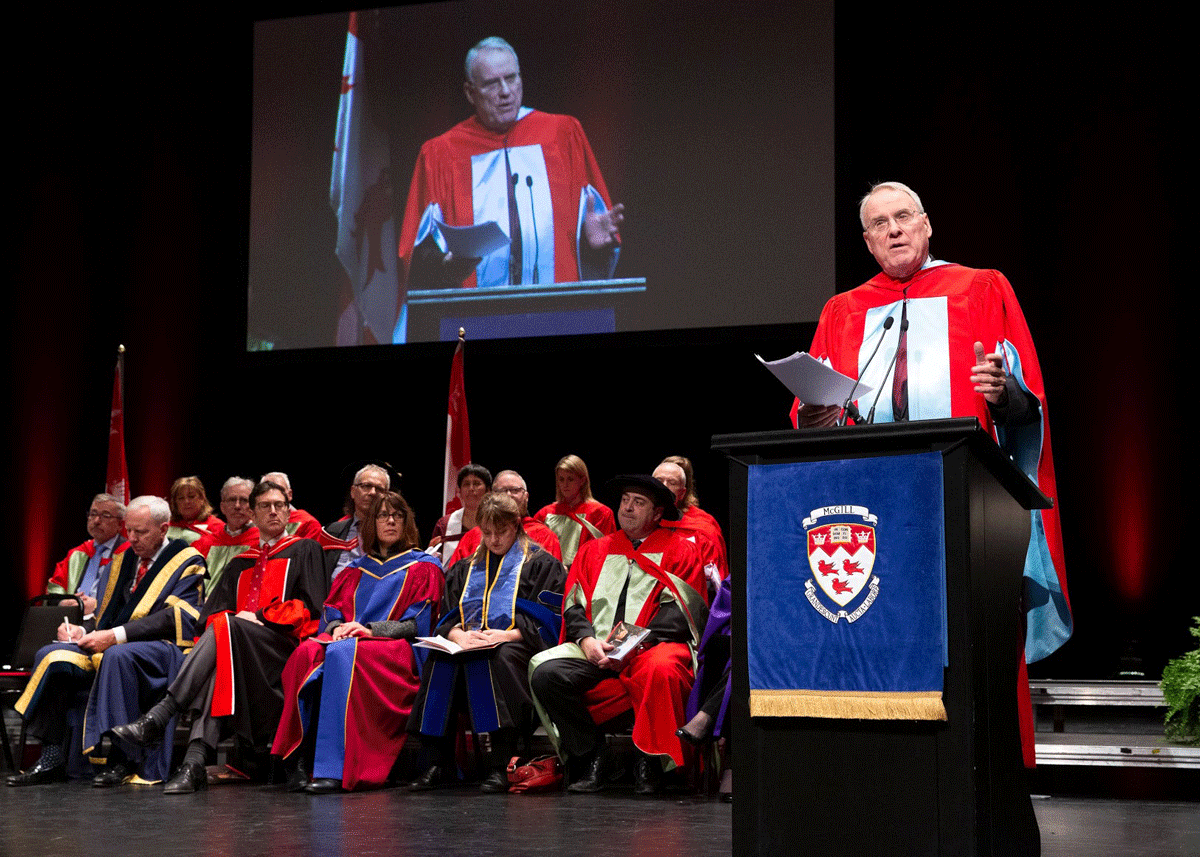 Dryden spoke of the class he taught at McGill for five years called Making the Future. "I loved that class," he said.
The future, Dryden explained, was a vital, sometimes neglected part of a student's education.
"I knew that all of you that all of you, in your other courses, were learning about the present and the past," he said. "I wanted you to think about the future. Canada's future, the world's future, and your own. You have 60+ years of your life ahead of you… what kind of Canada, what kind of world, do you want?"
He challenged those students, and the Graduating Class of 2018, to come up with more than just a pie-in-the-sky answer. "Don't just give me a vision. Visions are easy. Tell me at least some of the steps you'll have to take to get there," said Dryden.
He noted that he used to be a fan of cautionary tales such as 1984, A Brave New World, and The Handmaid's Tale because "they are so haunting, so wise, so all-seeing and all-knowing."
But, continued Dryden, "I'm much more impatient about them now. I don't need to know so much that things can get worse and what life will be like if they do. Mostly, I get that.
"What I need to know is how not to get there. How to get to a better place," he said. "I need to know what steps we need to take so that the awful doesn't happen. The concrete, doable steps."
Once again, Dryden threw down the gauntlet to the graduating students. "This is where you come in. This time and stage in your life is the time for aspirational tales. Don't hold back. The present and the future need you," he said. "I can't wait to see the future you will make."