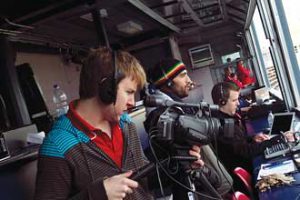 Connect with students the way students connect with each other
By Jim Hynes
Once there were only paper posters, and now there are posters of the Facebook kind. Not to mention the Tweeters.
For the longest time, publicizing varsity sports at McGill, or anywhere else for that matter, was pretty one-dimensional – two-dimensional to be more precise. You put ads in papers and papered the walls with posters. Then came web sites, once at the avant-garde and now almost considered old school. The new school? Facebook, Twitter, Youtube, mobile websites and all those other social and new media tools.
McGill's Athletics & Recreation department has slowly but surely been integrating the use of new and social media tools into its communications strategy for the past few years.
Today, Jill Barker, Manager, Communications, McGill Athletics & Recreation, and her team, including students hired especially to enhance the department's social media presence, use the Athletics' Facebook page (www.facebook.com/mcgillathleticsandrecreation) and Twitter (http://twitter.com/McGillAthletics) to not only promote upcoming games, but to update their fans and followers as the action unfolds. It's all part of the real-time web, where people need to know what's happening… right now!
The tools have changed, drastically so, but the goal is still the same: grow school pride and get people to the games, and not necessarily in that order. But given the McGill context, that's not as easy as it sounds.
"McGill is a big university," said Barker. "We want to promote more school spirit, and this is how we we're trying to reach out to this very large and very diverse community. We want to try to connect with students the way students are connecting with each other and with the rest of the world. We're trying to find that magical connection."
That magical connection now involves having people Tweet directly from games. Student Tweeters bring Athletics followers up to date with Tweets like "Martlets are DOMINATING with a score of 2 – 0," "Shots at the end of the first period are 23 – 4 for McGill," or the more succinct, "GOOOOAAAAALLLLL!!!!!!" Three-person student broadcast teams, meanwhile, bring live coverage of football, hockey, basketball and soccer home games via the Streaming Sports Network (www.ssncanada.ca) to those with access to a computer connected to the Internet, which means just about everybody.
"We think that by reaching out to people who can't be at a game they will start getting interested, start following a team and then start coming to games," said Barker. "It's an old-school way of thinking that if we blackout the games then people will come. In reality they'll just forget about the team."
The new tools keeping McGill sports teams top of mind are popular with friends or family of athletes as well as with alumni, especially those who live too far away to attend a game in person.
Athletics and Recreation also recently added a mobile version of its website (m.athletics.mcgill.ca), streamlined to offer the kind of information users need, like game schedules, scores and standings for both varsity and intramural sports. It proved a little too popular with some of the over 6000 intramural sports participants when it was first launched. Unable to handle the onslaught of sudden traffic, the site crashed.
The department also works with a student videographer whose work will feature prominently on its own Youtube channel (www.youtube.com/user/McGillAthletics). Inside the Athletics Complex itself, new electronic bulletin boards, more adaptable and visually appealing than posters, now spread the good word, and save the trees.
"Posters were never all that effective to begin with," Barker said. "They just become part of the furniture, you don't even see them. And they cost a lot of money. The social media stuff, well, it costs in time but otherwise it's free. When we first decided to get rid of posters, I thought all of the coaches were going to have a heart attack," she laughed. "But our attendance since then is up 10 per cent, so we must be doing something right."
Old schoolers can still find everything they need to know about McGill Athletics at: www.mcgill.ca/athletics/. New schoolers will already know where to go.