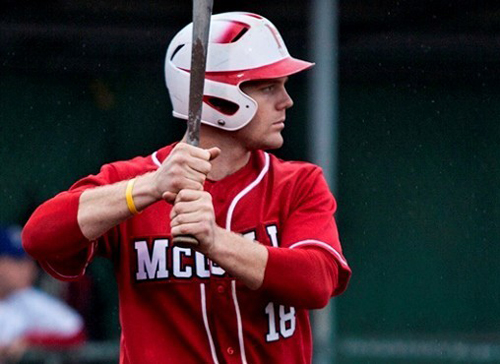 By Earl Zukerman
Outfielder Channing Arndt of Yarmouth, Maine, went 5-for-6 with three homers and seven runs batted in as the McGill baseball team swept a doubleheader from the John Abbott College Islanders, Saturday. The Redmen won the opener 15-5 and took the nightcap 14-3. Both games were shortened by the mercy rule.
Arndt, a political science senior, reached base seven times over the two games. The 6-foot-1, 190-pound right-fielder also had a walk, was hit by a pitch and scored six runs.
His exploits overshadowed that of third baseman Casey Auerbach, a history senior from Westmount, Que., who went a combined 2-for-6 at the plate, with a walk, home run and three RBIs.
In the opener, McGill scored four in the first inning and made it 7-0 in the second on a three-run homer to deep left by Auerbach. They added five more in the fifth and one more in the sixth on a solo homer by Arndt.
In the nightcap, McGill scored twice in the first inning on back-to-back doubles by Adam Gordon of Dollard des Ormeaux, Que., and Auerbach. The Redmen added five runs in the second. Freshman Zachary Aaron of Montreal led off the inning with a double, advanced on a Jeremy Sutton ground-out.
Then Adam Levis of Dollard des Ormeaux singled to drive in Aaron. Montrealer Jamie Fuoco singled to score Levis and Arndt hit a two-run homer to left field. He added a mammoth three-run shot to deep right centre field in the following inning to make the score 10-0.
The sweep evened McGill's record at 5-5 in the Northern division of the Canadian Intercollegiate Baseball Association. They are slated to play another doubleheader on Sunday, against Carleton at Kinsmen Park in Ottawa.