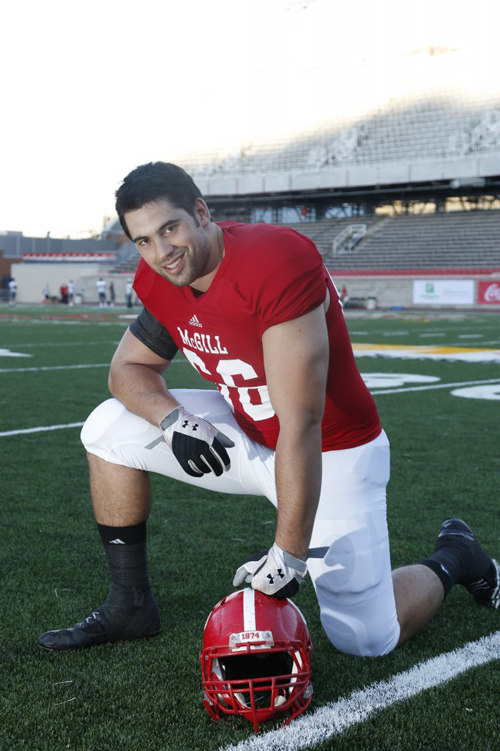 By Earl Zukerman
Laurent Duvernay-Tardif, a 22-year-old medical senior from McGill has become the second player in Quebec university football history to capture two major conference awards in the same season. The league's award nominees, sponsored by the accounting firm of Raymond Chabot Grant Thornton, were announced Tuesday by the Réseau du sport étudiant du Québec in a press conference held in Montreal.
The 6-foot-5, 305-pound offensive tackle is only the third McGill player to earn the RSEQ's most outstanding lineman award and the 13th in 28 years to be named as the player who best combines football excellence with academic prowess and leadership. He now becomes a CIS national finalist for the J.P. Metras Trophy Russ Jackson Award, respectively.
The only other time in the history of the Quebec league that one player has had multiple award nominees in the same season was in 1994, when McGill had three major trophy nominees, including wide receiver Steve Papp (now a physician), who received both, the conference's Russ Jackson and Hec Crighton (most outstanding player) nominations.
Among the other RSEQ award recipients announced was Bishop's quarterback Jordan Heather of Oromocto, N.B., who was named as the league's most outstanding player and becomes the conference nominee for the CIS Hec Crighton Trophy. The Montreal Carabins also has two award winners, with linebacker Antoine Pruneau of Laval, Que., and defensive back Alex Cromer-Emond of Price Que. Pruneau was honoured as the most outstanding defensive player (Presidents' Trophy nominee), while Cromer-Emond, also a linebacker, was named rookie of the year (Peter Gorman Trophy nominee). Kevin Mackey, the 35-year-old head coach of the Bishop's Gaiters, was named coach of the year (Frank Tindall Trophy nominee).
Duvernay-Tardif, a native of St. Hilaire, Que., has been dominant since the day he joined the Redmen as a defensive lineman in the fall of 2010. Named McGill's most outstanding offensive lineman in his sophomore season, he exploded on the national scene a year ago when he played both ways and was voted team MVP and the team's most outstanding offensive player. He earned conference all-star status and was a first-team all-Canadian at offensive tackle.
After suiting up in the CIS East West Bowl last spring, the Redmen co-captain was listed as the top-rated prospect for the 2014 CFL Draft by the league's Scouting Bureau earlier this fall.
"Laurent has a tremendous work ethic and a quiet confidence that makes him a natural leader," says McGill head coach Clint Uttley. "Size and strength is a big factor in success on the o-line but when you find someone that possesses the combination of brains, brawn and nastiness that Laurent has on the field, then you've got a real keeper and he has all those tools. He's the kind of guy other players hate. He's mean out there. He looks to break their spirit and touch their soul. I believe that he will have a good pro career, whether it be in the CFL or NFL."
Duvernay-Tardif has been as impressive in the classroom since he arrived on the Montreal campus, meriting CIS Academic All-Canadian status and qualifying for the Principal's Student-Athlete Honour Roll in each of his first three years at McGill. He achieved a sessional grade point average of 3.88 during his pre-med year in 2010-11 and has been a straight A student over his next three years. He was named earlier this fall among the CIS Top 8 Academic All-Canadians and is expected to receive this honour next week at Rideau Hall in Ottawa.
Over the last year, Duvernay-Tardif received McGill's 1938 Champions Award for combining leadership with athletic prowess and academic excellence, as well as a pair of Montreal Alouettes bursaries, for athletic and academic excellence. He was named to the McGill chapter of the Golden Key International Honour Society for academic recognition, leadership development and community service. He has served as a tutor for McGill students and been one of the football team's volunteer reps at a visit to the Montreal Shriners Hospital for Children as well as the annual McGill Holiday Food Drive in support of the Sun Youth Community Centre.
Duvernay-Tardif has also worked with the "Défi Canderel", with a Montreal police department program known as "Unité sans violence, exprimez-vous!", as well as with heroin addicts at a methadone clinic. Finally, as part of his medical curriculum, he served countless hours in family medicine at various hospitals.
"Physically, he is very impressive and had a very good showing at the East-West Bowl," writes Justin Dunk of CFL.COM. "He looks like a CFL offensive linemen right now. He plays tackle in the CIS, I don't know if he can in the CFL, but he at least has a background playing the tackle position. He is a big tackle, good feet, athletic, got better as the week progressed. He stood out amongst all of the offensive linemen. He definitely has all the intangibles. He'd definitely have to play inside in the CFL, but you could see him when he was working through the drills that he has the ability to do that. We'll see how he develops during the year. He's going to be in the conversation for the number one overall selection, I think he's a first round pick for sure. He resembles a high offensive line pick. He's really polished and technically he's very sound. He has very good knee bend and is an athletic kid. He has good posture in his stance and when he's actually playing. He's got that straight back to him. Sits really well in his stance, punches and recovers well if he gets off balance. He has very, very good balance. He's physical and finishes guys. I think he's a guard in the CFL."
For a recent profile on Duvernay-Tardif in the McGill News, click here.