Field hockey captain wins national award for citizenship and leadership
By Neale McDevitt
In an age when our athletic stars seem more and more consumed by themselves it is telling that, when asked what are the most important lessons she has learned through sport, Kylie Nabata talks first and foremost about the concept of team.
"Sport has taught me that you have to understand who you're talking to and who you're working with. Not everyone is going to respond to a 1-0 nothing deficit as you will," said Nabata, the captain of McGill's women's field hockey team. "It's about understanding that everyone responds to different situations differently. As a captain I am called upon to bring the team together so that we can move forward toward a common goal. In the end, the best way for a team to be successful is to have everyone working together."
This kind of team-first attitude helped Nabata earn national attention by being named the winner of the Gail Wilson Award for citizenship and leadership both on and off the field at the recent CIS All-Canadian Awards Banquet.
The honour comes as no surprise to Vimal Patel, the Martlets' head coach. "Kylie is an exceptional person, a real role model," said Patel. "You see it the way she plays and in the kind of captain she is. Off the field, you see it in how she approaches school and in her volunteer work."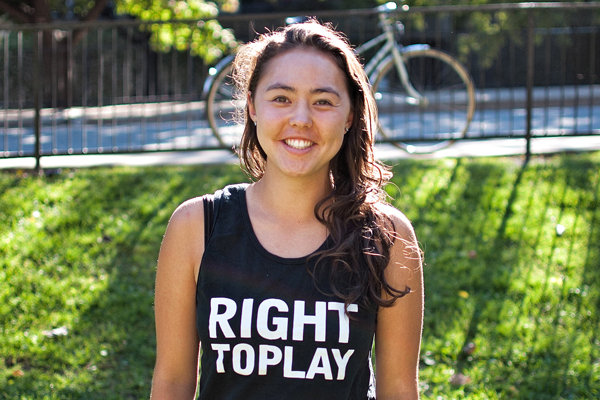 The Martlets' MVP and a two-time OUA all-star, Nabata also earned a grade-point average of 3.71 as a science junior to merit Academic All-Canadian honours and was named to the Principal's Student-athlete Honour Roll. Nabata is also on the executive of the McGill chapter of "Right to Play", a group that works to improve the lives of children in disadvantaged countries by using the power of sports for development, health and peace. And, if that weren't enough, she also volunteers to tutor other varsity athletes in science as part of the McGill Varsity Peer Tutoring program.
"I know it sounds corny, but it is really rewarding to help people succeed," said Nabata, who also devotes her time coaching young field hockey players each summer when she goes back home to North Vancouver. "I ran into a guy that I had tutored in chemistry last year and he was so happy with how well he had done in his final exam. It felt great because I know how hard we both worked to reach that goal.
"I think it's just a question of appreciating that other people have done the same for me. My parents are pretty smart so they've always helped me in school and I'll always remember the coaching I've received in hockey," she continued. "It is nice to be able to give some of that back."
When asked how she manages not only to balance the different facets of her life, but to excel in all of them as well, Nabata laughs. "I think I may have above-average time management skills," she said. "Plus, I honestly believe that the busier you are, the more efficient you become."
Patel sees that efficiency in the way his star midfielder uses her numerous activities and responsibilities to compliment one another. "Kylie is a result of all of her actions. She's able to take away good from everything she does and apply it to other aspects of her life," he said. "Sometimes people have an experience but they don't take anything away from it. Not Kylie. She maximizes every experience.
"Our hope as coaches is not only to produce good players, but also have a hand in molding good people, people who will go out in the world and have a positive impact," said Patel. "Kylie is that person."