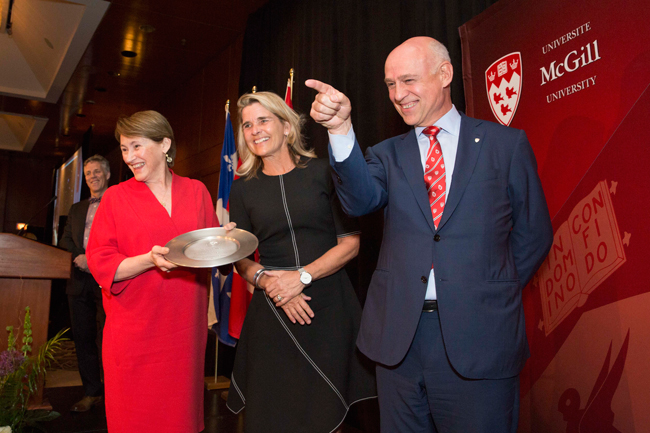 It was an evening of accolades and applause for outstanding McGillians – as well as celebrity video cameos by a famous NHL coach and a famous Starship captain – at this year's edition of the McGill Alumni Association's (MAA) annual honours and awards banquet.
Among the 300 guests on hand to salute the accomplishments of alumni, students, faculty, staff and friends of the University were Principal and Vice-Chancellor Suzanne Fortier, Chancellor Michael Meighen and Principal Emerita, Dr. Heather Munroe-Blum.
This year's event, which took place on May 2 at the Omni Mont-Royal Hotel in Montreal, showcased the achievements of 17 honorees including Mark Hantho, BCom'81, and Monica Hantho, BEd'81, who were presented with the Award of Merit for their contributions to  the Desautels Faculty of Management, the Faculty of Education and the establishment of the Hantho Family Fund for Business Sustainability and Environmental Management among other initiatives. As longtime fans of fellow alumnus William Shatner, the Hanthos were surprised when Captain James T. Kirk himself materialized to congratulate the McGill couple.
"You're getting the highest award that the McGill Alumni Association can give," said Shatner via a sub-space recorded video message. "That's a great honour. I congratulate you."
Other 2017 honorees include entrepreneur, Dobson Cup judge and mentor Tim Tokarsky, BSc'88, who was presented with the Alumni Student Engagement Award, while Dr. Madhukar Pai, a passionate advocate for global health and dedicated ambassador for McGill, received the David Johnston Faculty & Staff Award. Stuart (Kip) Cobbett, BA'69, BCL'72, who will be stepping down in June after a seven-year term as Chair of McGill's Board of Governors, was presented with the D. Lorne Gales Special Recognition Award.
Receiving the E.P. Taylor Award for his outstanding voluntary fundraising efforts in support of McGill was Gregory David, BCL/LLB'93, a respected business leader who was instrumental in helping establish the Larry and Cookie Rossy Family Foundation.  In recognition of an innovative series of classical music concerts in Toronto designed for young music lovers on the autism spectrum, Schulich School of Music graduate, Sarah Nematallah, GrDipMusic'10, received the James G. Wright Award for making a difference in her community.
Former captain of the Redmen hockey team, J. Michael Nelson, BCL/LLB'82, was recognized for his role as a long time champion of McGill Athletics, as a member of the Athletics and Recreation Advisory Board and a Martlet Foundation trustee. Nelson was presented with the Distinguished Service Award, as well as a surprise video tribute from his friend, alumnus and current coach of the Toronto Maple Leafs, Mike Babcock.
"Your commitment to McGill hockey has been unbelievable and one of the reasons McGill is a continual power today," said Babcock. "Congratulations on this great award."
The Honours and Awards Class of 2017 also includes four students: Nicolas Chatel-Launay, BSc(AgEnvSc)'14, Ryan Golt, BA'16 & MEd (in progress), Pauline Kress, BEng'17 and Angela Yu, BSc'15, MSc'17, who each received a Gretta Chambers Student Leadership Award for their contributions to the university community.
Selected by the MAA Honours and Awards Committee, these award-winning volunteers lead McGill's international network of alumni branches, make a difference in communities on campus and around the world, and contribute to McGill through dedicated service to the University.
View complete list of the 2017 award recipients and profiles of honorees