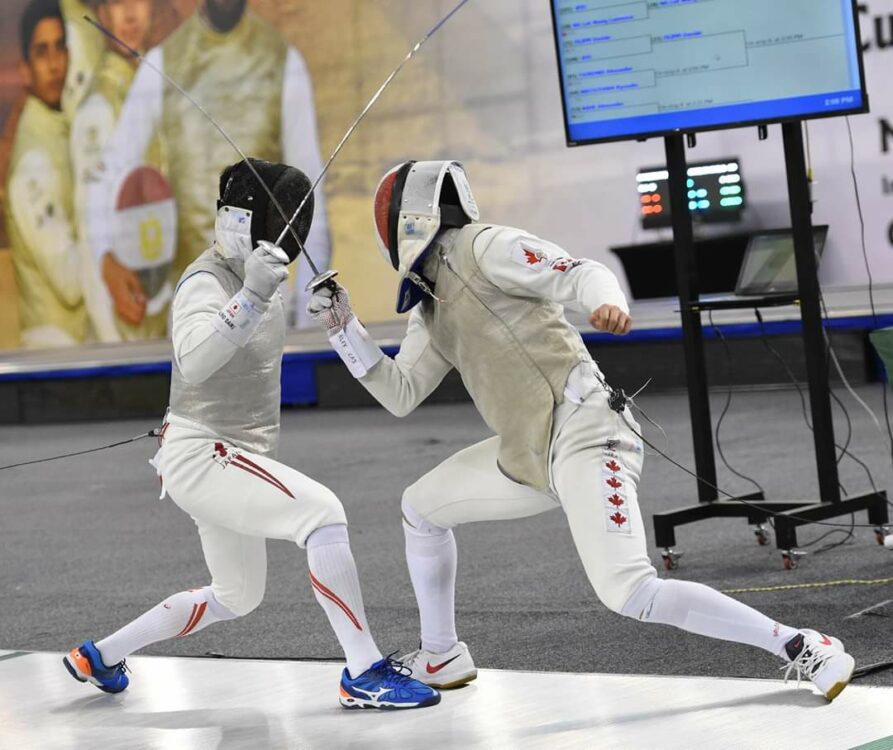 In some ways Alex Cai is a typical McGill undergraduate. Like so many, the third-year Anatomy and Cell Biology student is happy that the 2020-2021 academic year, and all the challenges that came with it, are behind him.
But while other students from his cohort are gearing up for internships, jobs, summer classes or – COVID permitting – reuniting with friends and family, Cai has pretty unique plans for the summer.
A member of the national fencing team, Cai will represent Canada in the Men's Foil event at the 2020 Summer Olympic Games being help from July 23 to August 8 in Tokyo, Japan.
"Anything can happen at the Games and my goal is to leave it all out there," says Cai, who trains upwards of 16 hours a week. "This is the first time since 1988 that Canada has qualified a team for the Men's Foil event as well. We have a really good group of guys so I'm excited to compete with them in the team event. Hopefully, we can bring home good results in both the team and individual events for everyone back home."
Silver lining in the pandemic
Like so many major events in 2020, the Summer Olympics was derailed by COVID-19. Originally slated to be held in Tokyo from July 24 to August 9, 2020, the Games were postponed in March 2020, when the pandemic had exploded around the world.
At the time, Cai was facing an uphill battle to qualify for one of only three spots on the Canadian fencing team. It was an immense pressure cooker that saw him travelling around the world to compete and then scrambling when he returned to school.
Ironically, Cai says that the postponement of the Games proved to be hugely beneficial to him.
"If anything, I felt relief that I could finally take a break and focus on school," he says. "The busy tournament schedule meant a week away from home every month and another week when I got back frantically trying to catch up on missed classes."
The forced sabbatical from fencing helped Cai recharge, re-evaluate and reload.
"In hindsight, I don't think I was well equipped to handle the stress and level of competition a year ago. I would think too much about what could go wrong and inevitably everything would start to fall apart. I think having the chance to take distance myself from the pressure cooker of Olympic selection gave me the chance to mature," says Cai. "I found more of my confidence as I spent time with family and friends and I felt more like myself when we got back to training. I also started working more with a sports psychologist and she's really helped me work through my thoughts and develop healthier thinking patterns."
This past March, Cai needed a huge performance at the last Olympic selection event in Doha, Qatar if he had any chance to make the Games. "I had the best performance of my career so far," he says. "The result launched me into the Top 3 in points [in Canada] and onto the Olympic team."
Finding balance
Despite the huge demands placed upon him to excel in the classroom (where he maintains a 4.0 GPA) and to compete at the very highest level in sport, Cai believes the combination is beneficial. While fencing and academics are not necessarily complimentary, they do work in tandem to keep Cai balanced – a key to success in any pursuit.
"I think pursuing both athletic and academic careers helps ground me and keep me sane," he says. "If I were focusing on one career and having a tough time, I would feel a lot of pressure to figure things out. Now, when one is not going well, I don't feel as much pressure as I can lean on the other as a reminder I'm doing alright.
"It's counterintuitive but I think by taking on more roles, you can better understand the priorities of each one more clearly," Cai continues. "You become less invested in a single focus and can take a broader perspective that encourages adaptation in favor of rigidity… Being a student-athlete also helps you fail fast and move on quickly as there's not much time to mope around when you have to go to practice or prepare for an assessment."
Hoping to grow fencing in Canada
Cai, who has been a National team member since 2019, will compete in Men's Foil. Having won a silver medal in the Team Pan Am Championships in 2019, he is no stranger to international success. Still, the Olympics is unlike any other competition.
"It still feels surreal to have qualified for the Olympic Games," admits Cai. "I try not to think about it too much because the job's not done yet. The goal for our team has always been to not only to participate in the Olympics but to perform. There'll be plenty of time to reflect after.
"One thing I am excited for though is to visit my current and old fencing clubs when I get back from Tokyo," he says. "I still remember the feelings of awe and motivation when I was 12 and one of my club's athletes had just returned from the London Olympics in 2012. I hope that I can inspire other kids to be involved in fencing and to help grow the sport in Canada."