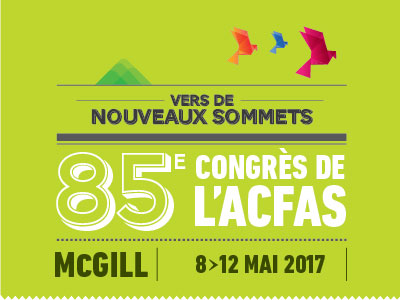 Organizers of "la grande fête du savoir" are looking for student and staff volunteers
By McGill Reporter Staff
From May 8 to 12, Later this spring, McGill the classrooms and amphitheatres at McGill will echo with discussions between scholars and researchers from across Canada and the world at this year's edition of the annual Congress of Acfas (l'Association francophone pour le savoir), the largest French-language scientific congress in the world. But an event this size – which will draw some 6,000 researchers taking part in more than 200 colloquia and hundreds of oral and poster presentations – won't run itself. Organizers are looking for approximately 150 volunteers or the week to lend a helping hand.
"McGill encourages the spirit of volunteerism among our students and staff," says Rosie Goldstein, Vice-Principal (Research and Innovation) and Co-Chair of the 85th Acfas Congress. "Volunteering at the Acfas Congress is an excellent opportunity for the McGill community to demonstrate and promote our bilingual identity, as well as to participate in one of the most dynamic French-language interdisciplinary conferences in North America, if not the world."
In return for eight hours of time volunteers will get a free pass to attend all sessions. Volunteers will be asked to dedicate specific short blocks of time (e.g. a half day) in return for access to the Congress. Some of the tasks will include working as guides, managing info desks/pavilions, and supporting classroom AV/IT.
Volunteers should
Be French speakers (different levels of French required depending on the tasks)
Have a basic knowledge of McGill's lower campus
Be enthusiastic and welcoming
All volunteers are required to attend one of two training sessions:
Thursday May 4, from 5:30 to 7:30 p.m., or
Friday May 5, from noon to 2 p.m.
Acfas is a Canadian organization dedicated to the dissemination of research in all disciplines the French umbrella body that promotes the advancement of science in Quebec and French-speaking Canada. The Congress, which organizers call "la grande fête du savoir," is considered to be one of the most important multi-disciplinary scientific events on the calendar. Congress participants From May 8-12, somare primarily researchers, but also include grad students and post docs.
In return for eight hours of time, volunteers will get a free pass to attend all sessions.
Interested in helping out? Fill out the online application form by March 31
Keep an eye on what Acfas is up to by following them on Facebook and Twitter.