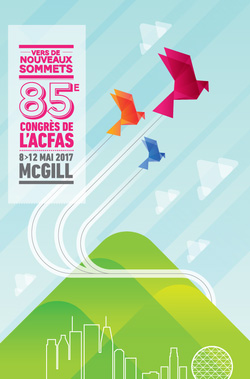 Researchers urged not to miss Nov. 1 deadline for colloquia proposals
By Neale McDevitt
McGill organizers of the 85th Congrès annuel de l'Association francophone pour le savoir (Acfas) have a few words of advice for researchers who are wondering if they should submit colloquia proposals for next year's conference: Submit now. Don't miss the Nov. 1 deadline.
"Acfas is a wonderful opportunity for researchers to present their work to a wide audience," says McGill sociology professor Céline Le Bourdais, co-chair of Acfas' scientific committee. "This is especially true for graduate and postdoctoral students who don't always get the chance to showcase their research at a major conference."
And, with an estimated 6,000 delegates from some 40 countries expected to attend the Conference at McGill from May 8 to 12, 2017, Acfas isn't just a major event – it is the largest French-language interdisciplinary conference in the world.
"Acfas is a rich milieu for the international French-speaking scientific community to meet and exchange ideas," says Dr. Michel Tremblay, biochemistry professor and the other scientific committee co-chair. "The Conference is a great place to make contacts, enrich scientific knowledge and extend the networks of our scientists with colleagues of Quebec, Canadian and international universities."
Unlike conferences that explore specific topics in a single discipline, Acfas gathers researchers from a wide variety of disciplines. This unique multidisciplinary nature gives participants the chance to enhance their research in ways they may never have imagined. "What better way for us at McGill to cross research fields and see what are colleagues from other faculties are doing?" says Tremblay. "By bringing into the discussion researchers from diverse disciplines, we can forge novel links that may facilitate resolving major challenges facing our planets," continues Dr. Tremblay. "It will be an exciting scientific party that has no equal at our sister universities outside Quebec."
To sweeten the deal, McGill will cover the cost of registration, including Acfas membership, for grad students and postdoctoral students presenting at the conference. Details can be found here.
"Money is often an issue," says Le Bourdais. "But with the Conference being held at McGill and with the University paying for registration, those costs should be quite minimal."
In addition to the Nov. 1 deadline for colloquia proposals, Acfas has issued a Nov. 28 deadline to graduate and postdoctoral students for papers and posters. More details can also be found on the conference website.
Related story
McGill will foot bill for students' Acfas registration