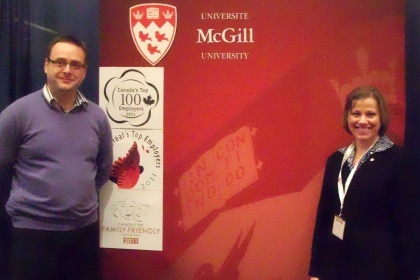 For the first time, McGill took part in what is considered Canada's biggest indigenous inclusion event and job fair. The annual event is designed to help organizations develop a culture of inclusion where Indigenous people feel welcome, valued and where they have opportunities to succeed.
While the reason for attending was to raise McGill's profile as an employer more than to actively recruit, University representatives took the opportunity to network with organizations on-site that were interested in recruiting McGill graduates.
McGill is a strong supporter of Aboriginal communities. Starting this year, graduating from McGill took on a deeper meaning for many Aboriginal students. A new scarf was introduced into convocation ceremonial dress at a special ceremony for all Aboriginal graduating students. It represents an historic and symbolic gesture acknowledging the importance of Aboriginal students and their ties to the University. Hopefully, these students will also consider McGill as a potential employer.