The Office of Indigenous Initiatives (OII) is pleased to share its annual review of Indigenous successes and accomplishments across McGill in 2022.
Want to receive quarterly updates directly? Subscribe to the OII newsletter here.
We are also in search of a name for this brand new publication. If you have a name idea, please email us at indigenousinititiatives@mcgill.ca.
Click the links to read more about:
Ajuinnata at McGill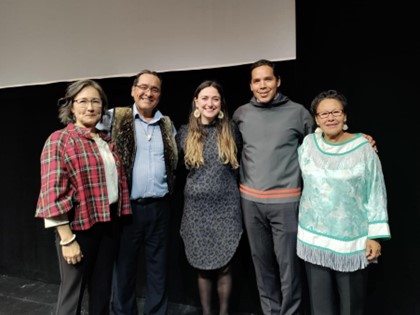 From September 8 to October 25, the OII hosted Ajuinnata at McGill, a wide-ranging festival that celebrated Inuit excellence and achievement. The first of its kind festival brought Inuit political leaders, health advocates, filmmakers, artists, scholars, and more to McGill's downtown campus under the name Ajuinnata (in Inuktitut, to never give up and commit oneself to action, no matter how difficult the cause may be). It also featured two installations hosted by the School of Architecture: Takunnanguaqtangit, a collection of Inuit prints curated by McGill's Visual Arts Collection, and "Inuit Qaujimajatuqangit: Art, Architecture, and Traditional Knowledge," an exhibition curated by EVOQ Architecture.
The festival would not have been possible without the OII's partners in McGill's Peter Guo-hua Fu School of Architecture, Visual Arts Collection, Departments of English and Family Medicine, Indigenous Studies and Community Engagement Initiative, Office of the Provost and Vice-Principal (Academic), and EVOQ Architecture. Qujannamiik!
You can watch the video recording of the Ajuinnata roundtable discussion here.
Indigenous Awareness Weeks
From September 19-30, the Office of Indigenous Initiatives hosted the eleventh annual Indigenous Awareness Weeks at McGill. Since 2011, Indigenous Awareness Weeks have provided a space to amplify Indigenous voices and perspectives on campus. This year's series featured fourteen events including the first annual "Legacy Game"—a McGill Redbirds lacrosse game dedicated to the Indigenous roots of lacrosse—, an interactive Inuit games demonstration by ᐋᓪᓚ ᐋᓪᓚ and Damian Metcalfe, a presentation by Métis National Council President Cassidy Caron, the twenty first annual First Peoples' House Pow Wow, and more.
This year's Indigenous Awareness Weeks events would not have been possible without the OII's partners in the First Peoples' House, Faculty of Education, McGill Athletics, Redbirds lacrosse, and McGill Farmer's Market. We look forward to future collaborations centred on increasing Indigenous awareness in the McGill community.
McGill's Indigenous Health Professions Program Manager Alex Allard-Grey sings an honour song to open the "Legacy Game: Honouring the Indigenous Roots of Lacrosse," held on September 30.
New Team Members Join the OII
In Fall 2022, the OII welcomed five new team members. From September to December, the office welcomed Celeste Pedri-Spade (Anishinaabe, Associate Provost of Indigenous Initiatives), Ann Deer (Kanyen'keha:ka, Associate Director of Indigenous Initiatives), Aneeka Anderson (Inuk, Indigenous Initiatives Associate), Geraldine King (Anishinaabe, Senior Advisor on Indigenous Curriculum & Pedagogy), and Richard Budgell (Inuk, Special Advisor on Inuit Qaujimajatujangit).
Keep an eye out for an upcoming McGill Reporter article profiling these new team members in the new year!
McGill Redbirds lacross team names Isaiah Cree captain
Isaiah Cree accepts a handmade legacy stick on behalf of the McGill Redbirds after scoring a hat-trick in September 30th's Legacy Game.
In December 2022, the McGill Redbirds lacrosse team named Isaiah Cree one of four captains for the upcoming season. Isaiah is Wolf Clan from the Mohawk Nation of Akwesasne and is pursuing a Bachelor of Arts in International Development Studies. Here's a message from Isaiah on his achievement:
"I am very honoured to be chosen as one of the leaders of this team and I feel it is going to be a big step for the team as a program–being their first Indigenous captain. I hope I can be an example to Indigenous youth out there looking to play sports at the collegiate level."
Please join us in congratulating Isaiah!
Kahnawà:ke Bachelor of Education, First Nations and Inuit Studies, Graduation Ceremony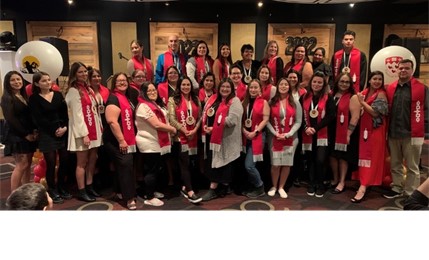 The Kahnawake Education Centre held a graduation celebration on October 22 of this year to celebrate the 33 graduates (28 of McGill's Bachelor of Education, First Nations and Inuit studies and 5 of Bachelor of Education for Certified Teachers)  The Bachelor of Education, First Nations and Inuit studies was a full-time, community based degree program, the first of its kind in Kahnawà:ke, and the second McGill's Faculty of Education has offered in partnership with Indigenous communities. The full-time program, a partnership between OFNIE and KEC, was launched September 2018.
The event was a special opportunity for McGill and the community to come together to recognize all that the graduates achieved over the four years of the program. The perseverance of this cohort through the pandemic and their dedication to their learning was remarkable and applauded in speeches from the Grand Chief, the Directors of KEC and OFNIE, the Dean of Education, and many others in the community.  We wish these students ongoing success in their education careers, many of whom are now teaching in Kanien'kéha language classrooms. A huge thanks to Bethany Douglas, Post-Secondary Distance Counselor with KEC, for the support and coordination she provided these McGill graduates over the course of the program. We look forward to the next cohort.
Graduation for McGill-Kativik Ilisarniliriniq partnered Certificate in Education for First Nations and Inuit and Bachelor of Certified Teachers programs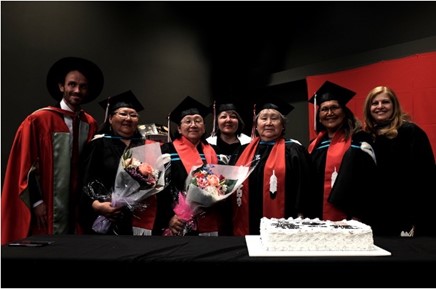 On June 8, the Office of First Nations and Inuit Education celebrated the graduation of 8 Inuit McGill students in Kuujjuarapik, Nunavik. The graduation ceremony, which celebrated the graduation of both McGill and UQAT students, was the culminating event of the annual OFNIE-McGill Teacher Education Summer Institute. From May 31 to June 8, OFNIE held 3 courses at Asimauttaq Elementary School in Kuujjuarapik: Classroom Based Evaluation, Intermediate Inuktituk, and Communication in Education for over 45 students.  The 8 graduating students hail from 5 different communities in Nunavik. A proud day for the students and for OFNIE. A special acknowledgement to Ulaayu Pilurtuut, Kativik Ilisarniliriniq's Assistant Director Teacher Training & Development Dept, for the leadership in making both the Summer Institute and the Graduation Ceremony possible.
OFNIE On Campus Summer Institute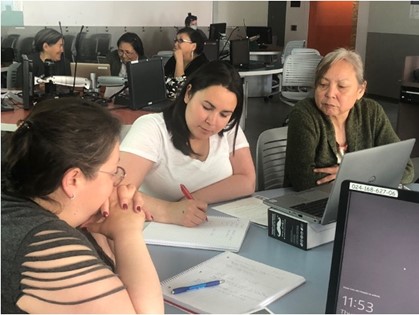 While OFNIE's mandate is to work in collaboration with Indigenous school boards to deliver teacher education in First Nations and Inuit communities, once a year OFNIE hosts a course on campus for students from all partnerships to attend. This course is a special moment in the OFNIE calendar: it's the one time OFNIE and partners bring students from different First Nations and Inuit communities to learn with and from each other.
This year's summer institute was held from July 4th to 13th and offered a course on media literacy and education. Thanks to a special collaboration between Le Récit, OFNIE, and the Indigenous media company Aboriginal Territories in Cyberspace, the course included a unique interactive "Twine" storytelling workshop hosted by the Skins Workshop team. Special for this year's summer Institute, OFNIE also hosted concurrent courses for its Kativik Ilisarniliriniq and Cree School Board partnered programs. Altogether, over 40 OFNIE students studied together on campus for those two weeks.
Launch of the new Kanehsatà:ke's Mohawk Language Custodian Association's partnered Certificate in Education for First Nations and Inuit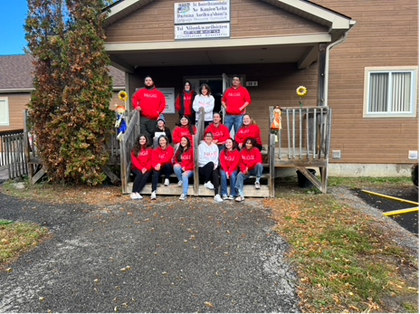 This summer, OFNIE launched a new Certificate in Education for First Nations and Inuit program in partnership with Kanehsatà:ke's Mohawk Language Custodian Association (MLCA). Fifteen students started the program September 7th of this year with their first course, Reading and Writing in Kanien'kéha, taught by master educator Kanahstatsi Howard. This program follows directly the recommendation made by McGill's Task Force on Indigenous Studies and Indigenous Education that the University recognize in-community and community-specific language programming.
Through an innovative program framework, the majority of the students in this cohort will simultaneously follow the MCLA's full-time Ratiwennahá:wi immersion program while completing teaching and content program components for Certificate. By recognizing the language learning the students are doing through the immersion program and by partnering with the MCLA in program conception and delvery, the program is designed to create pathways to language teaching for Kanien'kehá:ka speakers in the community. OFNIE would like to recognize the leadership of Hilda Nichols, Director of the Kahnesatake Cultural Centre, and Jeremy Tomilson, Executive Director of Tsi Teiontatshnié:tha ne Kanehsatà:ke for their vision and direction.
Submitted by: Dr. Stephen Peters, Faculty Lecturer and Director (OFNIE)
Federation of the Humanities and Social Sciences: Congress 2022 – Department of Integrated Studies in Education
Iris Stacey and Dr. Onowa McIvor along with invited presenters launched the 2022 Big Thinking lecture series with our talk, "NETOLNEW 'one mind one people': Radical reclamation of Indigenous languages." The experience was very unique and rewarding, as they were able to share efforts in Indigenous language reclamation with a wide group of scholars, students and community in this highly anticipated Congress event. You can watch the video recording of the discussion here.
Submitted by: Iris Stacey
Holiday Greetings- First Peoples' House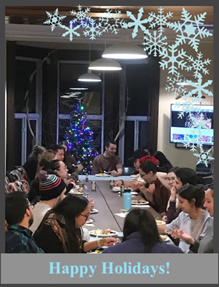 On behalf of the team at First Peoples' House, we extend to you warm greetings and wishes for a restful and replenishing holiday. We invite you to review our website to see key highlights of our year so far serving First Nations, Inuit, and Metis students at McGill: https://www.mcgill.ca/fph/events/2022-holiday-update. First Peoples' House is a drop-in student service center offering academic support, cultural activities, and community-building opportunities- our center feels like a home away from home. The team includes Thomasina Phillips (Associate Director- Indigenous Student Success), Marlowe Dubois (Indigenous Student Advisor) and Dana-Marie Williams (Administrative Coordinator). Joining us for the 2022-2023 year is Giana Viel, an Intern from the School of Social Work. In coordinating services, we keep in mind the mental, emotional, physical and spiritual health of Indigenous students. As our 2022 cycle comes to a close, ready to begin anew in 2023, we look forward to sharing with you the evolution of our services, activities, and student successes in the coming semesters.
Submitted by: Thomasina Phillips
Campus Tours and Engagement- Branches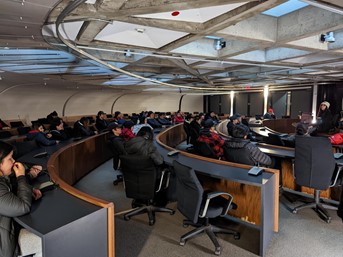 On November 28, Branches welcomed a delegation of 44 high school students from the Cree Nation of Chisasibi and on December 5th, Branches welcomed another delegation of 46 students from the Cree Nation of Mistissini.
Both groups stopped by McGill on their orientation trips to visit CEGEPS and universities in Montreal, Ottawa, and Gatineau. They recieved a McGill campus tour and a visit to ROARR (Rare & Special Collections, Osler Art and Archives) and met with Indigenous McGill students and alum and heard about their academic journeys.
Submitted by: Kayla Jane Moore
Pick Your Path Summer 2022- Branches
In summer 2022, Branches launched Pick Your Path, a paid learning experience for Indigenous undergraduate students enrolled at McGill University.  In line with the Branches' mandate, PYP-U supports academic and career pathways for Indigenous students. The pilot project has had great success drawing on the Nehinuw (Cree) concept of "Kiskinaumatowin," or "teaching each other. You can learn more about the program including timelines and application dates here.
Submitted by: Gemma Else
Launch of New Inuit Health Courses, New Spaces for Family Medicine
The Department of Family Medicine is pleased to launch a new course, Inuit Health in the Canadian Context (FMED527), and a new space in Côte-des-Neiges for teaching and events.
Other news from the department:
Submitted by: Richard Budgell and Marie Moucarry
Third Annual Moose Organ Dissection and Cardiovascular Health Lesson with the Alaqsitew Gitpu School in Listuguj Mi'gmaq First Nation- Indigenous Health Professions Program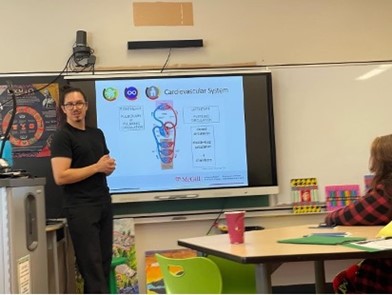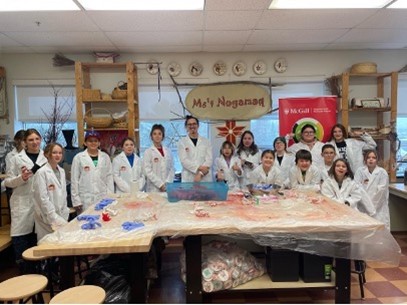 The Indigenous Health Professions Program, in collaboration with the Listuguj Outdoor Education Program, completed their third annual Listuguj Moose Organ Dissection and Cardiovascular Health Lesson this past November. Each year, Mi'gmaq students have the opportunity to hunt a moose during the community hunting season and learn about the process of moose harvesting. The IHPP contributes to this special time by using the heart and lungs of the harvested moose in an anatomy lesson that bridges Euro-Western Science with Indigenous land based learning. Read about last years' iteration of the Dissesction and lesson here.
 Submitted by: Alex Allard-Gray
Professor James Crippen Presents at the Sharing Our Knowledge / Wooshteen Kanax̱tulaneegí Haa At Wuskóowu Conference  
Professor James A. Crippen (Tlingit) presented a talk titled "Ḵaachx̱an.áak'w X̱'éidáx̱: Some Dialect Features Of Wrangell Tlingit," detailing some distinctive dialect features of the undocumented variety of Tlingit spoken in Wrangell, Alaska. This talk was given at the 11th meeting of Sharing Our Knowledge / Wooshteen Kanax̱tulaneegí Haa At Wuskóowu, held in Wrangell on 8–11 September, 2022. The talk was live-streamed, and is now available on YouTube here.
Submitted by: Professor James Crippen, Department of Linguistics
Grants, Panel Speaker, Podcasts, and Publications: Professor Yann Allard-Tremblay
Grants:
2022-2026 "Disjuncture: Indigenous redirections in political theory." SSHRC Insight Grant: $79 227.
2022-2025 "Les Têtes Volantes du Colonialisme d'Établissement" (2023-NP-310457). FRQSC.
Soutien à la recherche pour la relève professorale. $54 952.
Publications:
Podcast: "Décolonisation et Indigénisation." En marges. Comité Équité – Société de philosophie du Québec. 29 June 2022.
Invited Panelist:"Is Canadian Democracy Under Threat?" Plenary Panel. American Political Science Association Annual Conference. Montréal. 2022-09.
Submitted by: Yann Allard-Tremblay, Department of Political Science
COP27: Kahnawake Youth Attend the Conference in Egypt, New Board Placements for Brandon Montour
In November 2022, Brandon Montour with a collective from Kahnawake Youth Delegation attended the COP27 Conference of the Parties to the United Nations Framework Convention on Climate Change in Sharm El-Sheikh, Egypt. The goal was to share Kanien'kehá:ka knowledge on the world stage, connecting with other Indigenous youth, and to ensure that  Kanien'kehá:ka voices are heard when it comes to climate action. At COP27, Brandon had the opportunity to speak at the Indigenous Peoples Pavillion alongside other youth about the important role that Indigenous youth play in climate action.
Additionally, Brandon has this year been elected to serve on the Concordia University Alumni Association Board of Directors for a term of 3 years. Read more about his role and congratulate Brandon here.