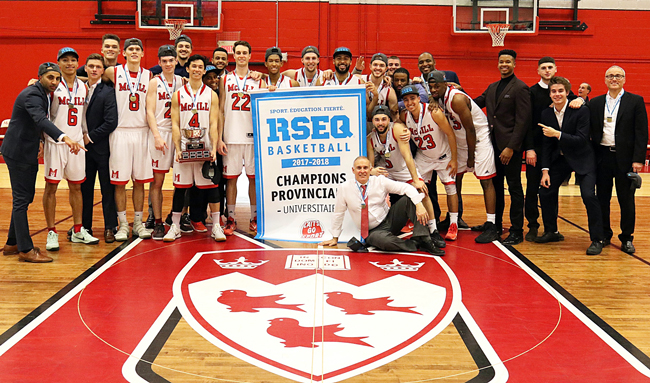 Avery Cadogan of Winnipeg, Man., came off the bench to score 19 points and was one of four teammates in double digits as the fifth-ranked McGill men's basketball team toppled Concordia 98-79, Saturday, to capture the RSEQ championship, presented by Laits Go Sport, before 622 at Love Competition Hall.
The Redmen, who extended their win streak to nine, earned a third consecutive conference title – their fifth in six years – and a berth at the U SPORTS Final 8 national championship, hosted by Acadia University in Halifax from March 8-11. The game ended just minutes after the McGill Martlets captured the women's RSEQ basketball title over Laval in Quebec City, marking the fifth time in six years that the two teams have swept the provincial crowns.
"When people expect you to win, those are the hardest wins to come by, because the pressure is clearly solely on us to do well," said McGill bench boss David DeAveiro, the conference coach of the year who has now guided his troops to five appearances in eight years at the national Final Eight tourney, ­an impressive 95-33 record in league play and an 11-3 mark in the RSEQ playoffs.  "So the credit goes to the players. To play under that kind of pressure and those kinds of expectations and to deliver the way they did is a great credit to them."
The archrivals were tied 21-21 after the first quarter but the Redmen jumped ahead 44-33 at halftime and 73-50 after three before holding off a late push from the Stingers, who won the final stanza 29-25.
Cadogan, a 6-foot-4, 171-pound senior guard, shot 7-for-11 from the field, including a 5-for-7 mark from three-point range. He pulled down five defensive rebounds and also had two steals, all in just 20 minutes off the bench.
"We struggled early, we didn't get into a flow," DeAveiro explained. "Then Avery came in and made some big shots for us. That got us going a little bit. We built some confidence and then in the second half we just got back to what we've been doing all year: moving the ball and getting good shots."
Senior Dele Ogundokun of Hamilton, Ont., followed with 16 points and seven rebounds. The 6-foot-3, 226-pound guard shot 7-for-10 from the field, including 2-for-3 from beyond the arc, stole one ball and had four assists. Francois Bourque of Terrebonne, Que., tallied 15 points, courtesy of 7-for-10 shooting from the floor and a 1-for-4 record from the charity stripe. He also grabbed nine rebounds and had two assists. Sebastian Beckett of Georgetown, Ont., rounded out the double-digit scorers with 13 points. The 6-foot-6, 226-pound centre shot 5-for-9 from the field, including 3-for-5 from downtown, grabbed a half-dozen rebounds and had an assist and a block.
"Our bench has played extremely well throughout the whole year and we wouldn't be here without our bench," DeAveiro said of the team's depth, which produced 26 points from the subs on this day. "I've said it before: I think any of these guys could play at any other school, perhaps even start at other schools."
The Stingers were led by Ricardo Monge, who matched Cadogan's 19-point output.
McGill shot a stellar 57.8 per cent from the field (37/64), 54.2 from beyond the arc (13/24), and was 11-for-19 on free throws (57.9 per cent). Concordia shot 42.2 per cent from the field (27/64), 41.7 per cent from downtown (10/24), and went 15-for-20 from the charity stripe.
The Redmen had a 39-25 rebounding advantage while their guests had an 11-16 margin in turnovers allowed. Both teams had seven steals and neither was credited with any blocks.
"I have a good feeling about our team, the way we play and how we support each other and play for each other," said DeAveiro, looking ahead to Nationals. "When you go out there – these are the best teams, there's no easy games – we have to be at our best and be prepared to play. I know these kids will do that. So if we're lucky enough to come home as champions, it will be because they've earned that. But we're going to give it our best and try to bring it home."
As Quebec conference champions, the Redmen have been ranked third going into the U SPORTS Final 8 national championships. The team will face the No.6 UNB Varsity Reds this Thursday, Mar. 8, at 11 a.m.