by Jake Brennan
Technology. Archaeology. Poetry. For over 40 years, Robin Yates has been bringing early Chinese cultural history to the West. Now the Association francophone pour le savoir has recognized his efforts with a major prize.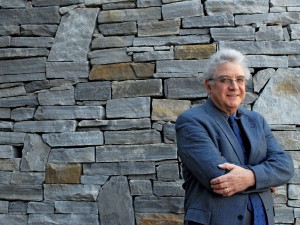 "May you live in interesting times" goes the well-known Chinese blessing or, depending on your outlook, curse. For Robin Yates, the mid-sixties could scarcely have been boring as he embarked on a BA at Oxford in Chinese archaeology. "No one studies China," his high school teachers had chided him, attempting to steer him back toward the Latin and Greek they knew. But "the more they told me I shouldn't study it, the more I wanted to!" recalls Yates with his characteristic easy laugh.
Only once he arrived at Oxford did he learn that over in China, the word "interesting" was being redefined. In addition to the social and political upheavals that marked Mao Zedong's Cultural Revolution (1966-76), all archaeological work had been abandoned and artifacts from the longest continuous civilization the planet has seen were being destroyed. Two weeks after beginning his studies, Yates switched to Chinese poetry.
Like the literati themselves—pre-modern Chinese all-in-one poets, painters, calligraphers, administrators and scientists—the Oxford-, Berkeley- and Harvard-educated Yates has always taken a catholic approach to Chinese history. Rather than master one field or dynasty, the McGill professor of history and east Asian studies covers the whole breadth of this rich culture. Legal documents, social and military history, early philosophy and, of course, poetry are just a few of the disciplines he's examined. Thus armed, the cultural historian serves as interpreter of the Chinese tradition to the West.
"There are some things I can ask or say from my Western perspective that the Chinese don't, or couldn't," he explains. For example, Westerners cannot understand the Chinese perspective on human rights without grasping the Chinese viewpoint, born of their history and philosophy, that "the security and health of the community overall is more important than that of a single individual. We automatically think the individual is paramount."
To insights like that, Westerners are only too happy to listen. A featured expert in documentaries for National Geographic, Discovery Channel, History Channel, BBC and U.S. public television, among others, Yates has done all he can to bring Chinese culture to the general public. His output is enormous. He has published five books—two in Chinese—and has three more in the pipeline, including Women in China from Earliest Times to the Present: A Bibliography of Studies in Western Languages, due out this spring. Add to that nearly countless articles and encyclopedia entries, book chapters, edited journals, reviews, conference papers and guest lectures, and his personal 14-page bibliography could be considered a project in itself. For all this, the Association francophone pour le savoir (Acfas) awarded Yates the Prix André-Laurendeau in October 2008, just one of the many honours marking his distinguished 16 years teaching and researching at McGill.
"People are realizing how important getting a non-Western perspective on the human experience is," says Yates—especially with China's economic rise, which, he says, the Chinese view merely as regaining their rightful place as one of the world's leaders.
"They have tremendous pride in their culture and history. For centuries, they were the Middle Kingdom. The world looked up to them. The world came to them." This is, after all, the culture that made such invaluable inventions as paper, the printing press, gunpowder and stirrups, among countless others, centuries ahead of the West.
Still, thanks in part to that efficient bulldozer of history, the Cultural Revolution, you could steer a square-sailed junk through the lacunae in the field of Chinese studies. Yates and collaborator Anthony Barbieri-Low at the University of California, Santa Barbara, are currently trying to fill in some of those gaps with their translation and analysis of manuscripts of early Han Dynasty laws, discovered in the tomb of a local official buried some 2,200 years ago and published for the first time in 2001. The manuscripts' revelations—that men and women were legally considered equals, that a slave could inherit his master's land and even his title, for example—shed important comparative light on the development of empires like the Roman and British. This summer, Yates and Barbieri-Low have been invited to attend a workshop to study newly recovered ancient Chinese documents and discuss them with Chinese scholars before the latter publish their interpretations, an important opening for East-West scholarly exchange. The Chinese are enticed by Yates and Barbieri-Low's database of early legal texts and their digital imaging technology—which makes their enhanced photos of archaeologically retrieved manuscripts easier to read than the original—and by their expertise in ancient technical Chinese language, an impressive feat for two non-Chinese.
Such archaeological treasure troves really only started being discovered in the 20th century and especially since Chinese liberation in 1949; despite the losses of the Cultural Revolution, Yates dubs it the Golden Age of Chinese archaeology. With so many discoveries still being made, he clearly considers being born in these "interesting" times a blessing.
Robin Yates's current research funding is supported by the U.S. National Endowment for the Humanities. Yates is the James McGill Professor in History and East Asian Studies.