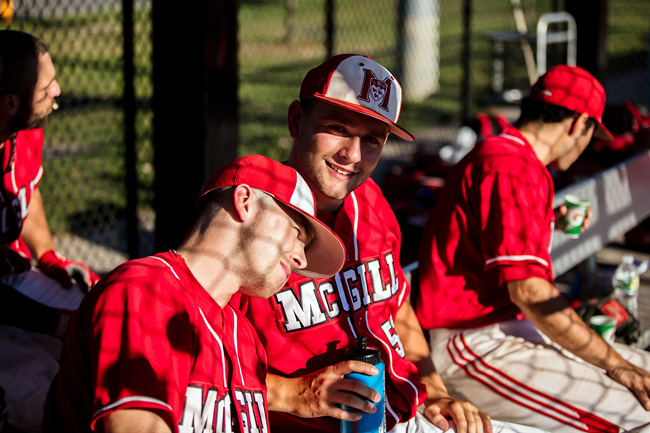 Jack Pantalena tossed a complete game two-hitter and every player in the McGill lineup had at least one hit as the Redmen cruised to a 12-2 conquest over Concordia at Gary Carter Field, Monday, to close out the Canadian Collegiate Baseball Association season with a perfect 16-0 record.
It marked the 26th consecutive victory in regular season play and the only unblemished year in school history for the six-time national champions who will now embark on a mission for a fourth consecutive national title.
Pantalena, a six-foot, 195-pound southpaw from Easton, Conn., surrendered two runs (none earned) over five innings to earn the victory. The third-year economics major struck out five and walked three, throwing only 73 pitches, 43 for strikes.
McGill scored in every inning with one in each of the first two frames, three more in the third, two in the fourth and five in the fifth before the "mercy rule" was applied.
McGill had 13 hits in the game, with two apiece by Benji Kaiserman, Rocky Hroch, Jonathan Duforest and leadoff hitter Sasha Lagarde, a veteran centerfielder from Montreal who was 2-for-3 with an RBI and three runs scored.
The two ConU hits came off the bats of David Fontaine in the second inning and Kyle Hazel in the fourth.
Stingers starter Jackson Morgan – one of four Concordia pitchers who saw action – lasted only two innings and took the loss. He allowed a pair of runs (one earned) on two hits, walked two and struck out one.
McGill, which has a 27-5-1 record overall, now turns their focus to the CCBA Northern Conference semifinals, a best-of-three series slated to open with a noon doubleheader on Saturday, Oct. 7 at Gary Carter Field. The Redmen are supposed to play the fourth-place team, which would normally be the University of Montreal. But the Carabins were sanctioned by the league last week for having ineligible players. Their penalty was the forfeiture of six games, plus no post-season participation. As such, McGill will play Ottawa, the last team to beat the Redmen in regular season play.The other semfinal pits third-place Concordia against second-place Carleton.