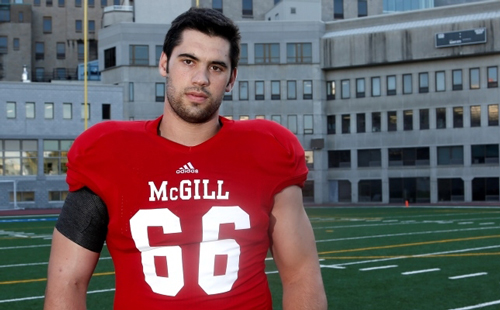 By Earl Zukerman
The Kansas City Chiefs selected McGill offensive lineman Laurent Duvernay-Tardif in the sixth round (200th overall) of the 2014 National Football League Draft, Saturday.
The 23-year-old medical student becomes the 10th player in CIS history to be chosen in the NFL Draft and the first since 2012 when Regina's Akiem Hicks was picked 89th overall by New Orleans. Among a single-year record four Canadian-born prospects selected, Duvernay-Tardif is also the first NFL pick out of the Quebec-based RSEQ conference since McGill defensive lineman and long-snapper Randy Chevrier was drafted by Jacksonville in 2001.
"It was just crazy here," said the 6-foot-5, 315-pound tackle from St. Hilaire, Que. "I received a call maybe two minutes before (my name was announced) and I was speaking with the coach. At one point he just told me 'OK, we just sent your name up and it will be (announced) in 10 seconds'… To see my name pop up (on the screen)… was a great moment."
A co-captain with the Redmen, he was a two-time all-Canadian who won the prestigious J.P. Metras Trophy last fall as the most outstanding lineman in Canada at the CIS level. He was one of two CIS players to play in the 2014 East-West Shrine Game, a showcase primarily for graduating NCAA seniors.
"I'm heading into my 14th year of coaching at the university level and during that span, have never had a prospect who is as athletic, strong, and highly intelligent as Laurent," said McGill head coach Clint Uttley, who is entering his fourth campaign as bench boss of the Redmen. "On top of those three valuable traits, he plays offensive line like a defensive lineman. He is nasty, plain and simple."
If Duvernay-Tardif plays in the NFL, he would become the third McGill player to do so, joining Chevrier (Dallas, Cincinnati) and Jean-Philippe Darche who signed as a free-agent and had a nine-year NFL career with Seattle and Kansas City. Darche – whose younger brother Mathieu Darche went on to an NHL career – is scheduled to graduate from the University of Kansas medical school on May 17.
"I'm really happy about (being picked by the Chiefs)… When I went to Kansas City (on a pre-draft invite from the Chiefs) I really enjoyed my time there and think I developed a good chemistry with the coaches so I was really happy the Chiefs got me," said the McGill senior who will be flying into Kansas on Sunday for an orientation camp. "(The Chiefs) will be a great fit for me and I'm going to try to talk to J.P. Darche to see what kind of advice he can give me. I'm really excited about that."
One adjustment Duvernay-Tardif faces in the NFL is having defensive lineman set up across from him instead of a yard off the ball. But he successfully dealt with that in January at the East-West Shrine game in St. Petersberg, Florida.
"I think that I am physical enough (to play in the NFL) and… athletic enough," he said. "For me, the big thing is to get used to (facing) new pass-rushers and the speed of the (defensive) tackles (that I will be facing). My technique right now is pretty basic, so I'm going to have to polish that a lot and think that will be my biggest adjustment."
Duvernay-Tardif's profile listed at NFL.com states that he "looks the part with outstanding upper-body strength and massive quads. Stout anchor in pass protection. Violent shock in his punch. Plays with a nasty temperament and seeks to bury defenders into the ground. Aggressive run blocker — runs his feet on contact and plays beyond the whistle. Is physically and mentally tough and will play through pain (fought through a torn left labrum injury as a senior and never took himself out of a game or missed time). Highly intelligent (in medical program) and football smart. Can take concepts from the board to the field."
"We really found 'Larry' at the East-West Shrine Game," said Kansas City scout Pat Sperduto on the Chiefs website . "He went down there and played. It was very surprising how big and athletic he was, and he was physical. He really just surprised us at how good of an athlete he was for such a big man."
He is also the top-rated pick for the upcoming Canadian Football League draft, slated for May 13.
"Our football program is taking steps towards becoming a significant one in the CIS," added Uttley of his highly-decorated senior who also merited both Academic All-Canadian and All-American honours. "I would like to think that most up-and-coming offensive linemen would take note and want to follow in Laurent's footsteps."
At least 16 NFL teams had either expressed interest or requested info on him during the 2013-14 school year, and he was invited for personal interviews with the Packers, Dolphins, Eagles, Cardinals, Seahawks, Bills and the 49ers.
 To see a video of Duvernay-Tardif's reaction after being drafted, go here.
To see a video of Kansas City Chiefs' scout Pat Sperduto evaluating Duvernay-Tardif, go here.