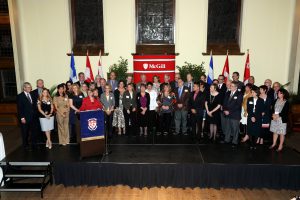 The McGill Quarter Century Club (QCC) this year welcomed 107 new members at its 46th annual gala. Membership now includes 3,046 members.  This year's event was brought back on campus, in beautiful Redpath Hall, where the gala was held for many years.
As usual, Human Resources team members were out in force to welcome guests and to ensure smooth coordination of the event. McGill's senior administration took turns giving thanks to this year's inductees for their 25 years of loyal service to the university.
The reception was a perfect opportunity to catch up with retired colleagues and to greet this year's new club members.