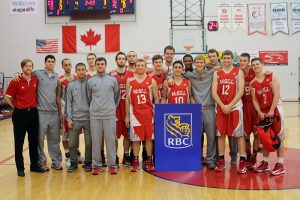 By Earl Zukerman
Aleksandar Mitrovic scored a game-high 24 points and pulled down six rebounds as the McGill men's basketball team out-gunned Regina 85-69 to capture the RBC-Brock Classic tournament on Sunday morning.
It was the eighth straight win for the Redmen who are 7-0 against CIS opponents. Combined with last week's sweep at their own Redbird Classic, it is believed to be the first time in school history that the Redmen had claimed back-to-back tourney titles.
"We had a sluggish start but I think that it was probably due to the early morning start time (10:30 a.m.)," said Redmen head coach David DeAveiro of the Cougars who led 44-41 at halftime. "We bounced back in the second half and have become a real close-knit team as everybody understands their role and responsibilities. The guys are making each other accountable and that is a good sign."
Mitrovic, a 6-foot-6, 210-pound sophomore from Serbia, was one of five Redmen to hit double figures in scoring. Joining him at that plateau was Christian McCue with 18 points, Montrealer Adrian Hynes-Geary (16), Winn Clark (12) and Vincent Dufort (10) of Smiths Fall, Ont.
McCue, a 6-foot-2, 180-pound guard from Hampden, Maine, was named tournament MVP. Over the three games, he scored 56 points with eight rebounds, six assists and six steals. He shot 46.5 per cent from the floor (20/43), went 5-for-26 from three-point range and made all six attempts from the free-throw line.
"McCue has been a pleasant surprise for us and despite being grabbed and held, he found a way to be effective," said DeAveiro of his 19-year-old arts freshman. "He's learning how to play without the ball, which is a big change for him because he was a point-guard in high-school and probably had the ball 85 per cent of the time."
Clark, the team captain who hails from Mission Hills, Kansas, also made the all-tournament team. he tallied 35 points and 15 rebounds, shot a sizzling 79 per cent from the field (15/19) and went 5-for-7 from the line.
The Redmen will play one more exhibition game before the regular season begins on Nov. 10. McGill, which is 1-2 against NCAA squads this season, is heading down to Orlando on Nov. 5 to play the University of Central Florida.