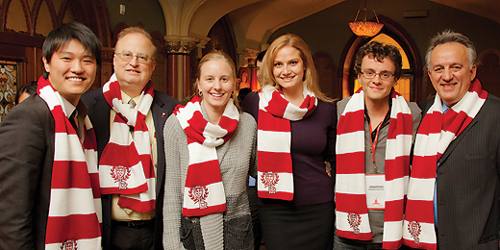 Annual Martlet migration sees 4,000 proud McGill alumni flocking back to campus this weekend
By Bud Martin
You'd think that after organizing 17 McGill Homecomings, Maria Keenan might find the whole "old home week" thing a little, well, old. But she doesn't. Far from it. "What keeps it fresh for me is that no two homecomings are ever alike," says Keenan who, as director of the McGill Alumni Association, leads the team that creates a fun-filled extra-long weekend for some 4,000 alumni returning to McGill's campuses. "Whether we're adding a new event, or using feedback from alumni to tweak a recurring favourite in order to make it better, there's always something different."
For Homecoming 2013, which runs until Sunday, one of the fresh new features is a McGill first: Meet the Principal. On Saturday afternoon, alums will gather in Moyse Hall to talk with Principal Suzanne Fortier – herself a double McGill grad (BSc'72, PhD'76) who's been enjoying her own homecoming since starting her new job in September. Derek Cassoff, Development and Alumni Relations's director of strategic communications, will also lead a live Q&A with Professor Fortier.
Of course, it wouldn't be Homecoming with the return of many perennial favourites. Today the annual Leacock Luncheon welcomes playwright Dan Needles, who won the Stephen Leacock Medal for Humour for his Wingfield plays about a city slicker turned gentleman farmer. The annual Homecoming Football Game will see the Redmen host the Université de Montréal Carabins at Molson Stadium on Saturday. (And don't forget the family-friendly kick-off party at noon.) During this year's Beatty Memorial Lecture, on Saturday morning in Pollack Hall, Architect, alumnus and former McGill professor Witold Rybczynski will discuss architecture and the passage of history. And Lunch et Livres, the can't-miss combo of food and literary readings, returns on Saturday, this time back in its original location: the McGill Bookstore.
Events that are special to this year include a Friday afternoon open house to celebrate student/community radio station CKUT's 25 years on the FM dial, and a Sunday afternoon lecture at the Redpath Museum on The Science of Comedy.
"What's very exciting for this year's Homecoming is that just about every faculty is participating, whether they're holding their own events, or a dean's breakfast or something," adds Keenan, herself a proud McGill grad (CertHRMgmt'97). "It's always nice for our graduates to have those very faculty-specific connections, in addition to the general McGill connection."
For a full list of Homecoming 2013 events, go here.