Prof. Xue (Steve) Liu of McGill's School of Computer Science has been recognized as a 2020 Distinguished Member of the Association for Computing Machinery, which describes itself as "the world's largest computing society" with a mandate to "raise awareness of computing's important technical, educational, and social issues." The ACM has 100,000 members around the world, representing universities, research institutions and the private sector.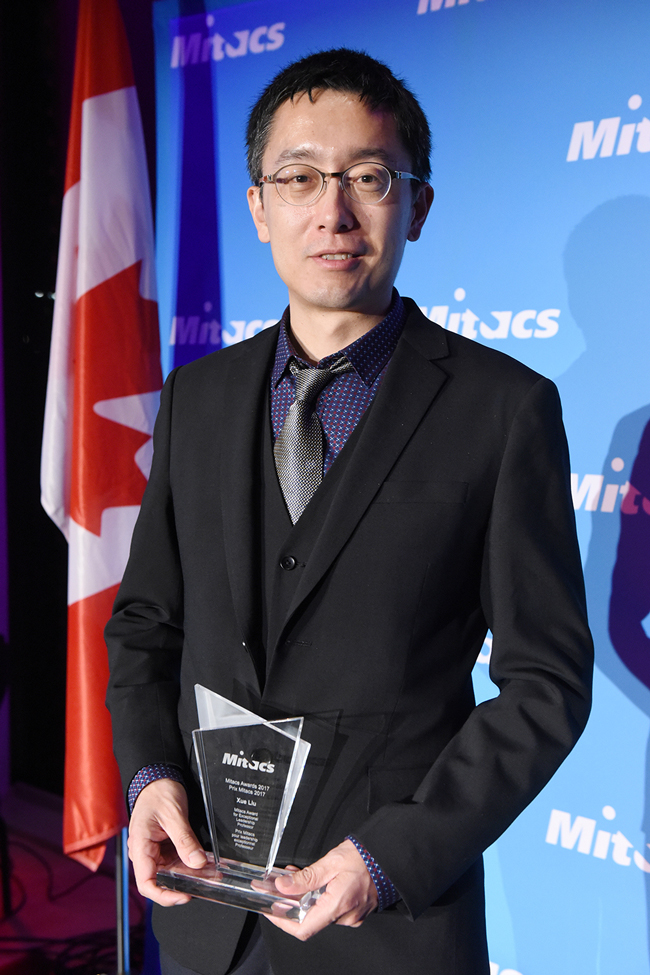 Prof. Liu is the founding director of McGill's Cyber-Physical Intelligence Lab, which focuses on research in green IT, smart energy, smart vehicles (including driving safety and traffic efficiency) and mobile computing. The William Dawson Scholar and IEEE Fellow is one of 64 ACM members worldwide recently honoured as Distinguished Members for "a range of accomplishments that move the computing field forward."
In a statement, the ACM noted that Liu and his ACM colleagues "have made contributions in a wide range of technical areas including data science, mobile and pervasive computing, artificial intelligence, computer science education, computer engineering, graphics, cybersecurity, and networking, among many other areas."
"I feel extremely honoured and fortunate to be chosen and recognized by the ACM and by peers," Liu said. "It motivates and encourages me to push further [into my] journey to carry out more impactful and innovative research. It is intellectually rewarding to see my research… contribute to society by advancing state-of-the-art research."
"I have been contributing to the advancement of intelligent performance and power management of computing and networked systems. Together with my collaborators, colleagues, and students in the field, I have made several important contributions in this exciting and important area in the past two decades, especially after I joined McGill University in 2007."
"I want to thank all those who have taught me, supported me, and helped me."
Liu added that he is determined to continue discovering and inventing, and hopes that his contributions are adapted by industry so that they may have "a continuous impact."
"I am currently doing research and development on new technologies to make computing and communication systems more intelligent, scalable, sustainable, and robust. These systems include next-generation telecommunications, cloud computing and data centers, smart energy systems, and social networks."
"To this end, I am investigating new mathematical tools, advanced AI and machine learning, control, and optimization algorithms."
ACM President Gabriele Kotsis said in a statement that "the active participation of ACM members, in our organization and in the field more broadly, is the foundation of a global scientific society. With the Distinguished Member designation, ACM celebrates specific contributions of these members and their career growth as reflected in a long-term commitment to the field, as well as their collaboration with peers in supporting a global professional association for the benefit of all."
"Significant impact"
The ACM's Distinguished Member program was initiated in 2006 to recognize members with at least 15 years of professional experience "who have made significant accomplishments or achieved a significant impact on the computing field."
Prof. Liu is also an associate member of the Montreal Institute for Learning Algorithms (MILA) and vice-president for research and development, chief scientist and co-director of the Samsung AI Center Montreal. The Center does machine-learning research and "serves as an outpost for collaboration with top universities, academic centers, and start-ups within the Greater Montreal AI community, while tapping into the tremendous AI talent in the region."
From 2016 to 2019, Liu was also the chief scientist for Tinder Inc., the dating and social discovery app. He has co-authored a number of books, including a recent one on storage in cloud computing. In 2017, Liu received the Mitacs Professor Award for Outstanding Leadership, awarded in recognition of his commitment, outstanding leadership, and exceptional talent for merging industry with academic research.