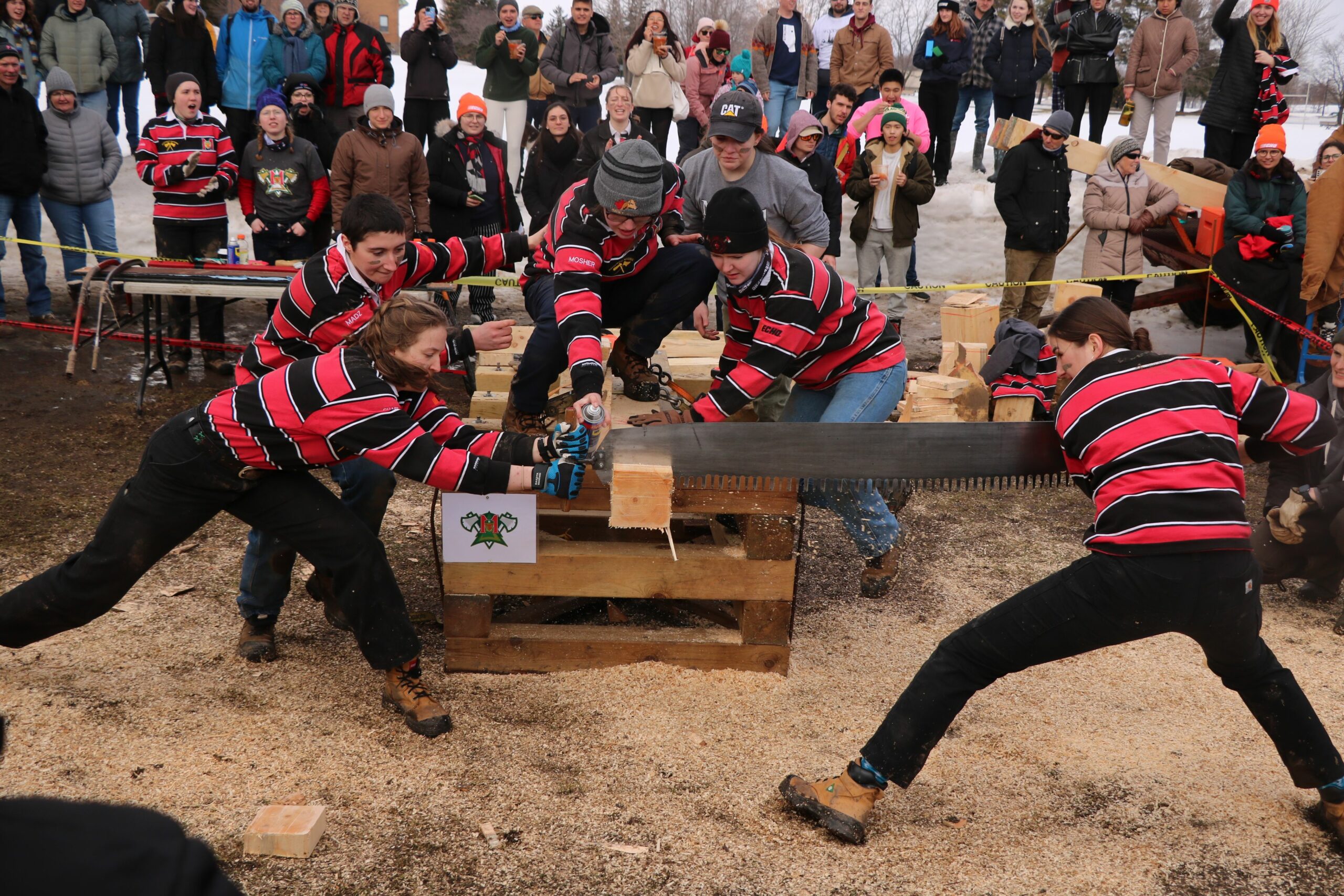 On March 18, the familiar sounds of sawing and chopping filled the air of Macdonald Campus with the return of the Macdonald Campus Woodsmen Competition. On hiatus since the outset of the pandemic, the 61st edition of the competition drew hundreds of enthusiastic spectators cheering on athletes from six schools: Colby College, Dalhousie Agricultural Campus, Dartmouth College, Sir Sanford Fleming College, UNB and the host team from Mac.
The event was the final competition of the Canadian Intercollegiate Lumberjacking Association season.
The sawdust started flying at 9 a.m., with lumberjacks and jills competing in a full day of singles, doubles, and team competition. The events included everything from axe throwing and snowshoe races to chainsawing and pole climbing.
With the home crowd behind them, Mac woodsmen and woodswomen turned in the following solid performances:
1st place
Caelan Ratcliffe – Axe Throw
Raphael Pariseau – Single Buck
Parker Chase and Madelaine Cumplido-Wilson – Vertical Chop
Skyler Schmitter and Claudine Machabée
2nd place
Raphael Pariseau and Jerome Minville – Vertical Chop
Caelan Ratcliffe – Snowshoe
3rd place
Audrey Herring – Axe Throw
Carlie Mosher – Super Swede
Parker Chase, Carlie Mosher, Audrey Herring, Madelaine Cumplido-Wilson, Marlene Herzog, and Christina Knox – Pulp Toss
Mac's Jack+Jill team finished 3rd overall in the Men's Division